EPA Hearing Reveals Health Impacts of Refineries
The EPA held a second public hearing Tuesday in Houston, regarding its proposed rule on oil refinery emissions.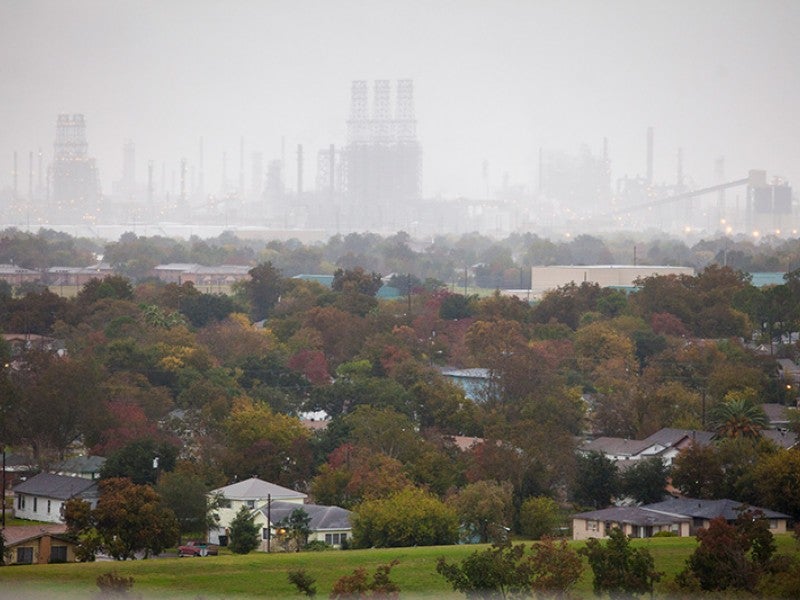 The EPA held a second public hearing Tuesday in Houston, regarding its proposed rule on oil refinery emissions—and the testimony was dramatic from people living near the refineries who suffer from exposure to those emissions. Testimony ranged from bipartisan congressmen and industry representatives to environmental organizations and fenceline community members from Texas, Michigan, California, Pennsylvania and Louisiana.
The morning began with testimony from Rep. Gene Green (D-Texas) who expressed his disappointment that the EPA is spending taxpayer dollars to create a rule that has unjustifiable results, because he claims the public is already protected under adequate rules. These statements are in stark contrast to the testimony from community members who live on the other side of the fenceline from oil refineries.
Theresa Landrum, a cancer survivor who lives in the shadow of the Marathon Refinery in Detroit, Michigan, stressed how important it is to put a human face on the suffering caused by these oil refineries, as those living in these communities are afflicted with cancer, chemical burns, and grief from the loss of loved ones.
Yudith Nieto, a resident of Marathon Park, Texas, which is surrounded by refineries on all four sides, echoed this sentiment when she reminded the EPA of how important this rule is because, "There are humans involved, and that we are not secondary to industry investments."
A large number of environmental groups were in attendance, including Air Alliance Houston, Louisiana Bucket Brigade, TEJAS Barrios, Sierra Club, Environmental Integrity Project, and Earthjustice, to name just a few. This strong showing of support for the refineries rule was characterized perfectly when Earthjustice's own Lisa Garcia said:
"When people show up on a Tuesday during the day, and so many people take the time out of their daily routine, you know the issue is important. The EPA needs to come through for these people."
This hearing shows that the awful health impacts suffered by those living in these fenceline communities, especially children, are growing worse. It is essential that the EPA step in to protect these communities by standing firm and creating a strong rule to limit hazardous pollutants from refineries.
Senya Waas was a fellow with the Policy & Legislation team in Washington, D.C.
Earthjustice's Washington, D.C., office works at the federal level to prevent air and water pollution, combat climate change, and protect natural areas. We also work with communities in the Mid-Atlantic region and elsewhere to address severe local environmental health problems, including exposures to dangerous air contaminants in toxic hot spots, sewage backups and overflows, chemical disasters, and contamination of drinking water. The D.C. office has been in operation since 1978.