Here Are 5 Environmental Catastrophes in the Trump Budget (and Who to Call to Stop Them)
The president's budget proposal would gut essential environmental programs, but Congress can reject it.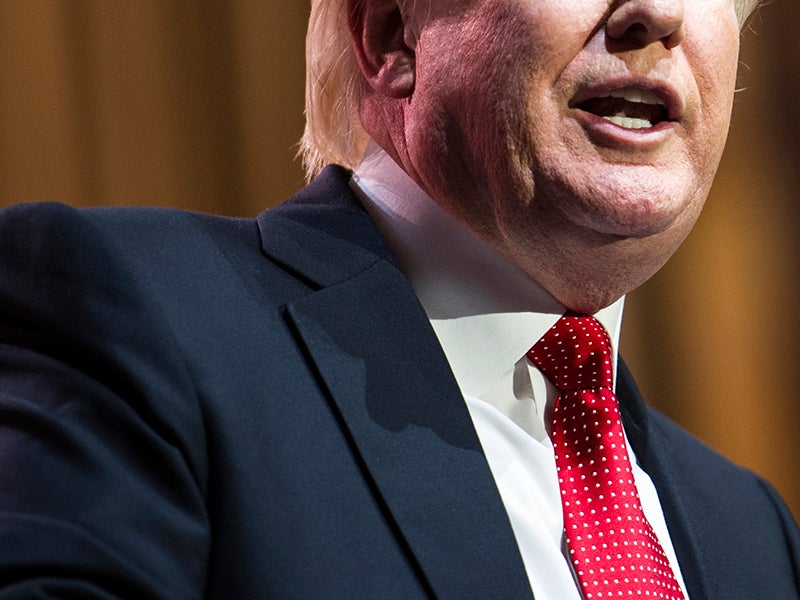 Update, March 29, 2018: Congress' latest spending bill is good news for the environment and a major victory for activists who fought against Trump's proposal. Congress rejected the 34 percent cut to the EPA, allocating the same amount of funding it received in last year's budget. The EPA will receive full funding for state and regional grants and additional funding for water infrastructure and toxic pollution cleanup programs. The bill also increases spending for the Energy Department's clean energy research efforts and energy efficient programs, as well as the Interior Department's National Park Service.
Original post, March 7, 2018: President Trump has released his 2019 budget proposal, and when it comes to environmental policy, it's full of bad ideas. 
The proposal he sent to Congress on Feb. 12 threatens our health, safety and economic future through major cuts to the Environmental Protection Agency, essential environmental programs and our judicial rights. It would rob future generations of the chance to experience our nation's outdoors, gut clean air and water protections, and undermine toxic pollution cleanup programs that keep our children from being harmed by life-threatening pollution.
This proposal is a statement of the administration's priorities and values, and it does not accurately reflect those of the American people. Congress, not Trump, will ultimately determine the funding allocated to each department and program, so there is still time to make your voice heard. Tell your members of Congress to reject any budget that weakens health and environmental protections for people living in the U.S.
The proposed budget is catastrophic for the environment. Learn about five pressing threats and who you can contact to stop them from going into effect.
1) Reducing the overall EPA budget by 34 percent. Trump and his EPA Administrator Scott Pruitt want to slash the EPA budget with deeper cuts than any other agency, chopping even some of the programs they claim to prioritize. They want to reduce last year's budget by a full third. This $2.8 billion decrease would eliminate more than 20 percent of the agency's workforce, as well as initiatives including climate change research, the efficiency benchmarks program Energy Star, and environmental education. It will also cut research and development in half and reduce the Superfund budget—money set aside for hazardous waste and pollution cleanup—by about 30 percent. This proposal is devastating for all Americans, as it endangers public health and the environment to serve polluting industries.
Take Action: The House and Senate Committees on the Budget are responsible for drafting a concurrent resolution on the budget. Urge House Budget Chair Steve Womack, Ranking Member John Yarmuth, Senate Budget Chair Mike Enzi and Ranking Member Bernie Sanders to oppose these attacks on our health, clean air and water, and our efforts to preserve our environment for future generations.
2) Reducing EPA state grants to protect clean air and water by 40 percent. A number of critical programs to protect clean air and water would be completely eliminated, limiting the effectiveness and scope of EPA, state, local and tribal programs that protect air and water from pollution. Cuts to state grants would weaken the states' ability to enforce water pollution laws and regulations, protect and clean up major polluted water bodies, improve water infrastructure, protect groundwater, restore beaches and coastal areas, oversee compliance with drinking water standards, and provide assistance to water systems.
Take Action:  Tell Senate Committee on Environment and Public Works Chair John Barrasso and Ranking Member Thomas Carper to reject any budget that makes our communities more vulnerable to pollution.
3) Eliminating funding to fight against climate change. The federal budget aims to dismantle the Clean Power Plan, which limits carbon pollution from power plants and is the largest single action the U.S. has ever taken to combat climate change. The funding for the EPA's Office of Science and Technology would drop by more than a third, eliminating dozens of programs implemented by the Obama administration to fight climate change. A 65 percent reduction in the budget for the Office of Energy Efficiency and Renewable Energy, paired with the elimination of the U.S. Chemical Safety Board, increases the risk for communities across the country to be harmed by life-threatening pollutants.
Take Action: The Members of Congress with the most power over these decisions are House Committee on Energy and Commerce Chair Greg Walden, Senate Committee on Energy and Natural Resources Chair Lisa Murkowski, House Committee on Science, Space, and Technology Chair Lamar Smith and Vice Chair Frank Lucas. Tell them that if Trump and Republicans truly want American energy dominance, they should invest in job-generating clean energy technologies rather than gutting the renewable energy, science and climate programs that move our economy forward.
4) Slashing the Department of Interior's national parks funding. Trump's proposed 16 percent cut to the Department of the Interior's budget would sell out public lands and severely undermine the booming outdoor recreation economy. The Land and Water Conservation Fund, which is designed to protect national parks, forests, wildlife refuges and other protected sites, would lose 92 percent of its budget. The proposal eliminates programs for historic preservation, heritage and land acquisition and establishes a public lands infrastructure fund that relies on increased energy leasing and development. It would also cut funding for the U.S. Fish and Wildlife Service by nearly 20 percent, including cuts to Endangered Species Act implementation, the National Wildlife Refuge System, grant programs, and wildlife trafficking prevention efforts that aid in protecting elephants, rhinos, tigers and other endangered wildlife.
Take Action: Tell House Committee on Natural Resources Chair Rob Bishop and Ranking Member Raúl Grijalva that you will not stand for this unacceptable assault on our public lands, endangered species and natural resources.
5) Closing the Department of Justice's Office for Access to Justice. Amid Trump's attacks on public health and environmental justice, Attorney General Jeff Sessions is trying to close down the office dedicated to making legal aid accessible to all citizens. The administration is making cuts to the already small staff and reallocating resources to its own priorities. Gutting the Office for Access to Justice would restrict people's ability to use the courts to defend their civil rights, civil liberties, consumer protections, public health and safety, and the environment.
Take Action: Jeff Sessions cannot officially close down the office without Congressional support. Defend your judicial rights by contacting Senate Committee on the Judiciary Chair Chuck Grassley and Ranking Member Dianne Feinstein.
An overwhelming majority of Americans support a stronger and more expansive EPA, rather than massive budget cuts that threaten our rights to health and safety. The final budget should reflect the needs of the American people, rather than the greed of politicians and polluting industries. We resolve to do everything in our power to ensure Congress lives up to its responsibilities. Join us in this fight by telling your members of Congress to reject Trump's dangerous plan to sell out our future, and fight for a budget that chooses American families over corporate polluters. We need a budget that fully funds programs to protect our children's health and conserve our lands, waters, oceans, and wildlife for future generations.
We can send a message to President Trump and his allies in Congress that we reject any plan that weakens environmental protections in order to issue giveaways to industry. Contact members of congressional committees that play key roles in the budget decisions, and share your story about why this is personal to you. By sharing personal stories, we can send a message that people—not polluters—matter.
AnaChristina Arana is an intern in the Earthjustice communications department.
Established in 1989, Earthjustice's Policy & Legislation team works with champions in Congress to craft legislation that supports and extends our legal gains.