Here's What Industry Won't Tell You About Clean Energy and Jobs
In reality, we don't have to make a trade-off between breathable air and the economy.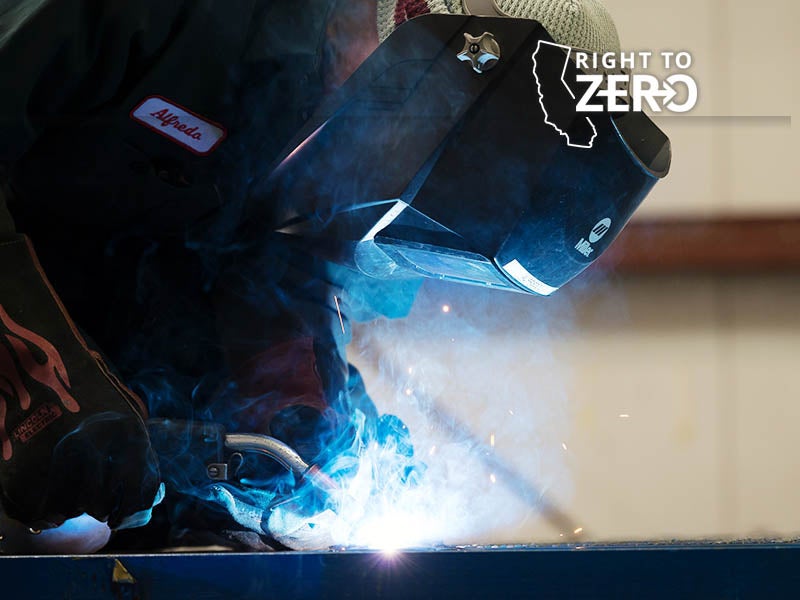 Communities fighting environmental injustices have long been thrown variations on the same question: "if you win, won't you be killing jobs?" Pitting the environment against the economy has been a useful ploy for the fossil fuel industry and other industries that aren't interested in innovating to clean up the pollution they create. It can stop transitions to clean energy, halt projects to clean up industrial sites nestled in cities, and grind clean air projects to dust before they can even get started.
In reality, we don't have to make a trade-off between breathable air and jobs. And the health problems churned out by air pollution we live with — the panic of acute asthma in a schoolkid, the medical debt, the lost workdays, the early deaths — are themselves an economic burden the community is left to shoulder.
California is a great test case for this. California has made great environmental leaps since the smog crisis of the 1970s — and we did it while expanding our economy and growing new jobs. The California Clean Cars program, the shift away from coal-fired power, the state's ambitious clean energy goals — none of that stopped the state from becoming an economic powerhouse. In fact, the innovation that entailed probably helped. Today, California is home to many of America's zero-emissions trucks, bus, and equipment manufacturers like BYD, New Flyer, and Proterra. We have a thriving solar industry, with 100,050 solar jobs in California alone.
Trump may be trying to tell us that regulations kill jobs, but for the most part, California isn't listening. For two and a half decades, California's GDP and population have continued to rise, while per capita carbon dioxide emissions have stayed flat.
I've worked on port pollution issues for almost a decade and half now, and have watched a constant theme play out that pits workers against cleaning up the toxic port pollution that harms communities. I want to take the time to set the record straight.
Earthjustice wholeheartedly supports zero emissions technologies for the freight industry. It is the only we way we will tackle the persistent and deadly pollution that harms millions of people throughout California, and the Ports of Los Angeles and Long Beach are the largest fixed source of air pollution in all of Southern California. But we do not equate zero emissions with automation. And we're well aware that automation often happens using the same old dirty diesel methods of the past too.
While the Long Beach Container terminal chose to go that automation route, other terminals are pursuing different strategies that don't rely on automation. For example, the Port of Los Angeles is pursuing the Green Omni Terminal Project, which does not increase automation. Instead, this project seeks to shift from deadly diesel equipment to zero emissions equipment while maintaining their current labor requirements for the terminal.
Earthjustice also pushed hard with East Yard Communities for Environmental Justice and the Center for Community Action and Environmental Justice on a project at the Port of Long Beach to provide charging infrastructure for gantry cranes and yard tractors at the Port of Long Beach. I wrote more about this significant approval by California's Public Utilities Commission here. The important thing here is that in addition to eliminating deadly diesel pollution from this equipment, jobs will be created installing this charging infrastructure and manufacturing the vehicles.
And this is a point a lot of people miss — solving our air and climate pollution crisis requires infrastructure and new vehicles, which requires hard work. I am confident this is the future of California, not jobs in the fossil fuel industry. Just as we have seen zero emission buses boom in California over the last decade because several companies thought California was the right place to grow their electric bus business, I'm confident we can see electric trucks and other cargo equipment snowball.
California's move to zero emissions is not a matter of "if" we will do it. Rather, it is a matter of how quickly we will do it to provide relief to millions of breathers suffering from the worst air quality in the nation. It's also an economic and job opportunity, if we make it one.
This could be the perfect storm to address this health crisis and put people to work in the clean energy economy. I welcome more brothers and sisters from the labor movement joining in this discussion. We are always stronger when we work together. And there are miles of common ground to be found with communities fighting for clean air.
ABOUT THIS SERIES
We don't have to imagine a zero-emissions future. We can live it. Our new Right to Zero blog series will track the Right to Zero campaign to transform our energy grid and transportation for a zero-emissions California. While the Trump administration fails to lead on climate and health issues in Washington, D.C., Californians are pushing for a zero-emissions state now. Follow Right to Zero to see how Earthjustice is fighting for zero-emissions technologies at our ports, power plants, freeways and bus routes.
Based in Los Angeles, Adrian works on clean air, clean energy, and healthy communities issues as a deputy managing attorney for Earthjustice's Right to Zero campaign. Follow him on Twitter @LASmogGuy.
The California Regional Office fights for the rights of all to a healthy environment regardless of where in the state they live; we fight to protect the magnificent natural spaces and wildlife found in California; and we fight to transition California to a zero-emissions future where cars, trucks, buildings, and power plants run on clean energy, not fossil fuels.