How Civil Rights Work Led Me to Environmental Justice Litigation
The work I have always done — fighting for equality for all people — is precisely the work I continue to do here.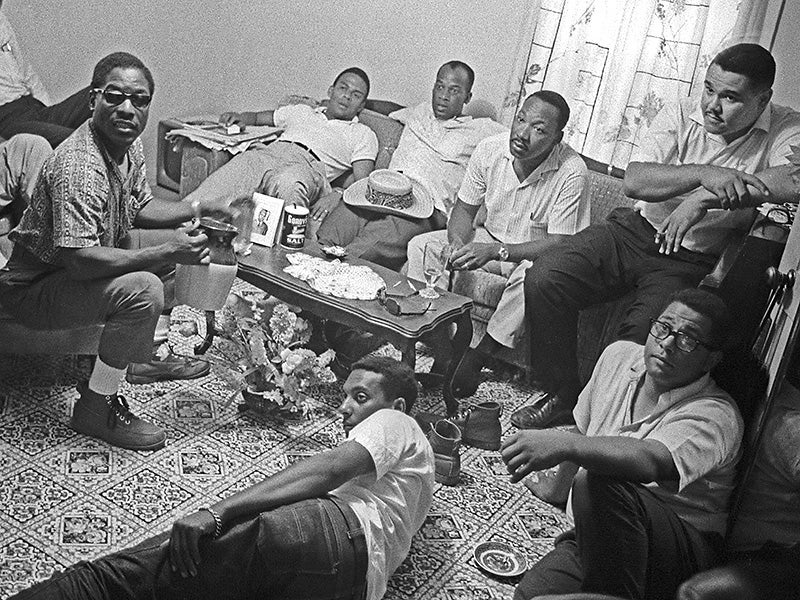 Given my background as a civil rights attorney, people often ask me why I am now working for environmental justice. Earthjustice feels like home to me now and I landed here based on my strong feeling that the work I have always done — fighting for equality for all people — is precisely the work I continue to do here. Nothing is more important than the fight to keep the environment safe for all people, regardless of race, class, or any other characteristic.
The more personal answer for why I do this work is that I went to law school to be a civil rights lawyer. As a child, I was inspired by stories of my uncle's work in Mississippi in the 1960s. He left his position as the priest of a small Episcopal church in New Jersey to move to Mississippi to help register Black voters. He was arrested, jailed, and forced to pick cotton. His safety was constantly threatened because he wanted to help Black people vote.
Voting was and is a path to full citizenship. With the vote, people can choose their leaders, have a say in how they are governed, be heard, and — with time — elect people who will protect their interests and keep them safe in their country or community.
I lived with my uncle and his family for a short time in Mississippi in the 1980s, and I realized that some of the people who were responsible for jailing him and other civil rights advocates were still either in government or just in the neighborhood.
I asked him how he coped with that and he laughed and said he prayed for them. And he continued to fight. He had pivoted from voting to economic justice and ran a community development corporation in the Mississippi Delta by the time I got there.
While with him, I learned to garden in the rows and rows of vegetables he had in his huge yard. I hated it. No matter how early we went out there to pull weeds or turn ground, with the sub-tropical humidity of Mississippi it felt like a super-heated sauna the minute the sun peaked over the horizon.
Like many Mississippians, my uncle had developed a healthy distrust of almost everything, including: the government, food in packages, restaurants that did not prepare food the way he did, and doctors. The garden was both a protection against food insecurity and a way to eat food from the land. Growing our own food gave us some comfort: At least the food from the garden would not kill us, even though it was possible that the government, medicine, and neighbors all could kill us without much consequence.
Coming from the Dallas suburbs in the 1980s, working in my uncle's enormous garden was my first experience with the land. Staying in Mississippi was my first experience with tangible, racialized, insurmountable injustice.
My family's experience led me to work for civil rights and social justice through litigation in the deep South as an attorney for Southern Poverty Law Center and, later, for the American Civil Liberties Union. I worked for the ACLU of South Dakota and North Dakota with Indigenous clients who were fighting to protect their ancestral lands, their rights, and their lives through the protection of the environment.
As I was litigating for my clients in the South and in the Plains, I was seeking protection and freedom for myself. This work is all about the protection of people and equality of treatment. The work of my uncle to protect our bodies from poisonous, overpriced junk food in grocery stores and to register Black voters in Mississippi led to my work. My work to protect Black, Indigenous, and people or color (BIPOC) bodies from unreasonable police brutality, to protect BIPOC children from abusive school discipline, and to protect the rights of Indigenous organizers to plan peaceful demonstrations is all work that flows directly to the work of environmental justice.
Martin Luther King said, "Injustice anywhere is a threat to justice everywhere." Similarly, pollution anywhere is a threat to everyone eventually, if not immediately.
Now I am working on the lived environment — specifically the air we breathe, the toxins in our world, the pollutants in our water, and the burning of fossil fuels contributing to the heating of the planet and the resulting natural disasters that disproportionately kill or harm poor people, people of color, and people in countries who contributed less to the cause of this existential crisis.
This work is a continuation of the work I have always done — because the work of Earthjustice, like traditional racial justice work, is deeply rooted in keeping all people safe as we struggle to peacefully inhabit this tiny planet together.
Based in New York, Courtney is the managing attorney of the Earthjustice Northeast office.
Established in 2008, Earthjustice's Northeast Office, located in New York City, is at the forefront of issues at the intersection of energy, environmental health, and social justice.