How Obama Can Prove He's Changing Direction on Federal Coal
The Obama administration needs to step up and keep coal in the ground on federal lands where mining coal has huge known impacts.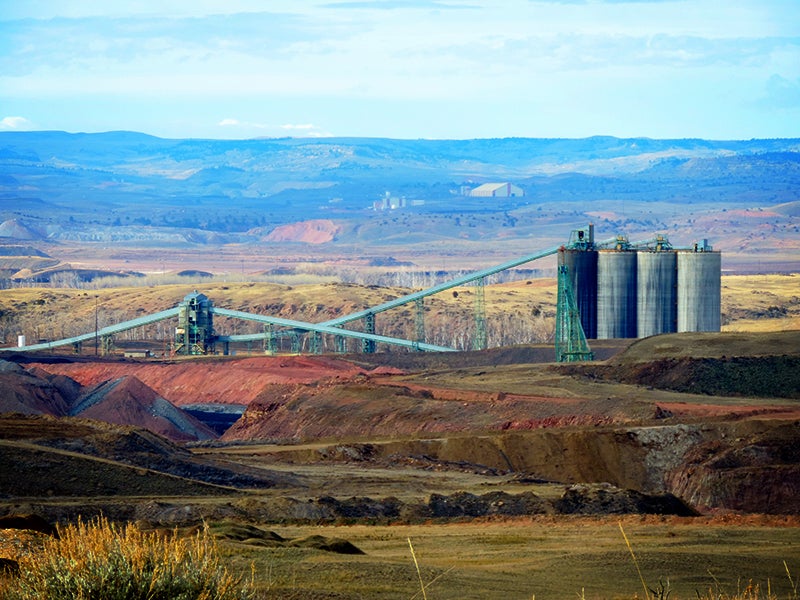 Many cheered when Interior Secretary Sally Jewell announced earlier this month that she would "pause" new federal coal leases by ordering the department to consider how to better disclose and account for the environmental and climate damage that coal inflicts.
And rightly so, because the Obama administration has long had a blind spot on the massive contribution to climate change caused by federally-owned coal, oil and gas. In the past, we've had to sue this administration to get federal agencies to even consider the climate costs of coal leasing on public lands like Colorado roadless forest.
If the intent is to pause so we can account for and limit climate damage, then it makes no sense for the Obama administration to rush through projects they know will worsen climate change and degrade other public lands values. 
Instead, the administration needs to step up—now—and keep coal in the ground where mining it has huge known impacts.
Here's where Obama can start: He can end the Forest Service's continued effort to open 20,000 acres of roadless forest to coal mining. 
In response to an Earthjustice lawsuit, a federal court in 2014 threw out a loophole in the agency's rule for protecting roadless forest in Colorado. That loophole opened a chunk of forest to road construction so that now-bankrupt Arch Coal could get at hundreds of millions of tons of coal underneath. The court ruled that the Forest Service's failure to account for climate pollution or disclose the climate impacts of mining and burning the coal violated the environmental disclosure laws. 
In response, the Forest Service moved on a hurry-up basis to re-open the loophole by doing the missing analysis of climate costs, and its conclusions aren't pretty. The agency estimated that allowing Arch to mine 170 million tons of coal will set off a 130 million ton carbon bomb due to coal combustion, and it will add millions more tons of greenhouse gasses due to methane vented during coal mining.  The agency also concluded that the damage to the global economy and environment from this pollution could be in the billions of dollars.  And the actual costs are likely far higher; experts found plenty of ways that the Forest Service low-balled the loophole's climate costs.
But that's not all. Mining this coal will undermine our transition to a clean energy future.  At a time when the nation is making progress in moving toward renewable energy, the Forest Service estimated that dumping these 170 million tons of coal on the market would displace 40,000 gigawatt hours of renewable power. By one measure, that would have the same effect as having about 140,000 homes use 100 percent coal rather than 100 percent clean energy each year for 38 years.
And then there are the impacts of opening roadless forest to road building. Hundreds of acres of lynx, elk and black bear habitat will be scraped down to bare dirt, turning what is now undisturbed forest into a spider-web of industrial activity that will take generations to recover.
It's no wonder that this lose-lose-lose proposition got the attention of the public; 150,000 people have contacted the Forest Service asking the agency not to reopen the loophole. Renewable energy companies, advocacy groups and trade groups all raised questions about the damage that unleashing a flood of coal would have to moving America towards more clean power on the grid.
Approving this proposal will damage not only Obama's climate legacy, but that of Colorado's governor, John Hickenlooper, who has supported the loophole because he wants to keep Arch's mine running, something Arch can continue to do even when bankrupt. The Forest Service's analysis found that mining the coal under the roadless area would unleash enough methane to cancel nearly all of the climate benefit of Colorado's 2014 oil and gas rules, one of the governor's signature achievements in limiting greenhouse pollutants.  Burning the coal could also wipe out any climate benefits from the next 23 years of methane reductions from the state's oil and gas rule.
So why is the Obama administration continuing to support this loophole? Supporters point to the 300 or so jobs at Arch's mine.  But Arch has a ten-year supply of coal at its current rate of mining without the loophole, so keeping the loophole closed would have no short-term impact.
Long-term, the future of jobs and energy in the state is becoming clearer (and cleaner). Colorado's solar and wind industries employ more than 10,000, about seven times as many as work in the state's mines. The transition away from dirty fuels will impact jobs.  Governments at all levels need to plan now to make the change as smooth as possible, and that will require resources and know-how.  But dragging out the process by deepening our reliance on dirty fuels will have higher costs for all of us. 
If this administration wants to show that it is truly changing course on how it manages federal coal in the face of climate change, it should listen to the 150,000 voices that said to not re-open the Colorado loophole because it's bad for the climate, bad for renewable energy and bad for wildlife.
Ted was an attorney in the Rocky Mountain regional office from 2003–2018. He protected wilderness, roadless areas and the planet's climate on behalf of conservation groups in the Four Corners' states.
Earthjustice's Rocky Mountain office protects the region's iconic public lands, wildlife species, and precious water resources; defends Tribes and disparately impacted communities fighting to live in a healthy environment; and works to accelerate the region's transition to 100% clean energy.