How We Helped an NYC Community Say No to a Dirty Gas Plant and Get Wind Power Instead
A clean energy win in Queens shows what's possible when fossil fuels are swept off the table.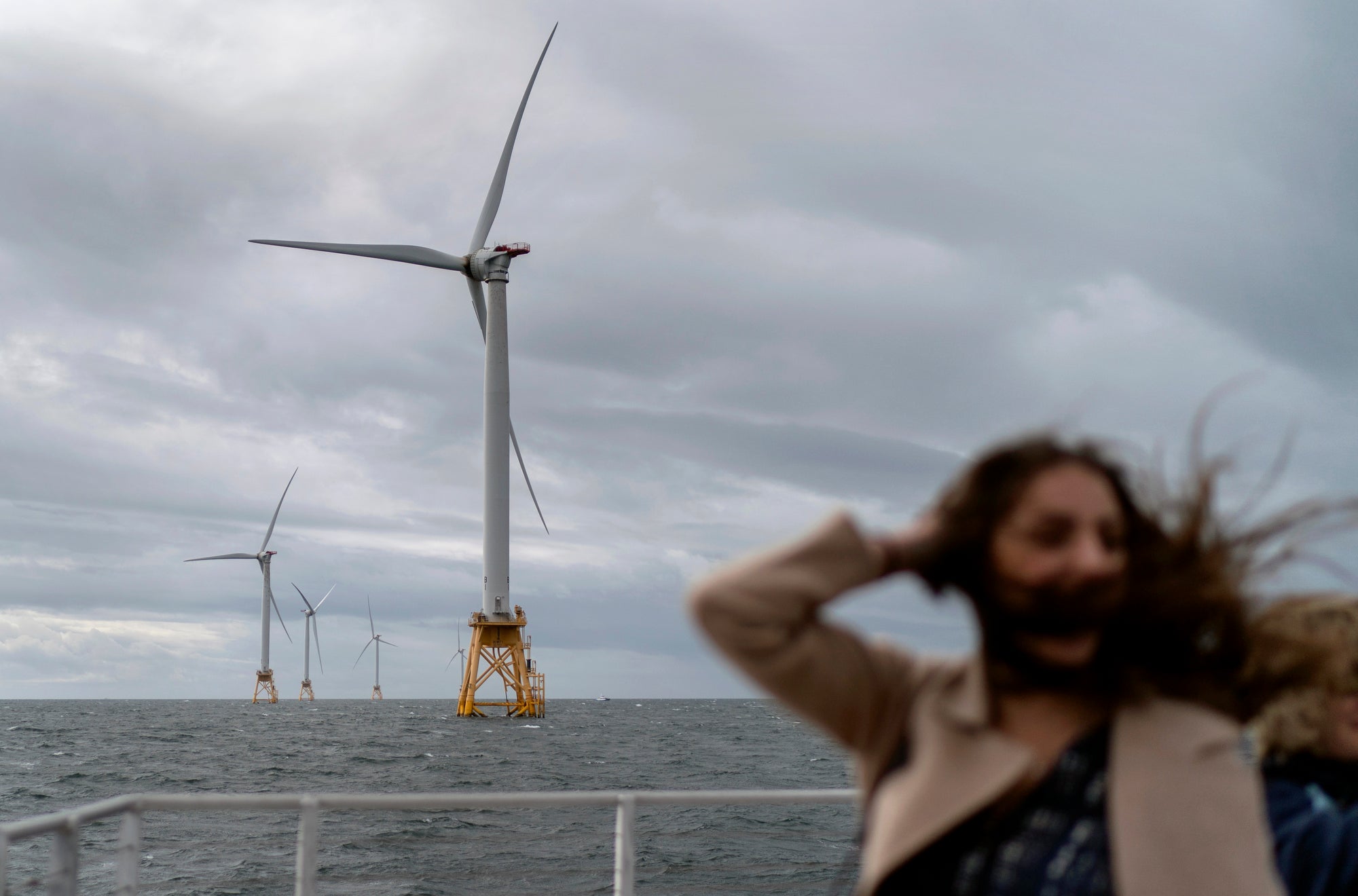 When Stylianos Karolidis took a job as a lobbyist, he didn't think he'd be asked to sell out his own neighborhood.
In 2019, Karolidis was tasked with representing NRG Energy, an energy company that wanted to put a new gas plant in Astoria, a largely immigrant, rapidly gentrifying community on the west side of Queens.
As NRG showed him around the site, "It immediately became clear that this was not going to be something good for the neighborhood, and it was clearly just an opportunity to make more money," says Karolidis. During meetings, Karolidis says company officials workshopped messaging for the new plant, which included debates over whether to advertise it as having "cleaner air" rather than as being "less dirty."
Karolidis decided to reach out to some fellow members of the Democratic Socialists of America, which organizes around clean public power in NYC, and alerted them to NRG's plan.
It was an audacious time to propose a new gas plant. After all, New York State was about to pass a landmark climate law that would require aggressive cuts to greenhouse gas emissions; community advocates were determined to shut down gas plant facilities like NRG's proposal; and clean energy resources like wind, solar, and batteries were getting cheaper by the day.
Yet NRG forged ahead, following the fossil fuel industry's lead in fighting the clean energy transition around the country. But local groups, national advocacy organizations, and on-the-ground organizers had another vision for their community. With the help of Earthjustice, they blocked the gas plant proposal, and in turn opened the door to building wind energy infrastructure. With this victory, the coalition is writing the playbook for other communities around the country that are tired of being told that there is no other way to power their economy without fossil fuels.
The fossil fuels powering NYC's brightly lit skyline cast a long shadow on the city's millions of residents.
In 2022, NYC received an "F" from the American Lung Association for its elevated levels of ozone, a pollutant created by burning fossil fuels that can cause chest pain, coughing, and shortness of breath even at low levels. Nationwide, the situation isn't much better. Today, just 20 fossil fuel companies are responsible for more than a third of all climate emissions. And research shows that pollution created by burning fossil fuels leads to 1 in 5 deaths worldwide.
Astoria, the neighborhood where Karolidis lives, is part of an area known as "Asthma Alley" for its high rate of asthma hospitalizations. Just across the East River in Hunts Point, a low-income, predominantly Latino and Black neighborhood in the South Bronx, children suffer from the highest rates of asthma in the city.
Take an aerial view of the neighborhood and it's easy to see why so many kids there can't breathe: Hunts Point is just upriver of several fossil fueled power plants, as well as two major highways, LaGuardia airport, and one of the largest wholesale distribution facilities in the world, which brings about 15,000 diesel-powered trucks rumbling throughout the community each day.
"Infrastructure is language," says Victor Davila, a community organizer at The Point, a nonprofit organization working to revitalize a neighborhood that has been targeted by fossil fueled industrialization for decades. "Oftentimes we tell communities of color that they are unwanted, and in some cases that they are outright hated, with how we build infrastructure around them."
Since opening its doors in 1994, The Point has pushed for clean energy and climate resiliency projects in the neighborhood, including the largest community solar project in the Bronx to date.
In 2019, local organizers from The Point and elsewhere got a new tool to leverage when New York passed its groundbreaking climate law. One of the most ambitious in the nation, the climate law requires New York to create a zero-emissions energy sector by 2040, with a mandate that 35% of climate and energy funding be invested in environmental justice communities.
Around the same time, The Point also helped form the PEAK coalition, a group that works to shut down the dirtiest power plants in the city by replacing them with renewable energy and storage solutions. Known as "peaker plants" for their use when energy demand peaks, these decades-old facilities sometimes run on highly polluting fuels like kerosene or oil, and were originally intended to be used only once or twice a year.
Peaker plants burn especially dirty compared to typical gas plants, emitting twice as much carbon dioxide and 20 times as much nitrogen dioxide, a corrosive substance that can burn the eyes and lungs. Almost all of the peaker plants in NYC are located in low-lying, industrial flood zones abutting low-income communities and communities of color.
In addition to targeting the NRG gas plant proposal in Astoria, PEAK began targeting peaker plant proposals in Brooklyn, as well as supporting local activists in their fight to replace an existing peaker plant with a new gas plant in New York's Hudson Valley. All of these gas plant proposals promised to add more pollution to already-overburdened communities, increase climate-fueled disasters like floods and heat waves, and lock New York into dirty energy for the next few decades.
A 2020 report by the coalition found that replacing peaker plants in New York City with a system of localized renewable energy generation and battery storage could reduce climate emissions, lower energy bills, and increase the system's resiliency in the face of increased storms and climate impacts.
"The clean energy projects we're proposing are purposely built with resiliency in mind," says Daniel Chu, an energy planner for the NYC Environmental Justice Alliance, which organizes the daily work of the PEAK coalition. He points out that, during Hurricane Sandy, downtown New York was blacked out for several days, in part because it was relying heavily on a single, fossil fueled power plant. In comparison, the clean energy projects being considered today include distributed energy systems capable of restarting and repowering the grid with batteries and renewables.
One of PEAK's sources of inspiration was an Earthjustice case in Oxnard, California, where grassroots organizing and legal advocacy successfully shut down a peaker plant proposal by NRG Energy in 2018 after arguing that a combination of energy efficiency, renewable energy generation, and energy storage could do the job of the proposed gas plant. Today, the Oxnard battery storage system is up and running, set to power tens of thousands of homes and businesses for several hours to prevent a blackout.
Saying no to the peaker plant proposals seemed like a no-brainer, especially given New York's new climate law. But NRG and the gas plant industry were banking on the fact that, ultimately, it would be up to regulators to decide whether to allow the proposals.
"New York's climate law was a new tool for us to fight these gas plant proposals," says Earthjustice attorney Rachel Spector. "But at the time it wasn't a given that they would be stopped."
The gas plant proposals were spread across the city, but their high-priced messaging blitz all made the same argument: There is no other option that will keep the lights on.
New York residents and activists felt otherwise. In the Hudson Valley, New Yorkers filed thousands of comments in opposition to the project; in Brooklyn, more than 40 elected officials issued a letter demanding that Governor Hochul stop the proposal; and in Astoria, the public sent in more than 6,000 comments against the project.
"The community has always had these demands," says Davila. "The words may have sounded different and they may not have been as specific about the solutions, but there has always been an urgent need for cleaner and more reliable infrastructure in communities of color."
Alongside community activism, Earthjustice attorneys made the case that New York's new climate law gave regulators the legal basis for denying the proposals. This strategy is part of Earthjustice's broader effort to transition to a 100 percent zero emissions economy by clearing the way for cleaner, greener, and more resilient projects.
The first domino to fall actually came in a pair, after state regulators in October 2021 denied the Hudson Valley proposal and the Astoria proposal on the same day and on the same grounds: that they did not comply with the new climate law. Two months later, the power plant operator in Brooklyn scrapped its own repowering plans.
"The regulators' decision signaled that New York is taking this transition seriously and that they're not going to greenlight this kind of new fossil fuel buildout," says Spector. "So if you were thinking of expanding fossil fuels here, think again."
With new gas plants off the table, the energy companies quickly pivoted to developing clean energy proposals, exactly as the coalition had hoped they would and argued they could.
In January 2023, NRG sold the land under its Astoria facility to an offshore wind developer that will use the site to connect New York's grid with one of its wind farms. And in Brooklyn, plant owners announced plans to build clean energy storage units on the site once targeted for repowering the gas plant facility.
Both projects will help fulfill the state's requirement to supply roughly 30 percent of the state's total electricity needs with offshore wind capacity by 2035, creating up to 10,000 jobs. They will also help reimagine these communities as green industrial hubs that will create community wealth and address historical harms enacted by the fossil fuel industry.
"The PEAK coalition has helped change the conversation, because people have to believe that there are solutions in order for us to enact them," says The Point's Davila. "Now we're seeing folks from all over the United States look at the peaker project as a potential test case for how they can adapt similar techniques."
As for Karolidis, the former lobbyist for NRG who first alerted community activists to the company's plans, he has a new focus in his life: organizing for clean public power in NYC.
Jessica is a former award-winning journalist. She enjoys wild places and dispensing justice, so she considers her job here to be a pretty amazing fit.
Established in 2008, Earthjustice's Northeast Office, located in New York City, is at the forefront of issues at the intersection of energy, environmental health, and social justice.