Hugs Laced with Pesticides
Elvia Vasquez, a former farmworker sickened while working in the fields of California, now educates farm laborers to prevent more poisonings.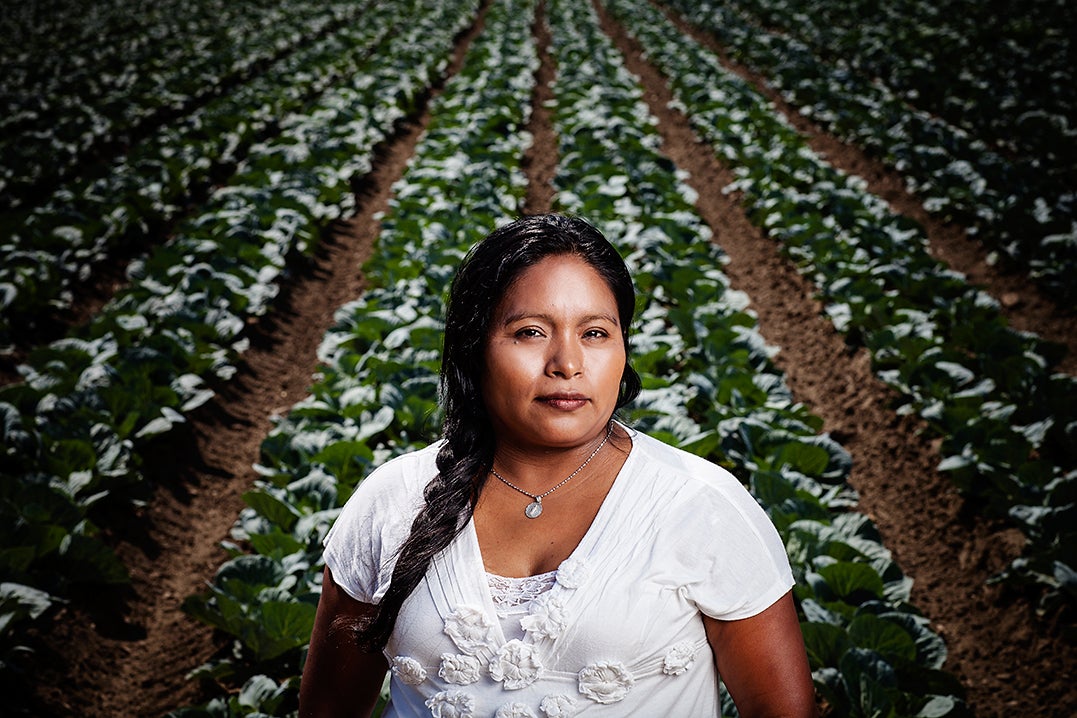 This is the sixth blog post in a series of personal stories from farm and agricultural workers, illustrating the need for stronger worker and safety protections against pesticide exposure. To get beyond the statistics of 10,000–20,000 pesticide poisonings on farms a year in this country, we go to the frontlines, beginning in California.
[Author's note: When I met with the women in Santa Paula, Calif., most of them spoke to me in Spanish, often their second language with Mixteco as their native tongue. Even though many in the group knew more English than I did Spanish, they felt more comfortable conversing in Spanish. lvia bravely spoke to me in English, her third language. Her voice was tentative but her words are as powerful as her picture.]
I worked in the strawberry fields of California and Washington State for a decade. I picked and packed lettuce but mainly we followed the crops up and down the coast: blackberries, blueberries, wine and table grapes and many other fruits and vegetables. Washington State protected its field workers better than California. The fields I worked in Washington State were never freshly sprayed with pesticides.
About a year ago, we were working in California and they sprayed right next to us. I got sick. If I were in charge, I would make the fields off-limits for two days after spraying just to ensure that workers weren't poisoned. Sometimes when you start picking in a field the day after it has been sprayed, you can feel and sometimes taste the pesticides.
Often workers are trained in languages they don't understand. Mixtecos, American Indian people of the state of Oaxaca, can't understand Spanish most of the time. Sometimes trainings are given in English to a Hispanic-speaking group. If you don't use the farm laborers' language, they won't understand the importance of the information. That's why I now work with MICOP, a local organization that helps my community, as well as hospitals and agencies, communicate with non-native speakers. Through this work, I often get called to the local hospital when they need an interpreter. I enjoy this work because I've have always dreamed of being a doctor or a nurse.
It is a reality that workers come home with pesticides on their clothes—they pick up their kids after a long day at work and they want a hug. That hug comes with toxic chemicals.
Earthjustice will be sharing farmworker stories until the Environmental Protection Agency finalizes an updated Worker Protection Standard (WPS). Tell Administrator Gina McCarthy that agricultural workers deserve the same workplace safety standards as every other industry.
Elvia's story is one of a series that highlight the changes that need to be made to the WPS.
Kari Birdseye worked at Earthjustice from 2011–2016, as a national press secretary and on advocacy campaigns protecting our health and the environment from the impacts of pesticides and toxic chemicals.
The California Regional Office fights for the rights of all to a healthy environment regardless of where in the state they live; we fight to protect the magnificent natural spaces and wildlife found in California; and we fight to transition California to a zero-emissions future where cars, trucks, buildings, and power plants run on clean energy, not fossil fuels.