'It Is the Largest National Forest, and I'm Going to Keep It That Way'
Indigenous women from Southeast Alaska traveled to Washington, D.C., to advocate for the Tongass National Forest and the Roadless Rule.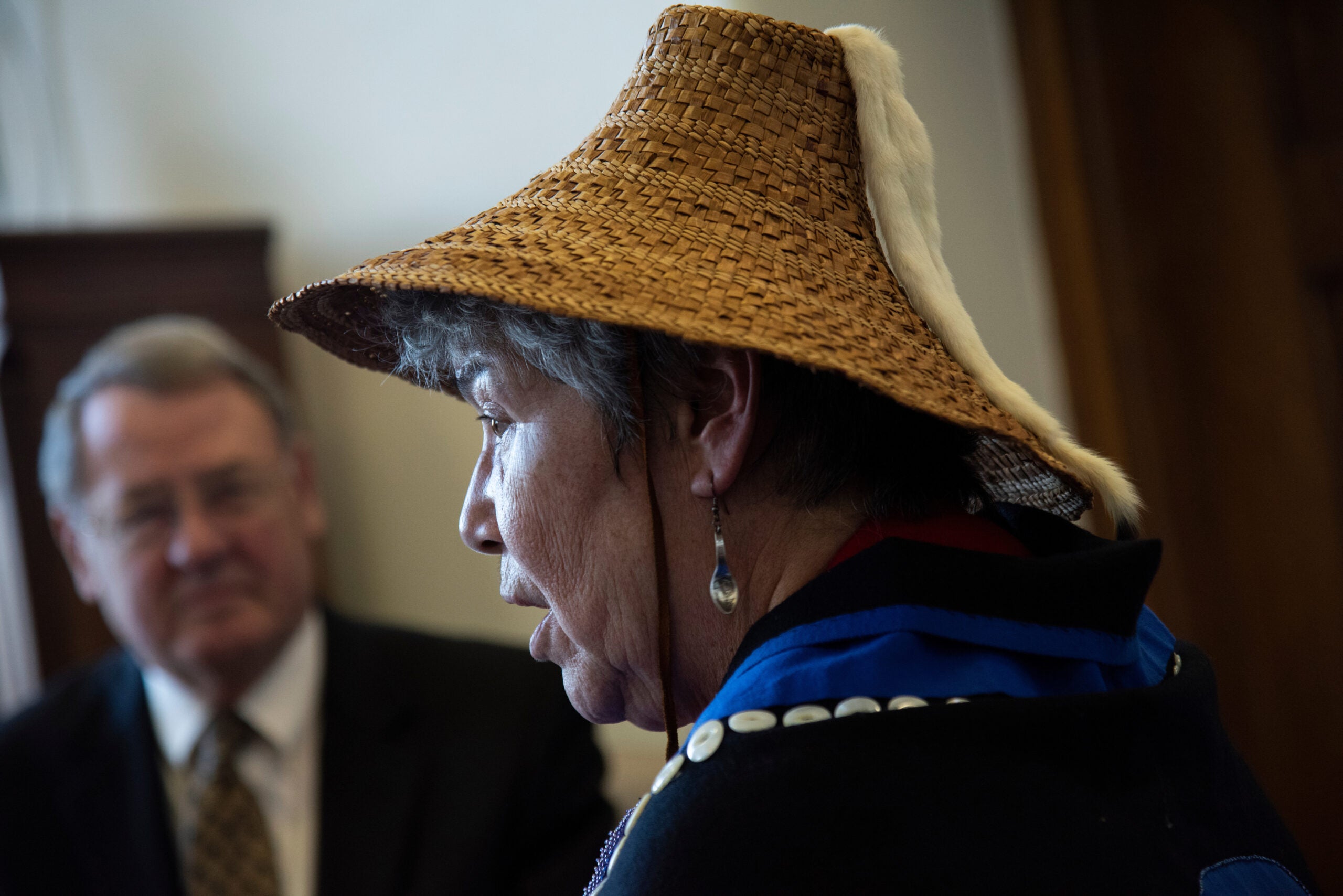 In Southeast Alaska's Tongass National Forest, old-growth trees stand tall on remote islands surrounded by glacial waters. Recently, a delegation of Indigenous Alaskan women traveled 3,700 miles to the U.S. Capitol to keep them standing.
The women came to Washington, D.C., to meet with members of Congress and the U.S. Department of Agriculture and advocate for the protection of their ancestral homeland. As the largest remaining temperate rainforest on earth, the Tongass plays a critical role in fighting climate change. It provides a home to bears, wolves, eagles, and deer, and the waters that surround it nourish salmon and orcas. The people who have stewarded this land since time immemorial remain reliant on the forest ecosystem.
Beginning in the 1950s, decades of clear-cut commercial logging scarred the Tongass, disrupting and disenfranchising Indigenous communities across Southeast Alaska. In 2001, USDA adopted the Roadless Rule, a federal policy that now protects much of the Tongass from logging.
Yet Trump's Forest Service is in the process of deciding whether to exempt Alaska from the Roadless Rule. If the rollback proceeds, old-growth forests will fall in a new round of clear-cuts.
In partnership with Women's Earth and Climate Action Network (WECAN) International, Earthjustice helped gather the delegates in Washington to speak up for the Tongass and the Roadless Rule. They visited the offices of political leaders including Jim Hubbard, the USDA undersecretary for natural resources and environment; Sen. Michael Bennet (D-Colo.); Sen. Maria Cantwell (D-Wash.); Sen. Joe Manchin (D-W.V.); Sen. Lisa Murkowski (R-Alaska); Sen. Debbie Stabenow (D-Mi.); Rep. Ed Case (D-Hawaii); Rep. Ruben Gallego (D.-Ariz.); Rep. Debra Haaland (D-N.M.); Rep. Maizie Hirono (D-Hawaii); Rep. Steven Horsford (D-Nev.); Rep. Betty McCollum (D-Minn.); and Rep. Donald McEachin (D-Va.).
Here are some of the stories the women shared.
Wanda "Kashudoha" Loescher Culp
Tlingit activist, artist, and WECAN Tongass Coordinator
I identify my ancestry through descent-based kin groups indigenous to the Tongass Forest and recognize that we are all tied to each other — not independents. Our food gathering and all other resource harvesting methods seriously involve the thanking of the recognized life we are taking for our benefit. We successfully use every "resource" the Tongass offers wisely, efficiently, without waste, and in gratitude.
We support the current Roadless Rule and its protections for Alaska's Tongass National Forest, Tlingit territory. Prohibiting logging in these areas of the forest protects them for generations to come. The Roadless Rule was a two-decade battle against industrial clear cutting in the Tongass.
Mass clearcut logging disrupted every mode of our life and made us poor as the industry received U.S. congressional corporate "welfare benefits" over human beings' needs. Neither our environment nor our culture has been allowed to heal simply because the federal and state governments do not prioritize repair.  
As a child, I saw large icebergs floating in salt water. The glaciers were huge on the mainland. Today, the ice fields are quickly melting, creating miles and miles of silt in the Tongass salt waters, choking all salt and fresh water life, causing steadily increasing high and low tides due to unusual warm temperatures. Our salmon are in peril, as is all other sea life we depend upon.
Kari Ames
Tlingit, Alaska Native Voices Cultural Heritage Guide, and keeper of traditional life-ways
The WECAN Indigenous Women's Tongass Delegation have come to stand together in Washington, D.C. We are here in support of the current Roadless Rule to protect the largest national forest in the country, the Alaska Tongass National Forest, which is in Tlingit territory. Our people have been here over 10,000 years, and we are here to protect and preserve the land so we can be here 10,000 years more. Our culture is alive and we want our traditional ways of life that have protected the forest to continue for future generations.
Adrien Nichol Lee
Tlingit, President of the Alaska Native Sisterhood Camp 12, and keeper of cultural Tlingit education
Creating a state-specific Roadless Rule in Alaska will undermine one of the most important ways we Tlingit can protect the Tongass forest, which is our traditional territory. We have lived off these lands in a sacred and caring way for generations, and we want to continue to live in our traditional ways for our children and our children's children. Corporate logging cannot come before we the people. We also know the Tongass is important to help stop climate change for everyone around the world.
Rebekah Sawers
Alaskan Native Yupik and a mother, a daughter, and an aunt
I am part of the WECAN delegation to Washington, D.C., to represent my daughter and her father's people. He is a Raven Coho of the Tlingit people, or Luxnax.adi. It is important that our daughter grows up in the wild Tongass forest such as my husband did. He is an avid hunter and gatherer just like his ancestors, who have lived on this land since time immemorial. It is important that this land stays wild and free. I am here not only on behalf of my daughter, I am fighting for all the other 70,000 brothers, sisters, grandfathers and grandmothers who live in the Tongass. It is the largest national forest, and I'm going to keep it that way.
Osprey Orielle Lake
Founder/Executive Director, Women's Earth and Climate Action Network (WECAN) International
The world's largest remaining temperate rainforest containing vital old-growth trees is under attack because of efforts to undo the Roadless Rule. The Tongass Rainforest of Alaska — the traditional homelands of the Tlingit, Haida and Tsimshian Peoples — is the largest national forest in the U.S. and has been called 'America's climate forest' due to its unsurpassed ability to sequester carbon and mitigate climate impacts. For decades, industrial scale logging has been destroying this precious ecosystem, and disrupting the traditional life-ways of the region's Indigenous communities. As attempts are made to strip down remaining protections and open more of this ancient forest to logging, WECAN stands with Indigenous women leaders and their allies to say no to further devastation, and yes to maintaining the current Roadless Rule. Our natural forests are essential lungs of the Earth.
Holly Harris worked at Earthjustice until 2019, developing legal strategies to protect Alaska's incomparable environment for future generations and advocating on behalf of communities and organizations concerned about the risks of offshore oil and gas development in the Arctic Ocean.
Opened in 1978, our Alaska regional office works to safeguard public lands, waters, and wildlife from destructive oil and gas drilling, mining, and logging, and to protect the region's marine and coastal ecosystems.