Judge to EPA: Do Your Job and Enforce Civil Rights Law
Communities of color have waited decades for the EPA to investigate their environmental discrimination complaints. A judge just ruled that the agency must pick up the pace.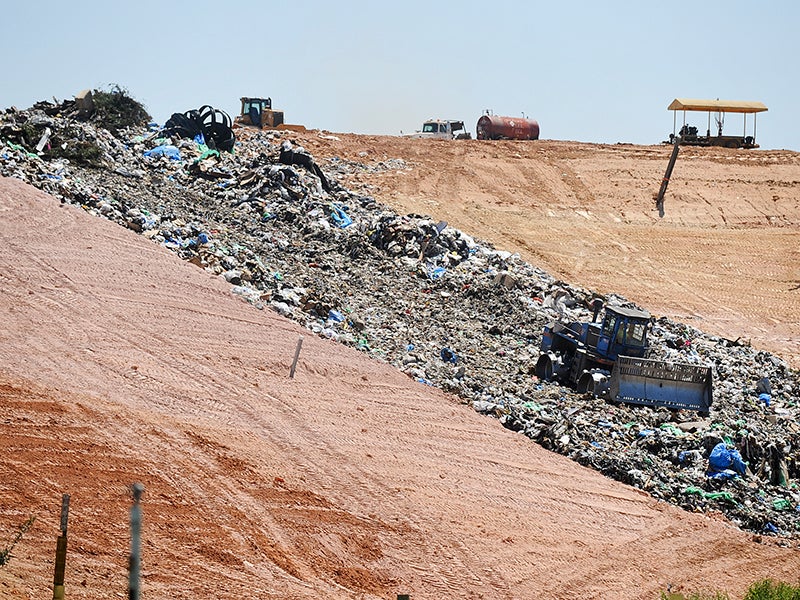 Communities of color fighting environmental discrimination just got a major boost. On Monday, a federal judge ruled that the Environmental Protection Agency must investigate and respond to civil rights complaints within 180 days of accepting them.
The EPA has dragged its feet for decades on various civil rights complaints, denying justice by delaying it.
Since 2003, residents of Tallassee, Alabama, have been seeking relief from a landfill placed without their consent in the heart of their community. While an Alabama state agency granted the permit, the EPA has the power to withhold money from agencies engaged in environmental discrimination.
"We waited more than 15 years for nothing: EPA didn't come to our community, test the water or test the air," said Phyllis Gosa, who filed the complaint under Title VI of the Civil Rights Act of 1964.
Under Title VI, agencies that receive public funds cannot discriminate on the basis of race, color, or national origin. Discrimination doesn't have to be intentional; it includes any decision that has an unjustified, unequal impact on a particular racial group. And historically black Tallassee has been hit hard by the landfill.
"Between the trucks, the smells, and the buzzards, there's no peace in our community anymore," said Gosa.
In 2015, Earthjustice—representing Tallassee and four other communities whose complaints were ignored—filed suit to compel the EPA to enforce civil rights law in an environmental context and within the legal deadlines. Monday's ruling acknowledged that "plaintiffs' complaints had been pending in some instances up to 20 years past the 180-day deadline."
The EPA argued for a loophole that would effectively give the agency limitless time to drag its feet while communities breathe toxins. The court shot down that argument, referring to the decades-long delays as "agency action unlawfully withheld."
The decision provides a clear path forward for future environmental discrimination complaints.
For the five communities at the heart of the case, however, so much time has passed that some plaintiffs now have adult children who have never breathed clean air in their own communities.
Flint, Michigan, one of the communities represented by Earthjustice, has been seeking justice since 1992, when the community argued it was discriminated against in the siting of a wood-burning power plant in a black neighborhood. The complaint filed by the St. Francis Prayer Center alleged, among other things, that the Michigan Department of Environmental Quality (MDEQ) treated African Americans who sought to protest during the permitting process differently from whites.
In 2017, the EPA found that MDEQ had discriminated against Flint's African American residents. But, despite its acknowledgement of harm done, the EPA further delayed any remedy.
"It's unbelievable," said Father Phil Schmitter, one of the leaders of the Prayer Center. "We waited 25 years and once we file litigation, EPA finally makes a finding of discrimination—but then EPA doesn't require any changes to the permit or to policies at MDEQ."
Often, for communities facing racial discrimination in an environmental context, a civil rights complaint to the EPA is the only viable recourse. That's why it's so important for the agency to enforce its own rules and protect the communities it is mandated to protect.
Over and over again, the EPA has failed to do so. The response to the Prayer Center complaint in 2017 was only the second time the EPA has ever issued a formal finding of discrimination. And a report from NBC and the Center for Public Integrity showed that 9 out of 10 discrimination complaints to the EPA are rejected or ignored. Even in cases like Flint's, when discrimination is found, justice does not follow.
Monday's court order sets an important precedent. It does not mean that the EPA will accept more cases or recognize more instances of discrimination. But the federal court has affirmed that releasing findings within 180 days of accepting a complaint is the legal requirement and the agency can no longer skirt that deadline.
"Today's decision affirms that EPA cannot continue going through the motions without meaningfully attending to serious problems of environmental discrimination," said Suzanne Novak, staff attorney at Earthjustice. "EPA must now secure real changes and ensure civil rights compliance by states and regional authorities that receive EPA funding. How long do communities overburdened with polluting facilities have to wait for justice?"
Kim was an editorial intern in San Francisco in 2018. She hailed from the banana-slug-carpeted wilds of Santa Cruz and studied Society & Environment at UC Berkeley.
Established in 2008, Earthjustice's Northeast Office, located in New York City, is at the forefront of issues at the intersection of energy, environmental health, and social justice.