LA Metro Can Drive the Resistance by Driving Electric
As the federal government relinquishes environmental leadership, cities are stepping up, including the nation's smog capital, Los Angeles, which is considering a shift to electric buses.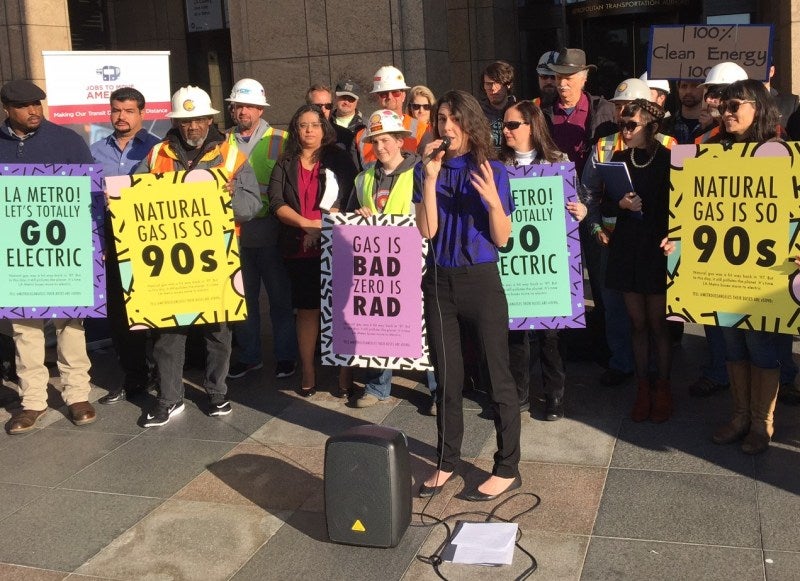 The Los Angeles Metropolitan Transportation Authority, or LA Metro, is at a crossroads. In the 1990s, the agency made great strides in shifting from toxic, diesel-powered buses to natural gas-powered ones. This was a historic change, making LA Metro the first major transit agency in the U.S. to retire all of its diesel buses. Advocacy groups like the Bus Riders Union fought tirelessly for this shift away from diesel and for other changes to the region's bus system.
But twenty years ago, the leap from diesel to natural gas was cutting edge. Today, clean technology has advanced by leaps and bounds. LA Metro now faces a new critical choice: to adopt the newest, cleanest technology available or to remain locked into a natural gas infrastructure that continues to pollute the LA area.
The answer is clear: If the agency wants to eliminate tailpipe emissions, fight climate change and promote a quieter, more sustainable product, it should shift to electric buses.
The Union of Concerned Scientists and the Greenlining Institute recently issued a report analyzing the major benefits of battery electric buses. The report shines a spotlight on the fact that electric buses are better for our lungs and better for our climate. The following chart shows that battery electric buses provide significant benefits to help clean up the air:
These air quality benefits could be a major boon for public health in Los Angeles, which for too long has been the smog capitol of the nation. Improved air quality will translate into fewer asthma attacks, fewer emergency room visits and fewer strokes for the millions of families living in the region.
Electric buses are also currently the best type of bus by far to fight climate change. Electric buses powered by 50 percent renewable energy—consistent with California's new law directing the state to move to 50 percent renewables by 2030—have the lowest CO2 emissions of anything on the market. If LA Metro can spark a national shift to electric buses, it would mark a major success in the battle to protect our climate.
Other cities are considering making the move to electric buses too, as cities and states take up the reins of environmental leadership in the United States. King County Metro, the transit authority for the Seattle area, recently found that it could shift to 100 percent zero-emission buses by 2034 with minimal impact on its budget. The agency's analysis even suggested an opportunity to increase bus service—also a great idea for LA Metro in order to alleviate overcrowded buses and increase ridership in the region.
As LA Metro considers a contract to purchase up to 1,000 natural gas-powered buses (equivalent to nearly half of its entire fleet) in the coming months, the debate about electricity versus natural gas is coming to a head. Local voices are making a strong case against natural gas: Clearly, cities cannot continue to lock themselves into natural gas infrastructure when there are cleaner, more efficient choices on the market.
Luckily, a broad coalition has formed in Los Angeles to ensure LA Metro makes wise use of its transit dollars and invests in electric buses. Comprised of labor, environmental and public health groups, this coalition is calling for LA Metro to operate 100 percent zero-emission buses by 2030. It's also vital that these electric buses operate first in the communities already disproportionately burdened by pollution, and that they provide quality union jobs for the people who build the electrical infrastructure and the buses themselves. Earthjustice proudly stands with this coalition in fighting for electric buses, clean air and good jobs in Los Angeles.
We're almost 100 days into the Donald Trump administration, and already we've seen major efforts to gut environmental protections for communities and dismantle climate efforts. Now more than ever, we need local leaders with the courage to stand up to entrenched fossil fuel interests. And we need plans that won't keep us lashed to polluting fossil fuels for decades to come. LA Metro can make this shift to electric busses—and if it does, the agency's leadership will have a ripple effect in cities across the country.
When the second-largest transit agency in the nation makes a good decision, other cities are empowered to take action, too. 
Based in Los Angeles, Adrian works on clean air, clean energy, and healthy communities issues as a deputy managing attorney for Earthjustice's Right to Zero campaign. Follow him on Twitter @LASmogGuy.
The California Regional Office fights for the rights of all to a healthy environment regardless of where in the state they live; we fight to protect the magnificent natural spaces and wildlife found in California; and we fight to transition California to a zero-emissions future where cars, trucks, buildings, and power plants run on clean energy, not fossil fuels.