Massive Gas Leak Reveals High Cost of Fossil Fuels
Though the natural gas leak in Southern California could be plugged by the end of February, residents who are concerned about additional leaks are pushing for the facility to be shut down for good. (Spanish language version available.)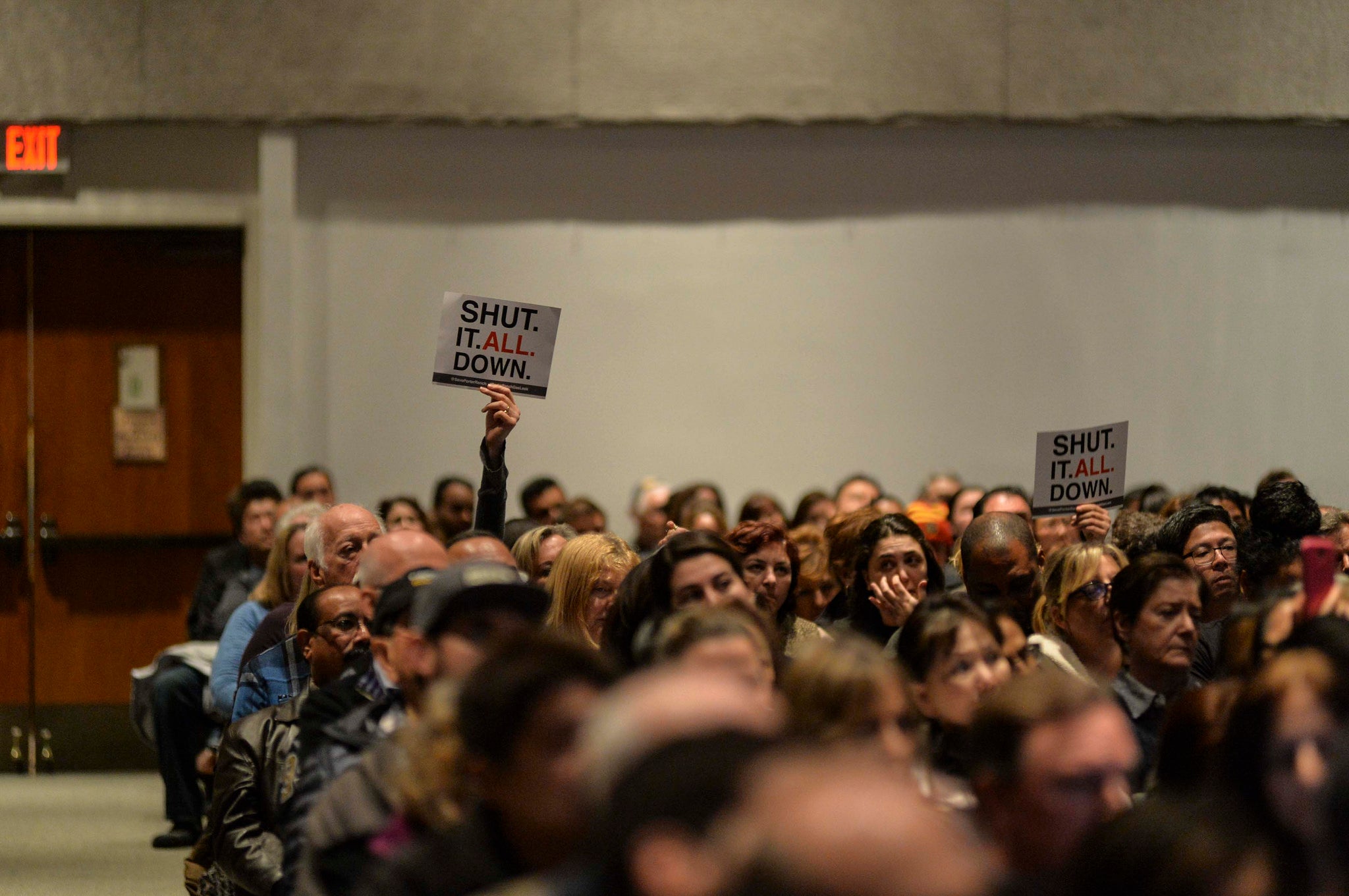 Este blog está disponible en español aquí.
Recently, Southern California air quality regulators finally issued an enforcement order directing Southern California Gas Company ("SoCal Gas") to permanently shutter its leaking underground natural gas well near Porter Ranch, where a massive methane leak is spewing thousands of pounds of harmful chemicals into the atmosphere every hour.
SoCal Gas announced that it expects to finally fix the leak by late February. But Porter Ranch residents, who have faced health concerns, school closures and relocation since the leak began in late October, continue to be impacted.
Two weeks ago, an analysis by outside experts and the Associated Press revealed that benzene levels emitting from the storage well were higher than the company had publicly stated. Some residents are even concerned that their pets have been affected by the leak. And the company's unsuccessful efforts to plug the leak may have worsened the blowout risk.
"It smells like strong rotten eggs mixed with sulfur," Gabriel Khanlian said in an interview with AJ+. "My children have been getting runny noses, bloody noses, stomach aches, headaches, mood swings and burning eyes."
Khanlian is a member of Save Porter Ranch, a local organization working to respond to the massive methane leak.
The South Coast Air Quality Management District's enforcement order requires SoCal Gas to fund an independent health study, develop a better system for detecting leaks from the facility's wells, report odor complaints made since Oct. 23 and drain as much gas as possible. Once the well's leak has been stopped, SoCal Gas must shutter the well completely. But, there are 114 other storage wells at the site that will continue to be allowed to operate under the current order.  
Why are we giving the benefit of the doubt that the rest of this aged facility is working properly? This faith in a facility that has perpetrated one of the largest methane leak disasters in modern history makes no sense. To make matters worse, the air district's recent lawsuit alleges that "SoCalGas' negligence caused the leak from [the well]." Clearly we should not give this facility the benefit of the doubt. 
As Earthjustice noted recently, many think the agency must go much further in protecting residents and the local environment from this manmade disaster. Last week, the state Senate approved a moratorium that will stop the withdrawal of gas at 18 wells similar to the one that is leaking, according to the LA Times. Others are pushing to see the Aliso Canyon storage facility shut down entirely.
"Residents of Porter Ranch are not safe as long as the facility continues to operate," according to a spokesperson at Food & Water Watch, which is fighting alongside community groups and local residents to demand information and accountability about the leak. "In 2016, we'll continue our work with Porter Ranch and Los Angeles to urge Governor Brown to shut down the Aliso Canyon Storage Facility."
The SoCal Gas Aliso Canyon storage facility is the largest of its kind in the West, spanning approximately 3,600 acres north of Porter Ranch. But the well that's emitting the methane plume is only one of 115 across the underground facility, and it was originally drilled in 1953—that's 63 years ago. A recent report in the LA Weekly pointed out that SoCal Gas removed an all-important safety valve from the leaking well in 1979—and never bothered to replace it. That valve could have increased the chances of preventing the leak.
Since the natural gas leak began, people have been sickened, residents and school children have been displaced and California's efforts to address climate change have been eroded.
Most of what's being released into the atmosphere from this leak, which is one of the largest ever recorded, is methane—a far more potent heat-trapping gas than carbon dioxide. As of today, this one spill is responsible for the greenhouse gas emission equivalent of burning more than 800 million gallons of gasoline.
The bigger picture is even more sobering. As huge of a problem as the Aliso Canyon leak is, it represents only around five percent of methane pollution from the U.S. oil and gas industry on an annual basis, according to an Earthjustice analysis. In addition, the Aliso Canyon storage well leak may be plugged by February, but it's only one of the many decades-old wells at that facility. And even when natural gas isn't leaking due to an accident, burning it contributes to climate change and impacts the health of communities across California, especially low-income communities of color.
We need to keep the pressure on our leaders and regulators to ensure these aging fossil fuel facilities that are ubiquitous throughout the nation do not harm the health and welfare of residents. This will involve ensuring our laws are strongly upheld and potentially crafting new legislation and regulations. The Aliso Canyon debacle just highlights that our lax approach is failing us.
Derrame Masivo de Gas Demuestra el Alto Costo de los Combustibles Fósiles
Recientemente, reguladores de la calidad de aire del Sur de California por fin emitieron una ordenanza que exige a la compañía de gas Southern California Gas Company ("SoCal Gas") el cierre permanente de su pozo subterráneo productor de gas natural, donde un derrame masivo de gas está despidiendo miles de libras de químicos dañinos a la atmósfera cada hora.
SoCal Gas anunció que espera arreglar la fuga de manera total antes de que termine febrero. Pero los residentes de Porter Ranch, quienes han enfrentado problemas de salud, cierres de escuela y reubicaciones desde que el derrame de gas comenzó a finales de octubre, continúan sufriendo afectaciones.
Hace dos semanas, un análisis conducido por expertos externos y la Associated Press concluyó que los niveles de benceno que se despiden del pozo de almacenamiento son más elevados de lo que la compañía declaró públicamente. Algunos residentes incluso temen que sus mascotas hayan sido afectados por el derrame y los intentos infructuosos de la compañía para tapar la fuga han empeorado el riesgo de explosión.
 "Huele fuerte como a huevo podrido mezclado con sulfuro," dice Gabriel Khanlian en una entrevista con AJ+. "Mis hijos han tenido secreción nasal, les han sangrado las narices, han padecido de dolores de estómago, de cabeza, cambios de humor y se les han irritado los ojos." Khanlian es un miembro de Save Porter Ranch, una organización local que está trabajando para responder a la fuga masiva de metano.
La orden de cumplimiento de South Coast Air Quality Management District pide a SoCal Gas que financie un estudio de sanidad independiente, elabore un mejor sistema para detectar fugas de las instalaciones de los pozos, reporte quejas de mal olor dadas desde el 23 de octubre, y drene la mayor cantidad de gas posible. Una vez que se tape el derrame del pozo, SoCal debe cerrar el pozo completamente. Pero hay otros 114 pozos de almacenamiento en las instalaciones que continuarán funcionando bajo la orden actual.
¿Por qué le estamos dando el beneficio de la duda a que el resto de estas viejas instalaciones funcionen correctamente? Esta confianza en una instalación que ha perpetrado uno de los desastres de salideros de metano más grandes de la historia moderna, no tiene sentido. Para empeorar las cosas, el distrito de aire alega en una demanda reciente que "la negligencia de SoCal Gas causó la fuga (del pozo)." Claramente no debemos darle el beneficio de la duda a esta instalación.
Como Earthjustice destacó recientemente, muchos piensan que la agencia debe ir mucho más allá para proteger a los residentes y el medio ambiente local de este desastre causado por el hombre. La semana pasada, según el periódico, LA Times, el Senado estatal aprobó una moratoria que detendrá la extracción de gas de 18 pozos similares al que tiene la fuga. Otros están tratando de presionar para que la instalación de almacenamiento de Aliso Canyon cierre del todo.
Según el portavoz de Food & Water Watch, "los residentes de Porter Ranch no están seguros si la instalación sigue funcionando." La organización está luchando junto a grupos comunitarios y residentes locales para demandar información y responsabilidad sobre el salidero. "En 2016, continuaremos nuestra labor con Porter Ranch y Los Ángeles para exigir al Gobernador Brown que cierre la instalación de almacenamiento de Aliso Canyon."
La instalación de almacenamiento de Aliso Canyon de SoCal Gas es la más grande de su tipo en el Oeste, con un total de aproximadamente 3,600 acres al norte de Porter Ranch. Pero el pozo que está emitiendo el metano es solo uno de 115 a lo largo de la instalación subterránea, y se perforó en 1953—hace 63 años. Un reporte reciente en LA Weekly señaló que la compañía eliminó una válvula de seguridad muy importante del pozo tras una fuga en 1979—y nunca se molestó en reemplazarla. La válvula pudo haber incrementado las probabilidades de prevenir el derrame.
Desde que comenzó la fuga de gas, la gente se ha estado enfermando, los residentes y los niños han sido desplazados y se han erosionado los esfuerzos de California para enfrentar el cambio climático.
Casi todo lo que se despide a la atmósfera de este derrame, que es uno de los más grandes registrados, es metano— un gas que atrapa calor, y el cual es mucho más potente que el dióxido de carbono. Hasta el presente, esta fuga es responsable de emitir gases de invernadero equivalentes a quemar más de 800 millones de galones de gasolina.
La perspectiva a largo plazo es aún más grave. De acuerdo a un análisis de Earthjustice, mientras que el derrame de Aliso Canyon es un problema inmenso, éste representa solamente un cinco por ciento de la contaminación de metano por parte de la industria de gas y petróleo de Estados Unidos anualmente. Además, el derrame de la instalación de almacenamiento de Aliso Canyon se puede tapar para febrero, pero es solo uno de varios pozos que tienen muchas décadas de uso en esa instalación. Y aun cuando el gas natural no se salga debido al accidente, el quemarlo contribuye al cambio climático e impacta la salud de las comunidades a lo largo de California, especialmente las comunidades de color y de bajos recursos.
Necesitamos seguir presionando a nuestros líderes y reguladores para que nos garanticen que los combustibles fósiles que están presentes por toda la nación no dañen la salud y el bienestar de los residentes. Esto se logrará cuando se obligue a los responsables a cumplir las leyes al pie de la letra y potencialmente, producir nuevas legislaciones y normas. El desastre de Aliso Canyon simplemente destaca que nuestra actitud relajada no está funcionando.
Based in Los Angeles, Adrian works on clean air, clean energy, and healthy communities issues as a deputy managing attorney for Earthjustice's Right to Zero campaign. Follow him on Twitter @LASmogGuy.
The California Regional Office fights for the rights of all to a healthy environment regardless of where in the state they live; we fight to protect the magnificent natural spaces and wildlife found in California; and we fight to transition California to a zero-emissions future where cars, trucks, buildings, and power plants run on clean energy, not fossil fuels.