Move Aside Trump, California's Future Is Electric
While President Trump tries to roll back America's efforts to fight climate change, California charts its own path by investing $1 billion to electrify the state's ports, warehouses, buses and cars.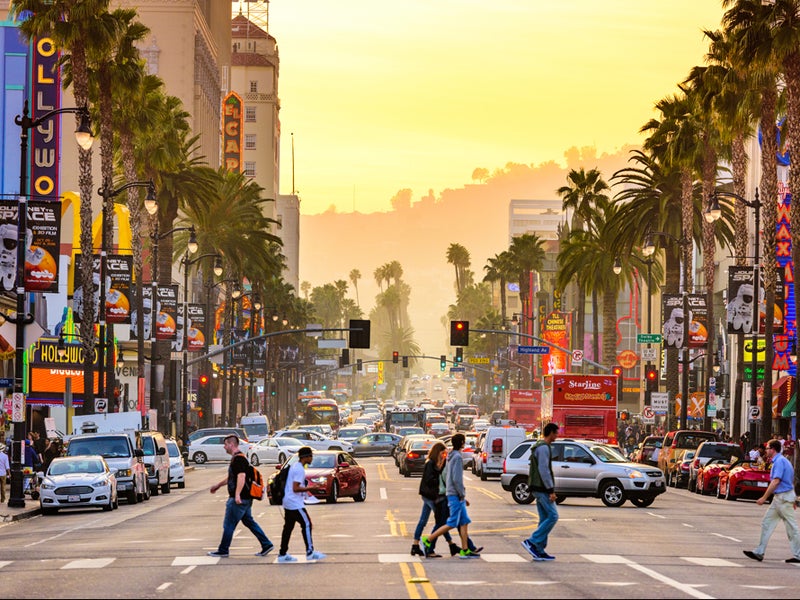 Squinting into the smog, California utilities have seen the future—and it's not fossil fuels.
On the same day our nation inaugurated a president deeply entrenched with old fossil fuel interests, three California power companies catapulted their state into the future with a plan for a new clean energy paradigm. It's one of many signs that California is not only holding the line, but also pushing into new territory to protect the environment and public health.
Southern California Edison, Pacific Gas & Electric and San Diego Gas & Electric revealed a plan to invest $1 billion in building a comprehensive electric transportation infrastructure. The plan for electrified ports, warehouses and personal vehicles is designed to cut air pollution, curtail emissions of greenhouse gases and modernize transportation for everyone in the state, from car commuters to workers in the state's super-sized freight industry.
The plan, which must now be approved by the California Public Utilities Commission, includes:
extending power to electric charging stations at warehouses and bus yards
electrifying forklifts, trucks and other equipment at ports
installing fast-charging sites in parking lots near airports, apartment complexes and shopping malls
creating incentives for taxi drivers, ride-sharers and everyday families to use electric vehicles
When Southern California Edison did the math, the utility found that the estimated cost of the plan for their electricity customers is only about 53 cents a month. In contrast, healthcare experts estimate the annual financial burden for a patient with well-controlled asthma is $450, while the most severe asthma cases can cost families over $14,000 a year. Nearly three million Californians have asthma, which can be triggered by air pollution.
Nearly three million Californians have asthma, which can be triggered by air pollution.
Setting aside the financial calculations of healthcare costs saved and lost workdays avoided, good health is truly priceless. Six of the 10 cities with the highest rates of ozone and particulate pollution in the nation are in California. The benefits of zero-emission freight and transportation to people living in the state with the nation's worst air pollution problems are incalculable; for families, a child with a healthy set of lungs means so much more than money saved.
We need more investments even more quickly in places like the Los Angeles region, which suffers the worst air quality in the nation. Los Angeles has a health and environmental imperative to clean up its polluting transportation system.
Many of the people most at risk in California live in low-income neighborhoods near ports and industrial sites, where pollution from diesel engines is concentrated, making air quality a life-or-death environmental justice issue. More than 1,300 lives are cut short each year in the Los Angeles area alone because of air pollution. That's why, for more than a decade, environmental justice advocates have been at the forefront of this issue, calling for zero-emission technologies to clean up our ports, rail yards, bus depots and warehouses. In particular, transforming the machinery and transportation equipment at California ports, which are among the largest in the world, will have enormous benefits for the state's air quality.
People most at risk in California live in low-income neighborhoods near ports and industrial sites, where pollution from diesel engines is concentrated.
But the utilities aren't electrifying the transportation sector just out of the goodness of their hearts. While the companies are showing admirable foresight, the electrification plan clearly demonstrates the importance of tough legislative action.
The plan was a direct response to California's Senate Bill 350, which calls for 40 percent reductions in the state's greenhouse gas emissions from 1990 levels by 2030. According to the 2015 law, utilities are required to develop plans to meet the clean energy goals and specifically to "accelerate widespread transportation electrification."
Opponents of laws like SB 350 say major environmental progress to improve air quality and fight climate change could "cripple the state," but in fact we're seeing the start of a massive investment in infrastructure that will put Californians to work in the new clean energy economy.
California is nimbly building a grid of electric transportation, freight and charging stations, all powered by renewable energy. The state is investing now so its residents can reap major climate and health benefits down the line. The Golden State is on the right side of history–and its future is electric.
A version of this post first appeared as an op-ed in Capitol Weekly.
Based in Los Angeles, Adrian works on clean air, clean energy, and healthy communities issues as a deputy managing attorney for Earthjustice's Right to Zero campaign. Follow him on Twitter @LASmogGuy.
The California Regional Office fights for the rights of all to a healthy environment regardless of where in the state they live; we fight to protect the magnificent natural spaces and wildlife found in California; and we fight to transition California to a zero-emissions future where cars, trucks, buildings, and power plants run on clean energy, not fossil fuels.