Napa Vintner Says 'No Pesticides, No Problem!'
Ceja Vineyards: A good case of one family who respects the land and the people who make their business sustainable.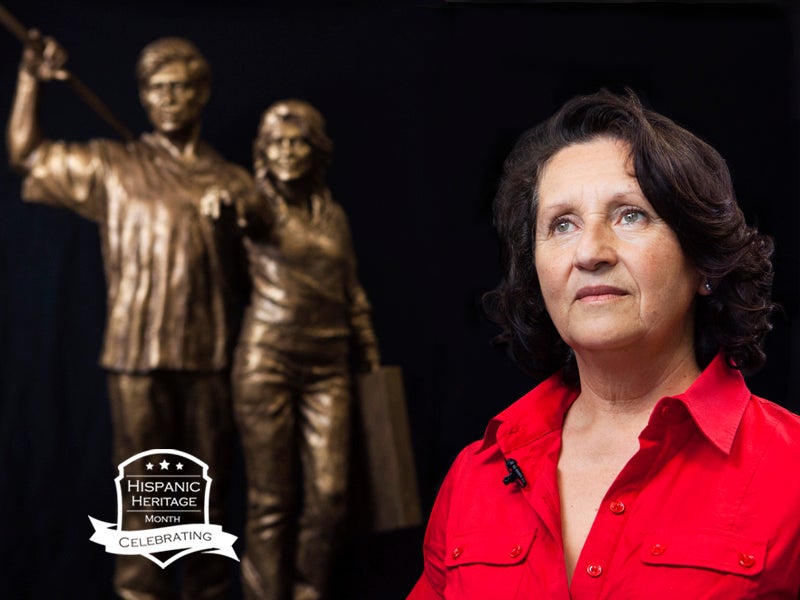 Este blog está disponible en español aquí.
We do a lot of talking about what's wrong with agriculture in this country—rampant use of dangerous pesticides, unfair labor practices that disrespect and disconnect farmworkers from our food chain and government agencies that have listened to Big Ag for far too long when it comes to the science of protecting our food system and, ultimately, the food we consume. 
However, there are plenty of fine people working to fix what's wrong and return to farming that respects the land and the people who work it. To celebrate National Hispanic Heritage Month, we're highlighting a perfect example of how to farm and run a business sustainably.
Meet Amelia Morán Ceja and her family, who own and run Ceja Vineyards, an ultra-premium Latino-owned winery in Napa, California. Her unique story of coming to the U.S. from Mexico as a 12-year-old grape picker who has since garnered some of the wine industry's most prestigious awards has been featured on the Today Show, in Cosmopolitan magazine, and in countless wine publications.  
Ceja was once told by a patriarch of the wine industry not to market to the Hispanic community because "they don't buy that much wine." She told him, "You concentrate on your market, I'll concentrate on mine." Ceja has grown a successful business while introducing wine to new audiences for more than a decade. 
But you can read all about that in the glossy trade magazines. What I find most compelling about Ceja's story and her family's approach to running the business is the genuine love and respect they show for all their workers, from farmhands to managers. Because the Cejas provide a pesticide-free work environment, pay good wages and treat workers to "fiestas" and family gatherings, most of the field workers at Ceja Vineyards have been with the company for many years—a rarity in farm work. 
As the Obama administration finalizes a new Worker Protection Standard—the woefully outdated regulation protecting farmworkers from pesticide exposure—Ceja serves as a shining example of how doing right by the environment (and your work force) can be good for business. Please watch our short film about Ceja Vineyards, which will be featured at the Americas Latino Eco Festival this month. ¡Salud!
This post is part of a series celebrating Hispanic Heritage Month. Earthjustice is serving as a co-presenter at the 2015 Americas Latino Eco Festival, a multicultural event that aims to unite Latino leaders in the environmental movement. The festival will take place October 15 through 17 in Denver, Colorado.
Vinicultora de Napa Dice '¿No Pesticidas? ¡No Hay Problema!'
Hablamos mucho de lo que falla en la agricultura en este país: el uso rampante de pesticidas dañinos, prácticas laborales desleales que desprecian y hacen a un lado a las familias de los trabajadores agrícolas de nuestra cadena alimenticia y las agencias gubernamentales que le han hecho caso a los grandes conglomerados agroindustriales por demasiado tiempo y que no aplican los conocimientos científicos para proteger nuestro sistema alimentario, y ultimadamente a los alimentos que consumimos.
Sin embargo, existe gente consciente que está trabajando en resolver estos problemas y regresar a prácticas agrícolas que respetan la tierra y la gente que la trabaja. Para celebrar el Mes Nacional de la Herencia Hispana, estamos destacando un ejemplo excelente de cómo llevar la siembra y al mismo tiempo administrar un negocio sustentablemente.
Les presentamos a Amelia Morán Ceja y su familia quienes son propietarios y administradores de Ceja Vineyards, un viñedo de muy alta calidad en Napa, California. Su historia es sobresaliente porque llegó a Estados Unidos a los 12 años desde México y a esa edad pizcaba la uva pero llegó a convertirse en una experta, ha ganado prestigiosos premios de su industria y ha aparecido en el Today Show y en numerosas publicaciones como Cosmopolitan y otras revistas especializadas en el tema.
Ceja recuerda como una vez el patriarca de la industria vinícola le dijo que no intentara vender su producto a la comunidad hispana porque "ellos no compran mucho vino." Ella le contestó, "Usted concéntrese en su mercado, y yo me concentraré en el mío." Ceja ha convertido su negocio en una empresa de éxito al mismo tiempo que ha ganado nuevos adeptos en más de una década de existencia.
Pero se puede leer toda su historia en las revistas de negocios. Lo que yo encuentro más irresistible sobre la historia de Ceja y el enfoque que su familia le da a la administración de su empresa es el cariño y respeto verdaderos que demuestran a todos sus trabajadores, desde mozos hasta gerentes. El hecho de que los Cejas han brindado un ambiente de trabajo libre de pesticidas, donde pagan buenos sueldos y organizan fiestas y reuniones para sus trabajadores– la mayoría de los jornaleros que laboran en Ceja Vineyards ha estado con la empresa por muchos años—es algo muy raro en el trabajo agrícola.
Y mientras que la administración Obama pone los últimos detalles a una nueva Norma de Protección a los Trabajadores—la regulación deplorablemente insuficiente que se supone protege a los trabajadores agrícolas de exposición a los pesticidas—Ceja sirve como un magífico ejemplo de que si una agroempresa beneficia al medio ambiente (y a tus trabajadores) también se beneficiará económicamente. Por favor ve nuestro cortometraje sobre Ceja Vineyards, el cual será presentado en el Americas Latino Eco Festival este mes. ¡Salud!
Esta contribución es parte de una serie que celebra el Mes de la Herencia Hispana. Earthjustice va a servir como co-presentador en el Americas Latino Eco Festival, 2015 un evento multicultural que busca unir a líderes latinos del movimiento ambientalista. El festival se va a llevar a cabo del 15 al 17 de octubre en Denver, Colorado.
Kari Birdseye worked at Earthjustice from 2011–2016, as a national press secretary and on advocacy campaigns protecting our health and the environment from the impacts of pesticides and toxic chemicals.