National Parks Go Toe-to-Toe with 'Big Water' Over Plastic Bottle Waste
Big Water is challenging a National Park Service initiative to replace bottled water sales at their parks with free water bottle filling stations.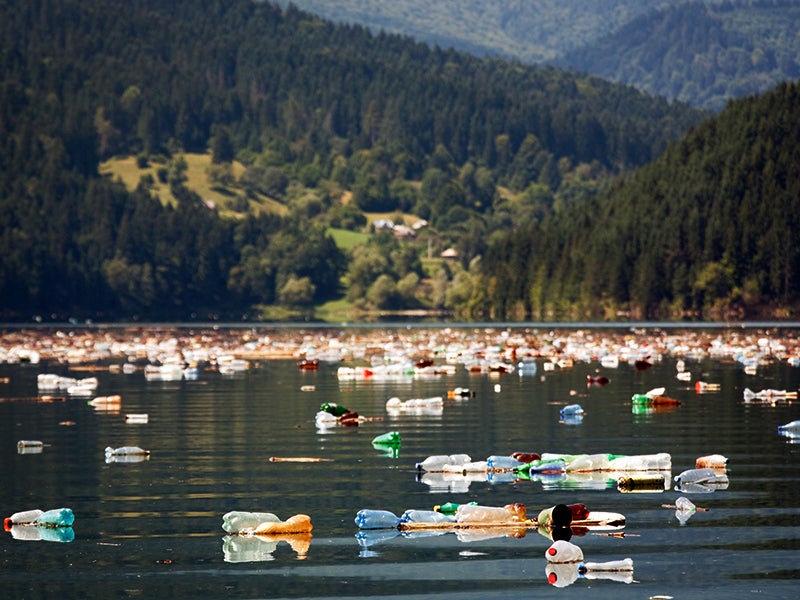 Snowed under by an avalanche of empty plastic bottles, in 2011 National Park Service Director Jonathan Jarvis told the system's 408 parks, national monuments and historic sites that they could stop selling bottled water at their concession stands and offer public water bottle filling stations instead.
According to Jarvis, the environmental impact of single-use plastic bottles made from petrochemicals and shipped around the world is incompatible with the Park Service's goal to be a responsible steward of nature. Plastic bottles make up an estimated one-third of all garbage in the parks. And national parks—especially in remote areas—pay a pretty penny to remove and recycle all that plastic waste. The policy doesn't prohibit guests from bringing in their own disposable water bottles; it simply makes them unavailable for purchase at the parks.
Nineteen parks have signed on so far, including some of the biggest names: Grand Canyon, Canyonlands, Arches and Zion national parks and Mount Rushmore National Monument. Zion National Park was the first to buck the bottle, and since then the park has eliminated the sale of 60,000 plastic water bottles, which equates to 5,000 pounds of plastic waste avoided. Refilling stations for reusable water bottles cost between $2,000 and $15,000 each, depending on how far they are from a water source, often a spring, but the Park Service says the expense is well worth the environmental payoff.
The only group up in arms about the new bottle policy is the $13-billion-a-year bottled water industry, represented by the International Bottled Water Association, whose members include Figi, Evian, Nestlé and Glacier Springs. According to the Washington Post, the association has spent about $510,000 to lobby members of Congress since 2011.
The bottled water association has launched a full-scale attack on the Park Service policy, arguing that banning the sale of bottled water will encourage visitors to choose unhealthy, sugar-sweetened sodas instead and could put people at risk of dehydration. Pennsylvania Republican Keith Rothfus even added an amendment to a House of Representatives budget bill to block the Park Service from using federal money to build water bottle filling stations. The House bill was put on indefinite hold in July because of a debate over the Confederate flag, but the International Bottled Water Association is still pressing the Park Service to throw in the towel (or in this case, the bottle).
For some hot, desert parks like Texas' Big Bend National Park, doing away with bottled water is simply not an option. Those parks will continue to recycle their discarded plastic bottles. But for the system's hundreds of other parks, Jarvis is calling Big Water's bluff. The Park Service says even if Congress does cut funds for bottle filling stations, they'll get the money they need from concessionaires at the parks and "friends of the parks," nonprofit groups that help fund park activities in their home regions. Some concessions companies, including Xanterra and Aramark, who stand to lose money in the short-term by not selling bottled water, have already started implementing the forward-thinking policy.
To raise awareness about the Park Service's battle to ban the bottle, Earthjustice has joined with the Sierra Club and the League of Conservation Voters to support a petition telling Congress not to punish national parks for their Earth-friendly initiative. You can add your name to the long list of park supporters who are serious about reducing waste and thirsty for positive change.
A journalist and graduate of the University of California, Berkeley, Heather was the associate editor from 2015–2017.