Obama's Last Chance to Save the Appalachian Mountains?
The Stream Protection Rule will decide how much we protect mountains and streams from mountaintop removal mining.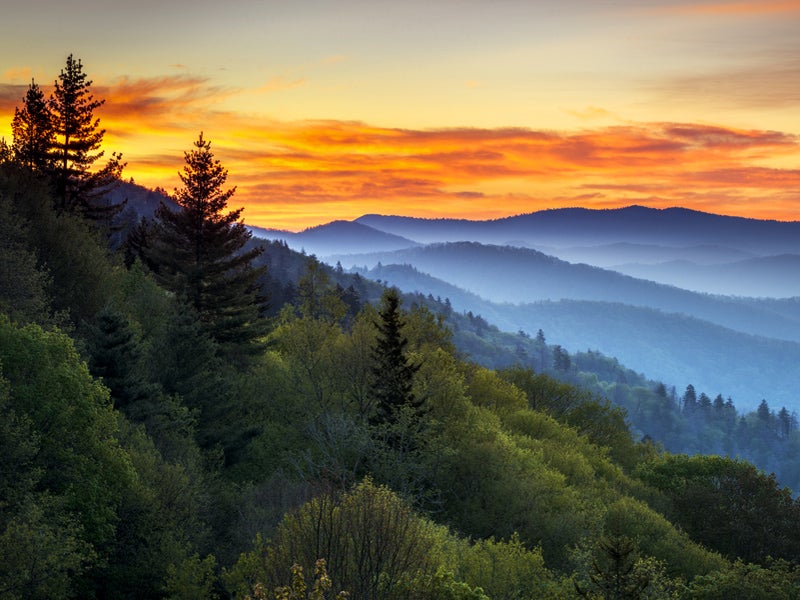 With about fifteen months left in office, the Obama administration is facing big decisions in what is likely to be one of its last major initiatives on coal mining, clean water and climate—the Stream Protection Rule. The rule is an overhaul and update of the environmental standards for coal mining, including mountaintop removal mining, an extremely destructive practice that is flattening Appalachia. Global coal prices are low, so the pace is somewhat slower than usual, but the destruction continues. Since 1980, mountaintop removal has flattened about 500 mountains and destroyed 2,000 miles of streams.
The new rule will decide whether this destruction should continue unabated. It is an opportunity for the Obama administration to put a stop to the worst practices of the coal industry.
The proposed rule, released in July, gets us part of the way there. It recognizes the serious environmental problems caused by surface mining in Appalachia and other parts of the country, and that the current environmental standards aren't adequately protecting people or the environment. It provides for better environmental assessment and monitoring, and requires more effective reclamation techniques, such as planting more native trees after mining is completed. It also imposes more financial accountability, making it harder for companies to earn a profit by wrecking the environment and then hiding behind bankruptcy to avoid paying for the clean-up—a classic case of privatizing gains and socializing losses that is all too common in the coal industry.
But though the proposed rule includes modest improvements such as better clean-up requirements, it also allows too much damage to occur in the first place. That's why Earthjustice, joined by a large coalition of local and national public-interest groups, is calling on the Obama administration to further strengthen this rule. In a comment letter filed yesterday, the coalition explained that the final rule should restore the ban on mining and mine waste disposal within 100 feet of streams, crack down on operations that are the most damaging to mountains and ridge lines, make it clear that mines can't degrade downstream water quality, and empower ordinary citizens to enforce water quality standards in court. Many of these tougher requirements are actually required by laws like the Clean Water Act, so the Obama administration will be on solid ground if it adopts and enforces them.  
The mountains and streams of Appalachia need better legal protection. And, as thousands of citizen comment letters pointed out, so do the people. Here are a few of the reasons why Earthjustice supporters are urging the Obama administration to take a strong stand for the people of Appalachia:
I am an Appalachian native and a coal miner's granddaughter. The cancer rate in my family is high and we have all suffered enough for BIG COAL. Enough is enough.

     Susan I., Burbank, CA
I live in Kentucky, and previously lived in West Virginia for over 13 years.  I've seen the devastation caused by mountain top removal mining on the lives of people.  It's time to stop this practice.

     Mary B., Louisville, KY
As a coal miner's granddaughter, I can tell you that nothing hurt my grandparents more than the strip mining of the ridge in their valley. After cave-ins, explosions, 30 men buried in the Clymer PA cemetery in one day, Black Lung, Silicosis, what broke their hearts and made them leave was the strip mining of that ridge. I can't imagine what they would think of mountaintop removal. There ARE limits to what should be allowed in the name of profit.

     Dianne R., Worcester, MA
I have lived in Appalachia. It is a beautiful place — too beautiful to be destroyed by mining that allows the flattening of its mountains and the polluting of its lovely streams with so-called "overburden." My friends and others who still live in this magnificent area deserve clear, unpolluted water, soil and air and their beautiful, healthy environment. Please stop mountaintop removal.

     Frances P., Belfast, ME
As a resident of Appalachia, I have seen first hand the environmental and human tragedy caused by MTR.  Please pass a Stream Protection Rule that makes a positive difference in the health of our communities!

     Kim K., Berea, KY
To see the effects of mountaintop removal, watch this short Earthjustice film, Mountain Hero.
After serving in the Peace Corps in El Salvador and now working in the Washington, D.C. office, Neil Gormley is dedicated to representing vulnerable communities who can't escape the horrors of dirty fossil fuels.
Earthjustice's Washington, D.C., office works at the federal level to prevent air and water pollution, combat climate change, and protect natural areas. We also work with communities in the Mid-Atlantic region and elsewhere to address severe local environmental health problems, including exposures to dangerous air contaminants in toxic hot spots, sewage backups and overflows, chemical disasters, and contamination of drinking water. The D.C. office has been in operation since 1978.