Online Shopping Is Poisoning the Air, But Electric Vehicles Can Help
Two recent wins in Southern California show that e-commerce doesn't have to come at the expense of people's health if the industry shifts to an electric future.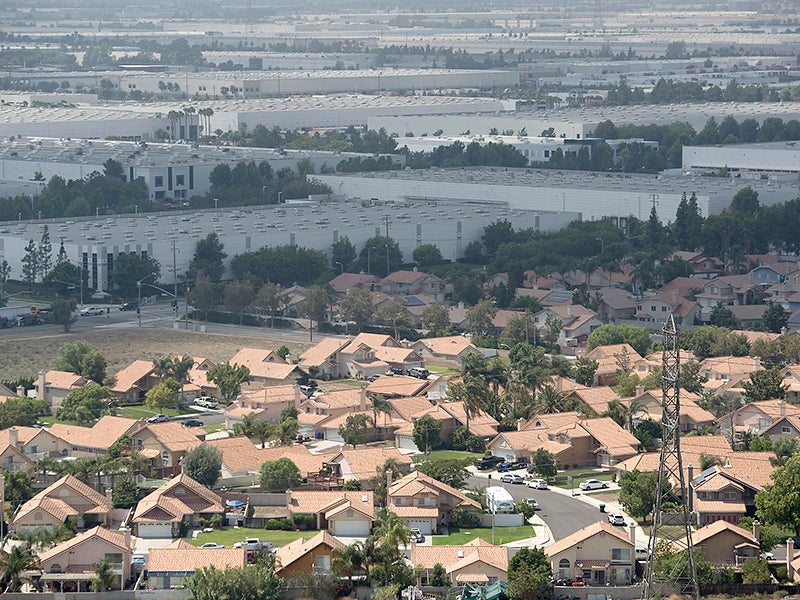 If you buy a product online, there's a good chance it will pass through the Inland Empire. Nestled in a ring of mountains in Southern California, the region is a major national hub for transporting goods through its freeways and many mega-warehouses. And these aren't your mother's warehouses: a car can drive for several minutes alongside one of them and still not reach its end.
The sprawl of cavernous buildings here is an intensified version of what's happening all over the U.S. As e-commerce grows, propelled by the COVID pandemic, warehouse hubs are expanding to accommodate speedy online deliveries and an ever-growing distribution network.
The diesel trucks that service these warehouses impose dire health consequences to the communities around them as they belch dangerous levels of nitrogen oxides, benzene, and particulate matter. Breathing such heavily polluted air dramatically increases asthma rates and risk of pulmonary disease and cancer, leading some medical professionals to call neighborhoods with heavy freight activity "diesel death zones."
Residents of the Inland Empire breathe some of the worst air pollution in the country. For years, local environmental justice groups have fought hard to protect their right to breathe clean air — and this spring, they won major victories that could give other communities a playbook for forcing warehouses to limit their emissions.
The predominantly Latino working-class communities of the Inland Empire have endured a long legacy of injustice, hemmed in by crisscrossing freeways that connect the two largest ports in the country. As many as 1,000 diesel trucks an hour thunder through Inland Empire communities within 100 feet of people's homes. The coastal breeze provides little relief, as the region is encircled by the Box Spring Mountains, which trap pollution under a cap of warm air pressure.
In April, Earthjustice won a settlement valued at up to $47 million in a case representing local environmental justice and conservation groups who sought to electrify the world's largest planned warehouse development in the region. The project, dubbed the World Logistics Center, will equal three Central Parks in size — 10% of the entire city's land. Without electrification, the project would pump out hundreds of thousands of metric tons of greenhouse gas emissions each year and add more than 14,000 diesel truck trips each day.
This landmark settlement is the first of its kind, and could reverberate through the industry. As the largest warehouse development to incorporate zero-emissions technology, it provides a roadmap for how the goods movement industry can dramatically reduce its health and climate impacts on nearby communities.
Under the settlement, the developer will help fund 680 electric trucks and equipment like electric forklifts, enough solar panels to meet 50% of the facilities' needs, and other electrification solutions. The developer will also provide a thousand $1,000 EV grants for Moreno Valley residents to purchase electric cars, install on-site EV chargers, and set aside up to $5 million for air filtration and noise mitigation for the most impacted homes near the facility. An additional $4 million will go to protecting the local ecosystem and the nearby San Jacinto Wildlife Area, which is home to threatened and endangered plants and animals.
The settlement highlights how systemic change, not consumer choices, will reduce the climate impact of polluting industries. Business and local governments already have the tools to clean up our economy, using solutions that advance both clean energy and economic growth.
And Southern California intends to lead the way.
This month, the agency that oversees Southern California's air quality passed a first-in-the-nation rule to slash industry emissions and protect communities' health. Large warehouses over 100,000 square feet will incorporate electric trucks and rooftop solar into their operations. The new regulation will deliver health benefits worth up to $2.7 billion.
"Squinting through the smog, California is charting a better future for the sake of our lungs — and that future is a zero emissions goods movement industry," says Adrian Martinez, who represented the coalition challenging the World Logistics Center. "The health benefits will be immense, but the Indirect Source Rule is just the beginning. The way we move goods in this country has got to be electric, for the sake of clean air and a breathable future."
With the goods movement industry booming and companies like Walmart and Amazon paying millions of dollars for facilities, mega-warehouses might be here to stay. But as local environmental justice advocates demonstrated in Southern California this spring, they can push back on online shopping's impacts to people's health.
Alison Cagle is a writer at Earthjustice. She is based in San Francisco. Alison tells the stories of the earth: the systems that govern it, the ripple effects of those systems, and the people who are fighting to change them — to protect our planet and all its inhabitants.
The California Regional Office fights for the rights of all to a healthy environment regardless of where in the state they live; we fight to protect the magnificent natural spaces and wildlife found in California; and we fight to transition California to a zero-emissions future where cars, trucks, buildings, and power plants run on clean energy, not fossil fuels.