Our First National Park: More Precious Than Gold
Mining proposals on the doorstep of Yellowstone National Park threaten the environment and the local economy.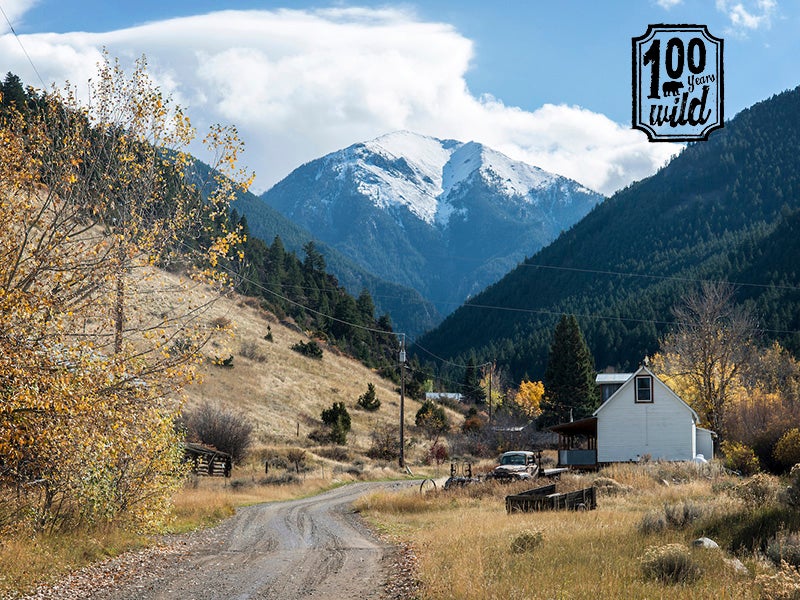 Editor's Note
U.S. Secretary of the Interior Sally Jewell responded to calls from local community leaders, joined by environmental groups including Earthjustice, to protect more than 30,000 acres of public land near Yellowstone National Park from two gold mine proposals. The lands serve as some of the last refuges for our nation's most iconic symbols of wildness — grizzly bears, lynx and wolverines. The new protections are the result of a mineral withdrawal proposal, which triggers a two-year moratorium on mining activity. If finalized after a public process, the withdrawal could prevent mining on these public lands for 20 years. While celebrating this important milestone, Earthjustice will continue to fight until the threat from mining on Yellowstone's doorstep is permanently removed. On April 25, 2017, U.S. Senator Jon Tester introduced legislation to protect more than 30,000 acres of public land bordering Yellowstone National Park — an area that has been targeted by two industrial-scale gold mine proposals.
"For the Benefit and Enjoyment of the People."
These are the words inscribed on the Roosevelt Arch, visited by millions who pass through the north entrance of Yellowstone National Park every year. President Theodore Roosevelt stood beside the arch in 1903 and praised Yellowstone, the planet's first national park. It would still be more than a decade before the formation of the National Park Service, but the core value of preserving and protecting stunning wildlands for universal benefit had been carved in stone.
New plans for a pair of nearby gold mines have prompted Earthjustice to team up with a coalition of citizen groups and longtime allies in the fight to protect Yellowstone. The mines would cause irreversible environmental harm to this natural wonder and fray the economic fabric of the region.
If a gold mine is developed on Crevice Mountain, just a mile outside the park boundary, as planned, vacationers pausing for a snapshot beside the historic gate on their way to Old Faithful might see heavy mining equipment and floodlights in the background. Further north, a proposed gold mine on Emigrant Peak would mar the view from the road that cuts through Paradise Valley.  Travelers gazing at the majestic peak jutting up from the Absaroka Mountains—a refuge for bighorn sheep, elk, grizzly bears and other creatures—would be confronted with the destruction of an open-pit mine.
But a blemished view of the cinematic Yellowstone landscape is just one of the problems anticipated with this proposal. The Emigrant mine threatens to send acid runoff flowing into tributaries of the Yellowstone River, while nearly 100,000 tons of waste rock containing elevated levels of arsenic would be dumped near tributary headwaters. Both could impact wild trout and other species that depend upon the rushing rivers of Yellowstone for pure, freshwater habitat.
Don't Mine Yellowstone from Eric Ian Photography on Vimeo.
The Yellowstone gateway mines would also carve up precious habitat for endangered grizzly bears. Not only would grizzlies have to pick their way around waste rock storage areas and risk fatal encounters with humans due to road construction, but they might also be exposed to the industrial noise of mining equipment and helicopters overhead, used to haul core samples and transport people to remote drill sites. Biologists have found that this kind of noise disturbance can cause grizzlies to abandon their dens.
And wildlife, including wolverines, lynx, elk, and other species, wouldn't be the only inhabitants impacted by the mines. Destroying natural habitat to make way for mines threatens the local community by taking a toll on the regional economy. Maintaining large swaths of connected wildlands is a proven strategy to support sustainable recreation and a healthy tourist economy. Barreling ahead with a gold mine for short-term financial gain could come at the expense of the primary driver of economic growth in the Yellowstone area: an intact landscape that attracts millions of visitors from around the globe and supports a diverse business community and highly skilled workforce.
The temptation to extract precious minerals from the mountains around Yellowstone means short-sighted mining proposals have cropped up time and again. Mining flourished in the greater Yellowstone region in the 1870s and continued all the way to the 1950s. But as the mines sat idle in the decades that followed, three watersheds in the surrounding area were stained with orange, acid-tainted water that found its way into Yellowstone National Park.
In the late 1980s, Canadian mining giant Noranda quietly bought up most of the existing mining claims from the areas that were leaching acid-tainted water. The company then unveiled plans for a massive new mine where it would spray liquid cyanide onto piles of crushed ore to extract gold. The National Park Service and local citizens were horrified, and a United Nations committee even designated Yellowstone as a "world heritage site in danger."
Earthjustice filed suit on behalf of the Beartooth Alliance, the Greater Yellowstone Coalition and other citizens groups, calling on Noranda to clean up the toxic runoff from the old mines it had purchased before it started on the new project. It was forced to abandon the project. (Read the full story here).
Park lovers understand that the only way to preserve the natural beauty of Yellowstone is to spring into action whenever new mining proposals start to gain momentum. That's why Earthjustice is now working in partnership with local and national groups to defend our oldest national park against the gold mine proposals that threaten to undermine the area's immeasurable environmental, social, cultural and economic value.
As the National Park Service turns 100 this summer, the 100 Years Wild series celebrates the value of public lands as refuges to wildlife and people, while also shining a light on the threats to these irreplaceable landscapes in a changing and warming world.
Based in Portland, OR, Rebecca is Earthjustice's Public Affairs and Communications Officer for lands, wildlife, and oceans.
Established in 1993, Earthjustice's Northern Rockies Office, located in Bozeman, Mont., protects the region's irreplaceable natural resources by safeguarding sensitive wildlife species and their habitats and challenging harmful coal and industrial gas developments.