Pesticides: Stories from the Frontlines, Part 3
In this third installment of a weekly series, farmworkers share stories from the frontlines, illustrating why we need an even stronger standard than EPA proposes.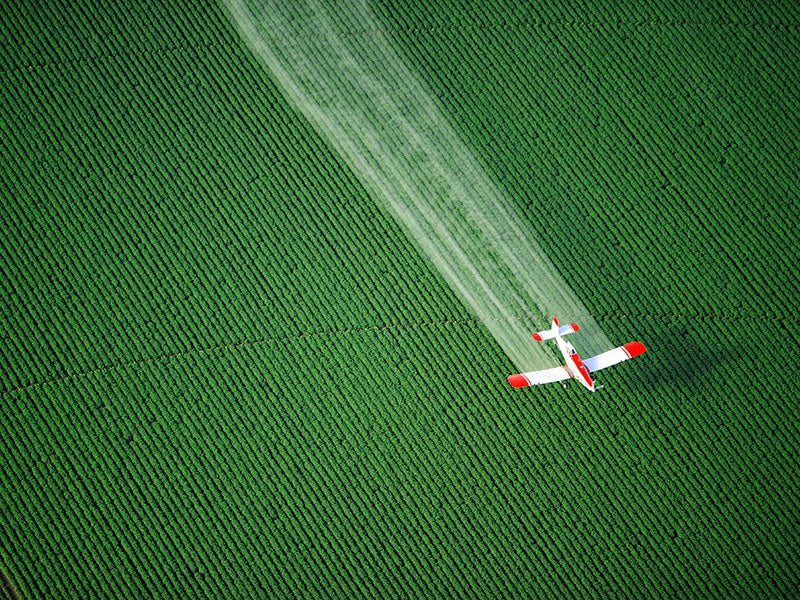 Farmworkers share stories from the frontlines, in this third installment of a weekly series:
Part 3: Living near toxic fields
"As a child, my family worked in the fields bordering the Denver area. Spraying with pesticides was done while we were working or the evening prior. On weekends, our father joined us and the earnings were used to stock up for the winter. Many of our neighbors, relatives and friends also worked in the fields until school started in the fall.
"The folks who harvest our food need increased protection from exposure to pesticides. In my own family, one sister died of ALS and I had a liver transplant as a result of PSC. What role did exposure to pesticides as children play? No one knows but we are certain the pesticides are harmful to humans as a whole.
"To prevent future problems, the EPA and even OSHA should be concerned about this exposure and work to strengthen the rules."
– Mary from Rand, CO
"I lived in a house near pear orchards on Mt. Hood in Oregon. It was beautiful, idyllic, and more wondrous than most can imagine, but it was toxic.
"The county I lived in had the highest cancer rate in Oregon—there was no other industry there that could have been the cause. We knew to get the kids and pets and stay inside when they sprayed. It broke my heart.
"Why do people need to die a long, arduous death for the sake of farmers' or corporations' profits? These workers and anyone else exposed need to be protected. Profits do not have to equal death and whoever thinks so is sowing some ugly karma for themselves."
– Diane from Amelia, VA
"I am now retired, but for many years I worked for nurseries, landscape installation and landscape maintenance businesses.
"I was educated, conscientious, and English was my primary language. I was repeatedly appalled at the lax supervision and implementation of often confusing and difficult to understand rules and safety procedures, as well as the lack of understanding of the proper procedures and health consequences involved on the part of the workers responsible for the application of often highly toxic pesticides.
"The situation is no doubt similar, but perhaps even more serious in the agricultural industry where many of the workers are not well educated and do not speak English and possibly working here without proper documentation, making them fearful to raise questions or concerns; and many of them are often children—those most susceptible to the adverse immediate and long-term exposure to these chemicals.
"I do strongly support the suggestions contained in the comments from Earthjustice, and ask that you do all that you can to improve and clarify workers' protections, as well as improve safety testing of proposed chemicals before they are approved and released to the public.
"Thank you for considering my comments on this important issue involving the health and safety of all farm workers and the foods they produce that feed us all."
– Emily from Bend, OR
The U.S. Environmental Protection Agency wants your feedback as it updates rules meant to protect children and adult agricultural workers from pesticides.
In this weekly series, farmworkers share personal stories, illustrating why we need an even stronger standard than EPA proposes. Join us next week for part four in the Stories from the Frontlines series: "Calling On The EPA To Get It Right." (If you missed it, read the previous installments, Strengthening Protections for Farmworkers and When Going Organic Isn't Possible.)
Join with these farmworkers in taking action, and share your story below.
Kari Birdseye worked at Earthjustice from 2011–2016, as a national press secretary and on advocacy campaigns protecting our health and the environment from the impacts of pesticides and toxic chemicals.
Earthjustice's Washington, D.C., office works at the federal level to prevent air and water pollution, combat climate change, and protect natural areas. We also work with communities in the Mid-Atlantic region and elsewhere to address severe local environmental health problems, including exposures to dangerous air contaminants in toxic hot spots, sewage backups and overflows, chemical disasters, and contamination of drinking water. The D.C. office has been in operation since 1978.