You've Got Mail — and Clean Air
Following public pressure, USPS and the Biden administration are taking a big step to deliver clean air benefits in every neighborhood in the country.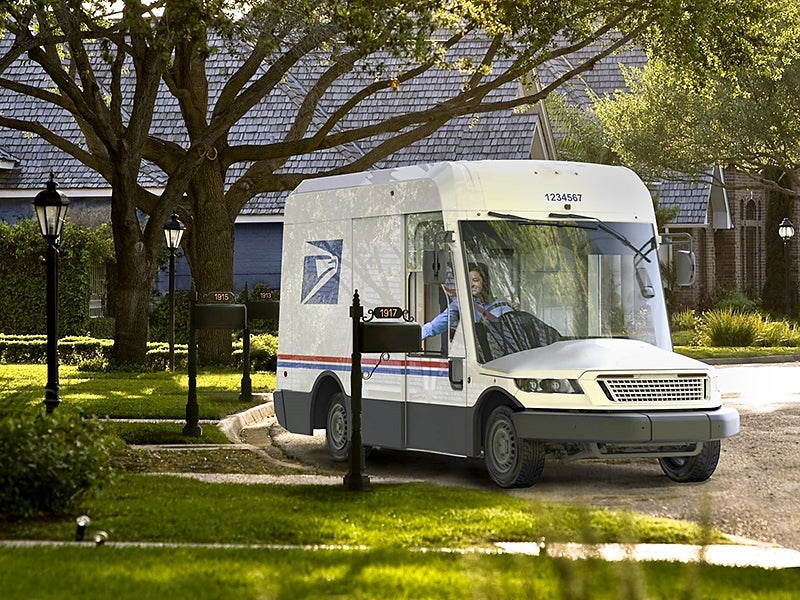 Editor's Note
The White House and U.S. Postal Service have announced plans to shift to predominantly electric mail truck purchases between 2023 and 2026, and a commitment to make all mail truck purchases electric after 2026. Earthjustice supporters sent in 161,976 public comments to USPS protesting the postal service's plans to procure polluting mail trucks with a harrowing mileage, and urging USPS and its Board of Governors to instead invest in an electric fleet. Today's announcement shows their message has been received.
Forget Amazon delivery, it could be the humble, dependable US Postal Service that ushers us all into the electric future. Along with 200 billion pieces of mail a year, electric USPS trucks could also deliver clean air benefits to every neighborhood — that is, if the postmaster will change course after popular outcry to go electric.
As Earthjustice works to accelerate the shift from dirty to clean energy, we often talk about "low-hanging fruit." These are transitions that would be the easiest to make happen, with the most benefits. When it comes to electrifying the country's mail fleet, the fruit couldn't be riper. Mail trucks are prime for electrification. They go short distances each day (averaging around 20 miles), they tend to idle as they traverse our streets, and they park at night in a centralized location that would make charging them a breeze.
So what would it take to make that happen? This should be a no-brainer for the federal government, and an easy win to protect our lungs and the climate. Last year, President Biden even issued an executive order to acquire only zero-emission federal vehicles in the coming decades. But in that same month, the Postal Service (still led by a general postmaster appointed during former President Trump's administration) issued its final environmental analysis for a plan to purchase up to 165,000 vehicles with 90% of them being fossil fuel burning vehicles.
The proposed design got a lot of attention and some laughs for the way it looks (if you squint your eyes, you can just make out Donald Duck's face), but it should have been lambasted for something far more sinister in its design: 90 percent of the trucks Postmaster General Luis DeJoy wants to buy burn fossil fuels and have a worse fuel economy than a Ford F-150.
Mail trucks run for decades upon decades — meaning that they could either deliver clean air with zero emissions technology, or dim our climate future and harm our lungs long enough to impact several generations of Americans.
It would be absurd and funny, if it weren't such a tragic missed opportunity for the country. If the federal government decided to shift its fleet to electric delivery, it would be one of the largest electric vehicle contracts in the world. It could generate enough manufacturing jobs to put a state like Wisconsin on the map for electric vehicle production, given the size of this contract.
Mail trucks make up over 30% of the federal government's vehicles, so an electrified fleet would save neighborhoods in this country from a staggering amount of air and climate pollution. We'd be opting out of burning 135 million gallons of fuel every year if we electrified our country's postal trucks (and a whopping 110 million gallons just if we reversed DeJoy's current procurement plans). Electrifying the USPS would save us from burning a jaw-dropping 2 billion to 4 billion gallons of fuel over 20 years.
Regardless of whether we take public transit, drive a car, or bike to get around, we get mail delivered. It's almost a universal trait, a daily experience for all Americans. An electrified Postal Service fleet would benefit all of us.
Earthjustice and our environmental justice, environmental, and labor partners filed a series of lawsuits against DeJoy and the Postal Service in April, shining a light on fundamental flaws in DeJoy's environmental review. In the meanwhile, Earthjustice supporters sent in a flurry of more than 125,000 public comments to the Postal Service, pressing for an electrified mail fleet.
We began to see the needle move in the face of this uproar, as USPS shifted from making its next large purchase 10% electric to 50% electric in July. These tens of thousands of additional EVs are a significant win for our lungs and our climate — but the fight's not over.
Now, with the passage of the Inflation Reduction Act, Congress is pumping $3 billion into electrifying the Postal Service's delivery fleet. The funding in the Inflation Reduction Act is a historic investment — and further eviscerates DeJoy's flimsy excuses to buy polluting, gas-guzzling mail trucks. The Postal Service should have committed to 100% electric vehicles earlier this year, but this bill underscores just how important and popular electrification of the postal fleet is and should make DeJoy see the light on electric mail trucks. It's clearly time to step into the modern era of EVs and clean air.
This fall, President Biden and the Senate should also play the long game and fast-track confirmation of two new Postal Service board members. It's clear that Louis DeJoy needs more oversight to act in the public interest, and with clear-eyed leadership on the Board of Governors the agency can chart a visionary future.
More than a century ago, USPS first experimented with electric mail delivery, discovering that an electric truck could outperform delivery by horse. But a hundred-year fixation on polluting combustion engines got in the way and diverted us. It's time to lift the humble mail delivery truck to heroic status and make it electric.
Originally published on February 1, 2022.
Based in Los Angeles, Adrian works on clean air, clean energy, and healthy communities issues as a deputy managing attorney for Earthjustice's Right to Zero campaign. Follow him on Twitter @LASmogGuy.
The California Regional Office fights for the rights of all to a healthy environment regardless of where in the state they live; we fight to protect the magnificent natural spaces and wildlife found in California; and we fight to transition California to a zero-emissions future where cars, trucks, buildings, and power plants run on clean energy, not fossil fuels.