Pruitt's 'Back to Basics' Plan Takes Us Back to More Toxic Water
Scott Pruitt is committed to preserving and resurrecting dirty coal plants, in part by gutting environmental protections under the Clean Water Act.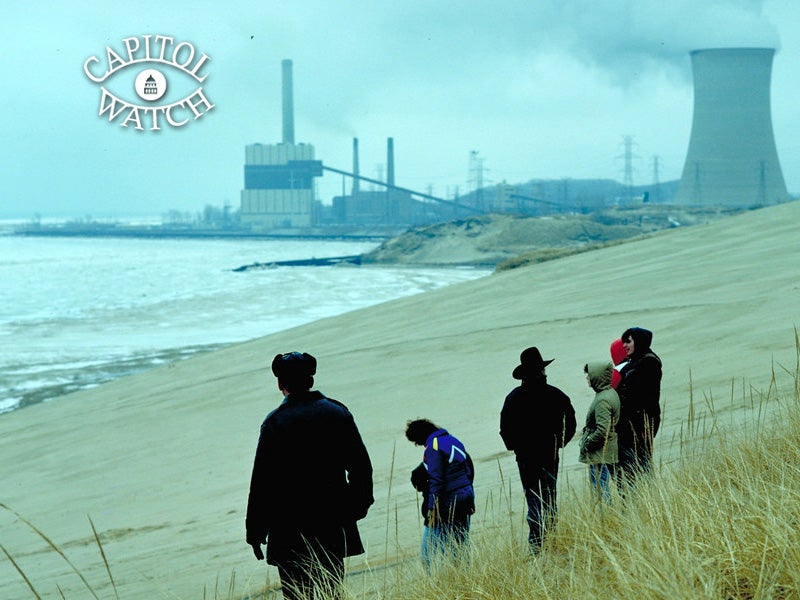 President Trump has made promises to clean up our nation's drinking water, but those are promises his administration has no intention of keeping. As President Trump's EPA Chief, Scott Pruitt, made perfectly clear yesterday, the right to clean water is nowhere on the agenda. Pruitt spent the day flacking his "back-to-basics" plan to scrap the health and environmental protections we all rely on—protections only the government can provide.
Yesterday, Pruitt visited with coal miners at ConsolEnergy's Harvey Mine in Pennsylvania. Social media lit up with activity around the discovery that the mine had recently been slapped with a $3 million fine for polluting in violation of the Clean Water Act. And, as the day went on, reports circulated that Consol was trying to dump the coal mine to invest in natural gas instead.   
Many people assumed that hacks in the Trump administration had blundered and that Pruitt had surely made a mistake by visiting Consol. But the photo-op was precisely on-message for Pruitt. What better place to signal a commitment to resurrecting dirty coal and eliminating pesky environmental standards under the Clean Water Act?
In fact, Pruitt's message was backed by immediate action. With less hoopla but more punch, Pruitt's EPA moved to suspend the first-ever limits on toxic wastewater pollution from coal-fired power plants. Supposedly, mercury, arsenic and other poisons in our water will herald a new era of prosperity fueled by the coal industry, which, according to Pruitt, "was nearly devastated by years of regulatory overreach."
This premise is genuinely outrageous. The new environmental protections that Pruitt is suspending were the first of their kind and are truly vital. The truth is that coal-fired power plants have been operating for the better part of half a century without any obligation to clean up their toxic water pollution—and we have the unhealthy water quality and mercury contaminated fish to show for it. Forget regulatory overreach. The coal industry has profited for decades from a wholesale regulatory failure.
With lawyers at Earthjustice and the Environmental Integrity Project, I spent years in court trying to get the Obama administration to begin to rein in water pollution from the coal industry, which is far and away the biggest contributor to mercury and other toxics in our waterways. When we filed our first lawsuit in 2010, it had been 30 years since the EPA had even considered the problem of mercury and other toxic pollution from the massive amount of wastewater that flows from coal plants into our rivers, streams and lakes.
Now, Pruitt is trying to derail these protections, which were years in the making and already give power plants many years to clean up their act. We should be moving faster, not slower, to address one of the worst sources of water pollution in the country.
As Scott Pruitt made perfectly clear yesterday, clean water isn't one of the basics he wants to get back to. But the courts will have the last word on efforts that threaten the water we drink. Earthjustice will continue to fight back in court and use the full strength of our bedrock environmental laws, including the Clean Water Act, to protect our communities from his pro-polluter policies. 
ABOUT THIS SERIES
The 45th U.S. president, Donald J. Trump, is bent on gutting environmental protections, and—with a polluter-friendly Congress at his side—he'll likely do everything he can to dismantle our fundamental right to a healthy environment. The Capitol Watch blog series will shine a light on these political attacks from Congress and the Trump administration, as well as the work of Earthjustice and our allies to hold them accountable.
Abigail Dillen serves Earthjustice as our President, leading the organization's staff, board and supporters to advance our mission of using the courts to protect our environment and people's health.
Established in 1989, Earthjustice's Policy & Legislation team works with champions in Congress to craft legislation that supports and extends our legal gains.