The Sun is the Energy Solution for Puerto Rico
Rooftop solar with battery storage will finally enable the territory to have reliable and inexpensive energy. You can help make it happen.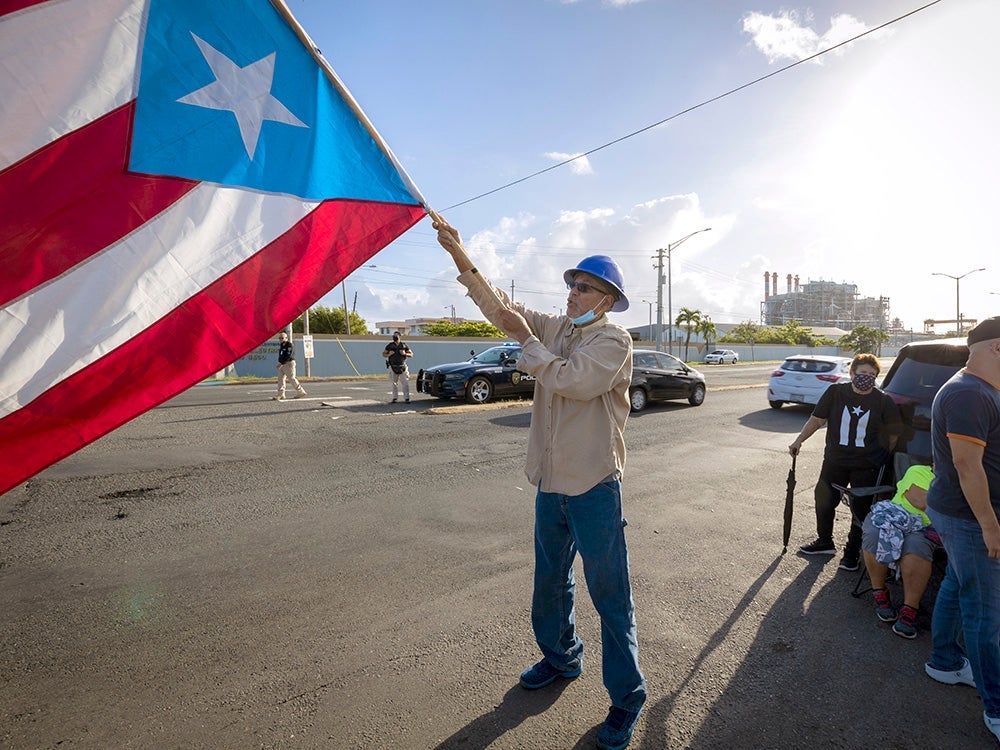 Puerto Rico has an unprecedented opportunity to address key social issues by getting widespread, affordable rooftop solar panels and battery storage, while moving away from a dilapidated fossil-fuel energy grid. The Biden administration approved $1 billion for rooftop solar panels and battery storage investments for low- and moderate-income families in the archipelago. And there is at least $12 billion more in FEMA funds that we can fight for — more than enough to get everyone rooftop solar panels across the territory.
Puerto Rico's existing system of importing expensive fossil fuels and sending electricity over a fragile electrical grid has failed ordinary residents repeatedly. Rooftop solar with battery storage will finally enable the territory to have reliable, safe, and inexpensive energy.
However, we cannot achieve this goal without your help. Puerto Rican residents and those in the diaspora can help us spread the word and sign petitions to decisionmakers who will determine how the money is spent.
How Rooftop Solar Will Be Transformative
Local businesses: Rooftop solar power and battery storage would give local businesses the reliable power source they need. Frequent blackouts often affect commercial establishments. Last April, a group of restaurant and other business owners sued energy provider LUMA for damages that stemmed from a massive outage, citing the company's negligence to fix a power switch after reaching its 10-year-long lifetime. Decades without maintenance, business owners argue, led to approximately $100 million in food and appliance damages.
Health: Battery backup power saves lives. Many people depend on at-home ventilators and dialysis machines, or rely on keeping medications refrigerated, such as insulin used by diabetics. Also, surgeries and medical appointments such as chemotherapies cannot move forward without energy – complaints health care professionals have brought against LUMA. Community health centers — often the most accessible medical facilities in the poorest districts of the archipelago — have even less access to emergency recovery when the lights go out. When a company can't provide power consistently, it costs lives, which is exactly what happened after Hurricane Maria. Most deaths after Hurricane Maria hit Puerto Rico are blamed on interruptions in medical care due to power outages and blocked or washed out roads.
Education: Solar panels on the roof keep the doors open at schools. When the power goes out, schools in Puerto Rico are forced to close, causing many students and children to go without classes. After Hurricane Maria, fewer than 1 in 10 of the territory's public schools reopened a month after the storm. Every time major storms hit Puerto Rico, schools shut down. When they reopen, most of them operate without Internet and air conditioning because their facilities still don't have power or don't have generator. Since most of the students have no electricity at home either, doing homework is impossible. The school curriculum often must be truncated to make up for the instructional time lost to the power outages and closures.
Migration: Reliable power will keep residents from leaving. After Hurricane Maria, 130,000 Puerto Ricans were forced to leave their territory for U.S. states, such as New York or Florida, due to flooding and power cuts, and it's still unknown how many Puerto Ricans will leave their homeland behind in the wake of Fiona. Scholars suggest that Puerto Ricans leave the archipelago when there is no quick energy restoration, especially if their loved ones depend on electricity for life sustenance.
Agriculture: Rooftop solar would protect Puerto Rico's farmland for growing food, not producing energy. Puerto Rico has a historically fragile agricultural industry due to its heavy dependence on imports and its dwindling arable land. Installing solar panels on rooftops — rather than building centralized power plants and long-distance electricity transmission lines — frees up space for sustainable farming and biodiversity, which at the same time can absorb greenhouse gases and sustain the archipelago's ecosystem.
Time is of the essence to restore basic utilities and build confidence that Puerto Rico can move forward. Now that the U.S. government has approved $1 billion for rooftop solar panel investments for low- and moderate-income residents in Puerto Rico, there is no excuse to stall a transition to a system that is better, increasingly resilient, and more affordable than it was before.
How You Can Help
Share this information so that the benefits of rooftop solar in Puerto Rico are widely understood.
Sign our petition to ensure that the money gets spent on rooftop solar and battery storage, not more fossil fuels or other misuses.
Originally published on July 2, 2021. Updated with news of Hurricane Fiona in Oct. 2022.
Based in New York, Robert is the Public Affairs and Communications strategist for Latino Engagement and Outreach. He has more than a decade of experience working for mainstream media outlets, U.S. Hispanic and Latino news channels, and think tanks.
Earthjustice's Clean Energy Program uses the power of the law and the strength of partnership to accelerate the transition to 100% clean energy.
The Florida regional office wields the power of the law to protect our waterways and biodiversity, promote a just and reliable transition to clean energy, and defend communities disproportionately burdened by pollution.