Why Puerto Rico Needs Solar for a Green Energy Future
They call it the "Island of Enchantment," but if fossil fuel companies have it their way, the magic simply won't last.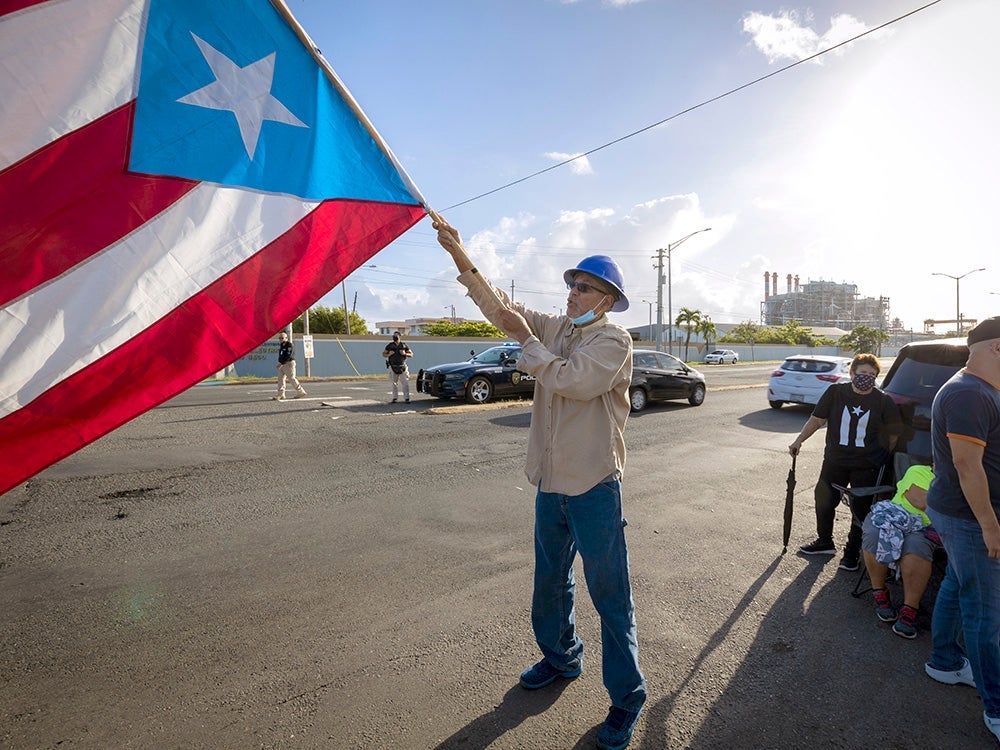 Nearly two weeks after Hurricane Fiona overwhelmed Puerto Rico's fragile electrical grid, thousands of Puerto Ricans still lack electricity and running water.
When the storm took out transmission lines, Puerto Ricans with rooftop solar and battery storage were some of the only people able to keep their lights on. How you can help.
The island's fossil fuel-based power grid requires electrical lines on utility poles across the entire island, leaving it extremely susceptible to system failure when one part is damaged. Just five years ago, Hurricane Maria killed 3,000 people – most of whom died due to sustained power outages in the days after the storm. And as climate change fuels extreme weather, Puerto Rico's grid will continue to face hurricane damage.
Avoidable catastrophes like this should not be a mainstay of Puerto Rico's energy future. Like all U.S. citizens, the people of Puerto Rico have the right to dispense with outdated energy technology that relies on imported coal, oil, and fracked gas and vulnerable transmission lines.
Today, the island is poised for an energy revolution. Earthjustice and our partners in Puerto Rico are fighting for a clean, resilient, and localized energy system across the island through rooftop solar and battery storage.
What would solar energy achieve for the people of Puerto Rico?
1. On a sunny island, solar is a safe and reliable energy alternative to fossil fuels.
Studies have shown Puerto Rico can be a model for large-scale implementation of rooftop solar energy and battery storage, given the island's year-round sunlight. A 2020 report found that rooftop solar has the potential to provide four times the island's residential electricity needs.
2. Solar energy would proactively address energy injustice in Puerto Rico.
The median income in Puerto Rico is one-third of the U.S. median, yet residents pay up to twice as much for electricity. Equipping every Puerto Rican household with rooftop solar would cost energy users far less than what they pay for imported fossil fuels.
3. Rooftop solar would make Puerto Rico more resilient to climate disasters. 
A distributed rooftop solar network would not be as vulnerable to intense winds as the current system of power lines. After Hurricane Maria, it took nearly a year, and billions in taxpayer dollars, to restore power across the island.
4. Solar energy would improve public health outcomes across Puerto Rico.
Pollution from the burning of oil, coal, and gas, has been linked to cancer, heart disease, and respiratory illnesses. Replacing fossil fuels with solar energy would dramatically reduce toxic fossil-fuel emissions, making Puerto Rico a cleaner and healthier environment for residents and visitors.
5. Solar energy would bring economic power to the people of Puerto Rico.
With distributed rooftop solar, Puerto Ricans can become energy "prosumers" rather than consumers. By producing their own electricity, residents would no longer be reliant on energy services delivered by powerful, profit-seeking companies.
What stands in the way of Puerto Rico's clean energy revolution?
Currently, two offshore fossil fuel companies, together called the LUMA consortium, are paid $125 million a year to supply and distribute energy from oil, coal, and fracked gas. If a catastrophic storm were to hit the island, LUMA's contract has an escape clause that allows them to walk away from any obligation to provide Puerto Rico's energy service. This is the latest example of private corporations upholding a colonial legacy that sacrifices people for profits in Puerto Rico.
Under the law, Puerto Rico must be powered with 100% renewable energy by 2050. Currently, only 3% of its energy is generated by renewables.
Nearly $14 billion of Federal Emergency Management Agency (FEMA) funds have been set aside to repair Puerto Rico's electrical grid. The companies responsible for supplying and distributing the island's electricity want to use some of those funds to build more fracked gas infrastructure. Such a move would set Puerto Rico on a path to decades of increased carbon emissions, harm to the environment and people's health, and continued vulnerability to the impacts of climate disasters like Hurricane Maria.
How can you help?
Tell your Secretary of Energy Granholm and Puerto Rico Governor Pierluisi that you want all emergency funds for Puerto Rico to advance climate resilience and climate justice on the island.
Originally published on July 2, 2021. Updated with news of Hurricane Fiona in Oct. 2022.
Based in Washington, D.C., Keith is the National Communications Strategist for Partnerships and Intersectional Justice.
Earthjustice's Clean Energy Program uses the power of the law and the strength of partnership to accelerate the transition to 100% clean energy.
For decades, the Florida regional office has worked to strengthen regulations to clean up Florida's waterways and ensure that government and industry are held accountable and the public is informed and engaged.