Pulling the Land Out from Under Them
The EPA's failure to enforce civil rights laws is costing black homeowners their land and their families' financial future.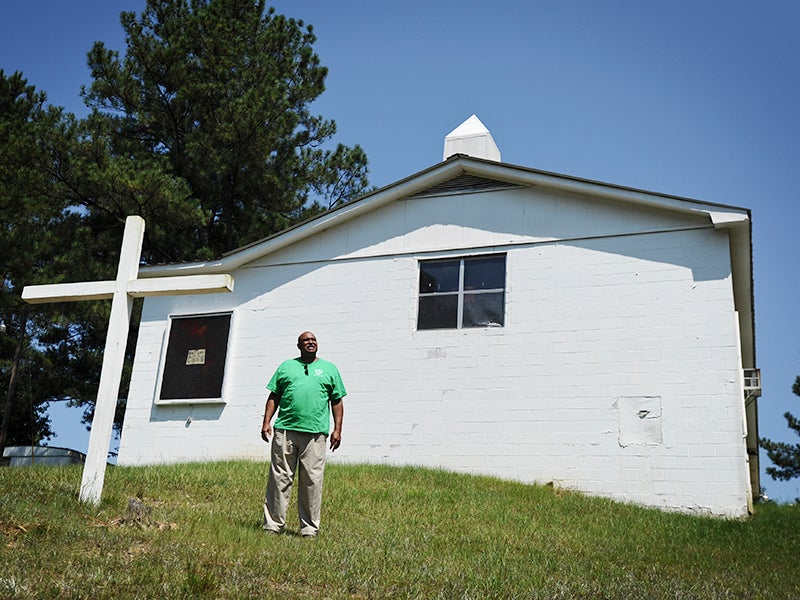 Earthjustice just delivered a very special document to the EPA—all 92 pages worth. In it we submitted more than 32,500 comments from the public urging the EPA not to water down its already weak rules for resolving cases of environmental racism. After years of losing their lands and livelihoods, black communities want assurance that the EPA will, at long last, defend their right to a healthy environment.
According to Title VI of the Civil Rights Act of 1964, the EPA must make sure local agencies that take money from the federal government don't let companies discriminate by disproportionately locating hazardous facilities like waste dumps and oil refineries in communities of color, which already live with more than their fair share of pollution. In Tallassee, Alabama, Ron Smith, his family and his neighbors are threatened by a massive landfill. The Stone's Throw Landfill—permitted by the Alabama Department of Environmental Management (ADEM)—has been expanded several times and has gobbled up land from black homeowners whose families have lived in Tallassee for generations. The smell of rotting garbage wafts through the neighborhood, and vultures surf the stinking air currents like the world's most unwelcome commuters. Huge trucks speed down tiny rural roads and residents worry that local water supplies have been compromised by tons of decaying waste.
Members of Smith's community filed a civil rights complaint with the EPA against ADEM back in 2003. Agency rules say the EPA has to investigate complaints that have merit and make a preliminary decision about whether or not there's been a civil rights violation within six months. Tallassee has been waiting 13 long years. The EPA, feeling the sting of criticism for these unconscionable delays (and facing a lawsuit from Earthjustice), is now proposing to change the rules for how the agency handles civil rights cases. The agency wants to toss out the six-month deadline, along with the obligation to investigate all of the complaints it receives. Better for the EPA, certainly, but much, much worse for communities of color across the country.
Smith told Ebony magazine, "Our community is small. We are suffering. We are losing land. We are losing our children's future … [They] move out and go somewhere else. And I wouldn't want my children to come back and have to live around a landfill."
Business as usual at the EPA is costing communities like Smith's the very land they're built on and robbing them of an inheritance to pass to the next generation. A 2011 study by the Center for Social Inclusion found that the loss of black-owned land—specifically farmland in the South—cost African Americans more than 12 million acres between 1910 and 2007.
On the last day of March, the independent U.S. Commission on Civil Rights will arrive in Alabama to meet with residents. The commission won't be visiting Tallassee, but they will stop in the nearby community of Uniontown. Esther Calhoun and her Uniontown neighbors live with several toxic sources in their backyards—a catfish processing plant, a cheese factory, lagoons of manure from factory farms and, since 2010, something even worse. Uniontown, which is 90 percent African American and where almost half of residents live below the poverty line, now holds 4 million tons of toxic coal ash. The ash was transported 300 miles from mostly white Kingston, Tennessee, home to the largest coal ash spill in U.S. history. Coal ash, left over when power plants burn coal for electricity, is full of heavy metals, including mercury, lead and arsenic. Drifting ash clouds have stripped paint off of residents' cars, and they fear the ash will seep out of pits at the local Arrowhead Landfill and into their groundwater, as has happened in other communities. Calhoun and her neighbors worry that property values in the area have plummeted.
Last month, Calhoun testified before the commission in Washington, D.C., about the impact coal ash is having on her life and the need for swift action from the EPA. The EPA finalized a weak coal ash rule in 2014, spurred by the Kingston tragedy, but it lets the power industry largely police itself. Uniontown residents filed a civil rights complaint with the EPA in 2013 against ADEM, which also permitted the Arrowhead Landfill. More than two years later, the community has yet to receive any government help in the form of air and water testing, health monitoring or meaningful oversight of the landfill.
Hopefully, the U.S. Commission on Civil Rights will listen carefully to the people of Uniontown and take a stand for change. The commission is required to create an official report for Congress every year, and this year's focus is on the EPA's dismal record of civil rights enforcement. We anticipate the report will push the EPA to do its job—enforce Title VI and put strict standards in place to prevent discrimination and displacement in places like Tallassee and Uniontown in the future.
"We got our property from our parents, or we worked hard to buy that property. I came here from upstate, worked all them years and come home so I could just relax living in the country. And what do I get? Coal ash," Calhoun says. "But the thing is, we're never gonna stop fighting because it doesn't make any sense that every time they want to put a dumping ground it's in a black residence. We have to stick together. Then we have power."
A journalist and graduate of the University of California, Berkeley, Heather was the associate editor from 2015–2017.