Earthjustice VP of Climate Litigation Is Ramping Up Transition to 100% Clean
New VP of Climate Litigation Jill Tauber, along with the climate and energy team, are working to spur a swift, equitable transition to clean energy — a task more urgent now than it has ever been.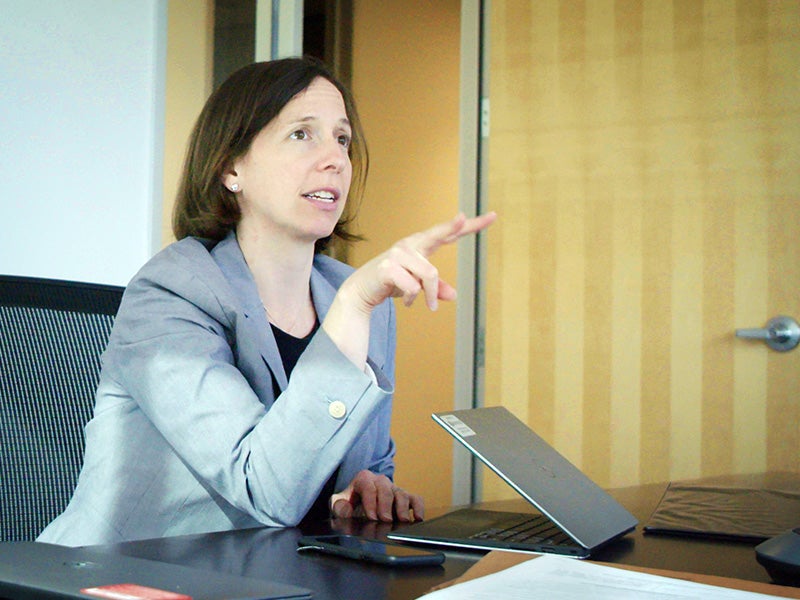 When attorney Jill Tauber began her legal career, she didn't foresee working to advance a nationwide transition to 100% clean energy.
"Everyone's journey is different, Tauber says. "Some people know early on exactly what they want to do. That wasn't me, and I wouldn't have predicted years ago that my work in civil rights and legal services was actually the start of a path that would lead me to fight for a clean energy future."
Long before she became the vice president of climate and energy litigation at Earthjustice this spring, Tauber started her legal advocacy working in her law school's legal aid clinic. From there, she transitioned to housing and inclusive development issues in New Orleans and Washington, DC, working as an attorney for a DC-based civil rights organization.
"I was always interested in a career in public interest work, in helping people without access to adequate resources and protections," says Tauber. "I was aware of the harms of pollution and climate change, but environmental advocacy wasn't on my radar until my work at Advancement Project brought me to New Orleans, after Hurricane Katrina. I represented displaced public housing residents fighting for their right to return home after the hurricane. Environmental and environmental justice issues intersected with that work in some pretty big ways."
Tauber moved from DC to North Carolina, where she joined the Southern Environmental Law Center, fighting directly against polluters and promoting the greater use of energy efficiency. That work got amplified when Tauber moved to Earthjustice, where she helped build out the clean energy program for the last five years. Now, as vice president, Tauber is drawing on those experiences to accelerate the shift to powering our economies with 100% clean energy that benefits everyone.
The economic case for clean energy is compelling. We have the technology and economics on our side, says Tauber. But policy barriers and entrenched fossil fuel interests have impeded a clean energy transformation — obstacles that have worsened under the current administration. Under Andrew Wheeler, a former coal lobbyist and current head of the Environmental Protection Agency, the administration has tried to gut landmark environmental laws like the Clean Power Plan, which placed federal limits on industrial carbon pollution, and issued subsidies for fossil fuels that directly contribute to climate change. Earthjustice is challenging this administration's unrelenting attacks, and we are winning.
In the absence of federal leadership, states and cities have begun their own energy transitions at the local level. By summer of 2019, seven states and more than 120 cities had committed to 100% clean energy, proving that it can be done across the country. Earthjustice is accelerating that transition by helping communities reject new fossil fuel extraction, phase out existing infrastructure, and scale up clean energy projects.
Ensuring that everyone can benefit from a clean energy economy is critical, says Tauber. Low income communities and communities of color have been disproportionately harmed by fossil fuels, and are often without access to the benefits of renewable energy sources. Without just and equitable solutions in place, states run the risk of shutting out entire populations from engaging in the clean energy economy.
Earthjustice is working with our partners on various fronts to secure solutions that make clean energy accessible to all communities.
In July, leading U.S environmental justice and national environmental groups including Earthjustice announced the formation of the Equitable and Just National Climate Platform. This historic platform highlights a shared vision and calls for national climate action that confronts racial, economic, and environmental injustice inherent in climate pollution, and accelerates a pollution-free energy future.
Our Clean Energy Program aims to break down barriers that make it harder for people to break away from fossil fuels. Some of that work includes enabling people to access clean energy without owning their home, fighting charges and fees that penalize people who want to invest in clean energy, helping to spur new finance mechanisms so that credit score isn't a barrier, and creating energy efficiency programs that specifically focus on low-income housing. These projects create low-cost, high-benefit paths for communities to access clean energy without systemic obstacles.
We're not only advancing individual access to clean — we're clearing the path for cities and industries to make infrastructural change. Our Right to Zero campaign works at the intersection of climate policy and public health to scale clean energy beyond the power sector in California. From electrifying buses to divesting cities from fossil fuel investments, we are partnering with community leaders, business groups, and legislators to shift public infrastructure towards a cleaner climate, with zero dependence on fossil fuels. The campaign has yielded strong successes, and we are expanding our energy transformation work across the country.
As Tauber looks ahead to the future of the Climate and Energy team, and to the challenges facing a renewable energy transition in 2019 and beyond, she is driven by the knowledge that the window for averting climate disaster is shrinking fast, and we need to do more than ever before.
"This is a make or break moment for our future. The challenges we're facing are great. We've fought back against attacks on core environmental protections, we've seen some great progress in the states, and there's so much more we need to do. Alongside our partners, we're going to ramp up our work to get to zero emissions and 100 percent clean energy for everyone."
Alison Cagle is a writer at Earthjustice. She is based in San Francisco. Alison tells the stories of the earth: the systems that govern it, the ripple effects of those systems, and the people who are fighting to change them — to protect our planet and all its inhabitants.
Earthjustice's Washington, D.C., office works at the federal level to prevent air and water pollution, combat climate change, and protect natural areas. We also work with communities in the Mid-Atlantic region and elsewhere to address severe local environmental health problems, including exposures to dangerous air contaminants in toxic hot spots, sewage backups and overflows, chemical disasters, and contamination of drinking water. The D.C. office has been in operation since 1978.