Reading Between the Lines of Wheeler's Pro-Polluter Agenda
The EPA nominee may not give the media a climate denial sound bite, but he clearly has no intention to tackle the problem.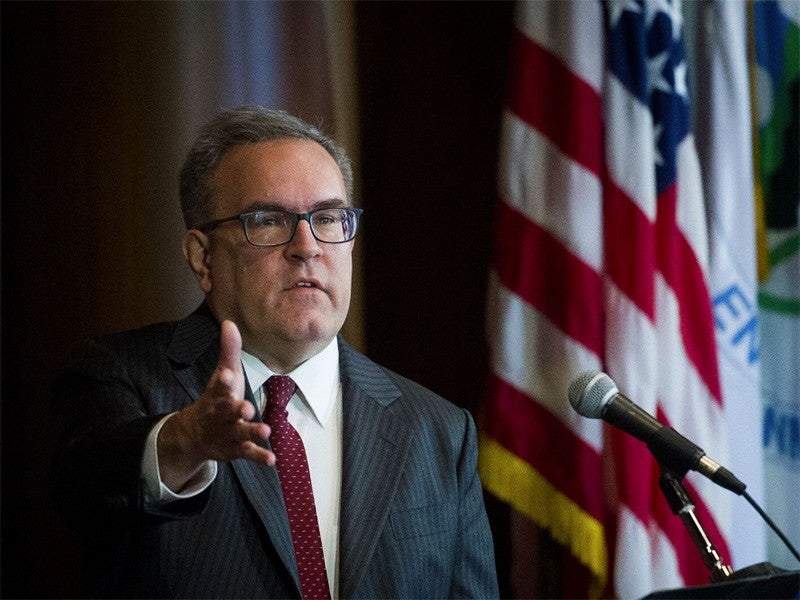 Former coal lobbyist Andrew Wheeler's confirmation hearing Wednesday for the EPA's top role offered the public a glimpse of how he's likely to run the agency: with a mild-mannered tone that masks a climate denier agenda.
Wheeler's testimony confirms that he's going continue to pursue much the same polluter-friendly policies as his controversial predecessor Scott Pruitt. But Wheeler may be more circumspect in how he talks about his goals. He won't always give the media a climate denial sound bite, but he clearly has no intention to tackle the problem.
This makes him potentially more dangerous than Pruitt, who undermined himself with scandals aplenty and a combative tone. With Wheeler, the American public will need to listen more closely and read between the lines.
Wheeler's confirmation hearing itself is one case in point. In the middle of a government shutdown, as inspections and cleanups are stalled and EPA workers are struggling to pay the bills, the EPA's political leadership is diverting resources to get Wheeler confirmed.
Here's a closer look at five critical exchanges from the hearing:
Wheeler said he considers climate change an "issue," not a "crisis," and admitted he didn't read his own experts' assessments of it. The National Climate Assessment, a dire warning from over 300 scientists at 13 federal agencies underscoring the need for massive action to avert climate catastrophe, went public months ago. Wheeler said he hasn't even fully reviewed it.
Wheeler is delaying the release of a plan to protect families and children from dangerous chemicals due to the shutdown — even as his confirmation hearings move forward. Widespread contamination from PFAS chemicals threatens the health and safety of communities across the United States, but when asked to commit to issuing a standard to protect drinking water from the harmful contaminants in two years, Wheeler declined. He noted that the agency's PFAS plan is "on hold" during the shutdown — marking it as a lower priority than Wheeler's confirmation.
Wheeler failed to clear the air on his involvement in a dangerous plan to benefit his former lobbying client, Murray Energy Company, by weakening the Mercury Air Toxics Standards. He ducked and dodged repeatedly on questions about his awareness of a policy wishlist memo that the coal company's CEO, Trump megadonor Robert Murray, gave to the White House. Wheeler is still fighting in court to keep emails — including, potentially, those relating to his involvement with Murray's effort to put profits over people and our environment — hidden from the public.
Wheeler prioritized favors for big polluters and corporate interests over protecting safeguards for over half of wetlands and one in every five streams in the United States. His attempt to rip apart the Obama-era Clean Water Rule and replace it with a watered-down version to benefit big industry continues to move forward, even as he places protections for families' and children's drinking water from harmful PFAS contamination on hold due to the shutdown. Wheeler called the move an attempt to create "regulatory certainty" for business, but his plan would foster significant uncertainty for public health.
Wheeler claimed his Dirty Power Scam — mislabeled an "affordable clean energy proposal" — would reduce CO2 by the same amount as the Clean Power Plan, even though his own agency says it would increase carbon pollution. Wheeler has also been busy at work on a rollback to Obama-era clean car standards, a rollback experts estimate will cost our economy billions and put public health at risk.
Marty represents Earthjustice on Capitol Hill where he has played a key role since 1995 in blocking attempts to eliminate environmental protections for all National Forests and promoting more protection for pristine forest lands, such as Alaska's Tongass Rainforest and all roadless forests.
Established in 1989, Earthjustice's Policy & Legislation team works with champions in Congress to craft legislation that supports and extends our legal gains.