Why Do Gray Whales Keep Dying?
Gray whales are washing up all along the West Coast in disturbing numbers, adding further evidence that humans are causing ecological disaster.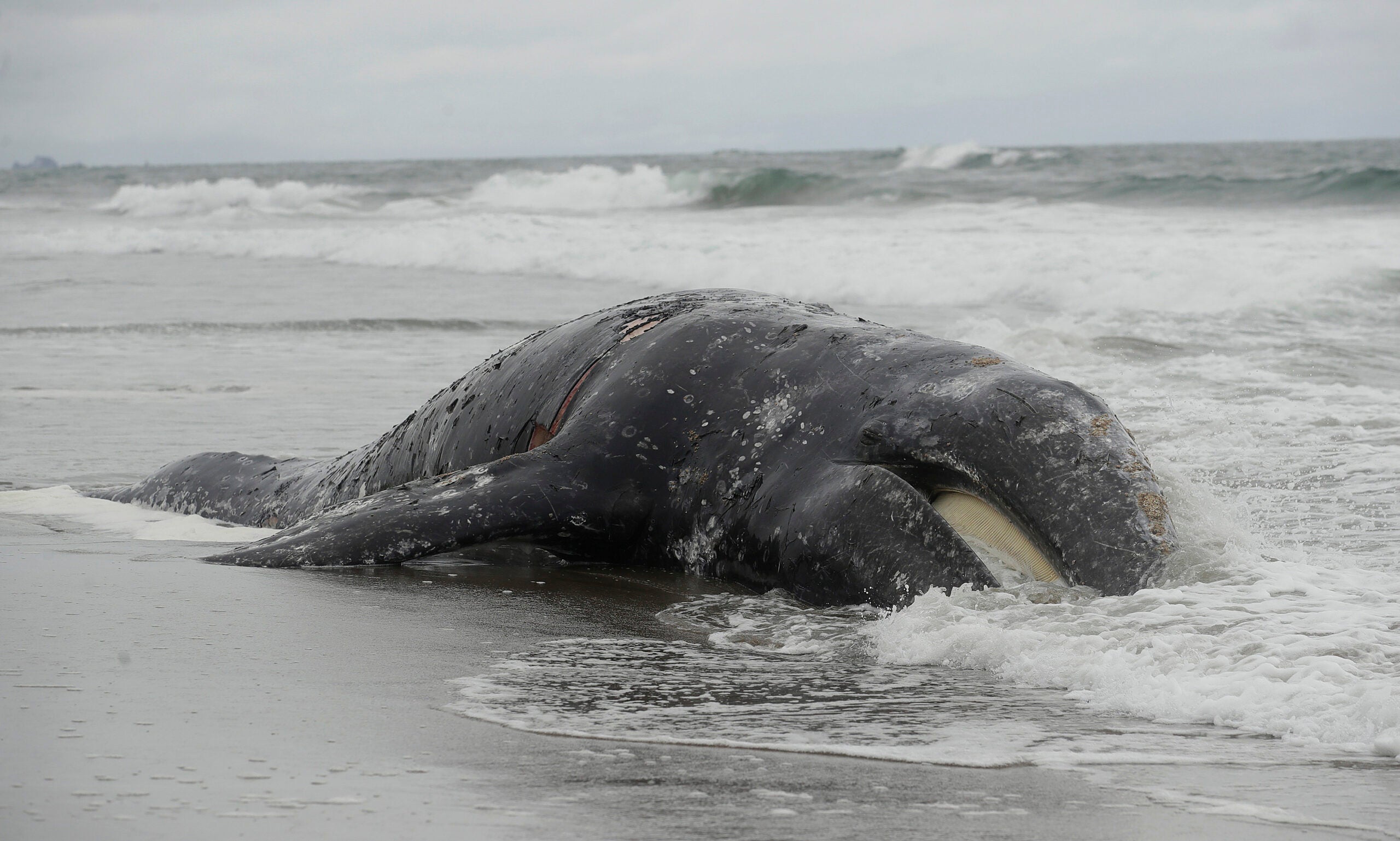 Beginning this spring, dozens of Northern Pacific gray whales began washing up all along the West Coast, their charcoal-colored bodies appearing on beaches from Baja California, Mexico, to Washington State. So far, 70 gray whales have washed ashore and scientists say dead, stranded gray whales are turning up at the highest rate in almost two decades. The situation is so unusual, in fact, that National Oceanic and Atmospheric Administration recently launched an investigation into the whales' deaths.
Though it's too early to say definitively what's causing the die-offs, the possibilities point to an uncomfortable truth: Humans are at least partly to blame. The predominant theory is that loss of sea ice in the Arctic is reducing the food supply for Pacific gray whales.
Sadly, the whale deaths are part of a much larger story of humanity's role in mass extinction. In May, a United Nations report put some hard data behind this trend, determining that more than 1 million plant and animal species are now at risk of extinction due to human activities. In the most comprehensive assessment of its kind, the report's experts concluded that "Nature is declining globally at rates unprecedented in human history — and the rate of species extinctions is accelerating, with grave impacts on people around the world now likely."
The window is quickly closing to safeguard species and a healthy planet, warn the report's authors. Their recommendation is a transformative shift toward an economic model where we value nature by restoring, conserving, and using it sustainably. That can feel like an overwhelming ask in a world that's already feeling the impacts of a hotter planet. Yet there are practical, attainable solutions in sight.
For years, Earthjustice has worked to protect our ocean ecosystem by pushing for sustainably managed fisheries, safeguarding threatened marine species, and cutting carbon emissions, which warm and acidify ocean waters. Earlier this year, we had two court victories that forced federal agencies to uphold science and issue reasonable catch limits for dusky sharks and northern anchovies, two ecologically important species that help thread together the marine food web. Our litigation also prompted a federal judge in April to nix the Trump administration's attempt to open up vast areas of the Arctic Ocean to oil and gas drilling. Leaving that carbon bomb undetonated is a huge win for the climate and our oceans, as well as for wildlife like the Northern Pacific gray whales, who use the Arctic's feeding grounds in the summer to fill their bellies with bottom-dwelling species before traveling south along the West Coast for the winter.
More broadly, Earthjustice works to protect our oceans by fighting to uphold the Endangered Species Act, one of our nation's strongest and most effective laws for protecting wildlife by land and by sea.
According to the government's own data, the act has a 99 percent success rate in preventing the extinction of listed species. Yet the Trump administration is determined to weaken this powerful legal tool by proposing changes that prioritize dirty energy dominance over scientifically sound ecological protections. Politicians backed by dirty industry interests have also orchestrated more than 100 legislative attacks on the Endangered Species Act in the last congressional session alone. On Capitol Hill, we are battling these endangered species rollbacks, as well as endorsing new protections for threatened species like the North Atlantic right whale. 
At a time when scientists worldwide warn that humanity's actions are risking a climate and ecological catastrophe, the Trump administration and its shortsighted allies are intent on maintaining the status quo. If we don't fight for the changes scientists are demanding in order to avert a climate and ecological catastrophe, we risk allowing a new reality where whale deaths are the norm — for both us and for future generations.
"A healthy and sustainable environment is possible," says Earthjustice oceans attorney Brettny Hardy. "We already have many of the tools needed to stop species' extinction. Now we need the political will to enact stronger protections for our oceans and our wildlife."
Join our fight. Sign up for our email newsletter to stay informed and learn how to make your voice heard.
(This piece was originally published in May 2019 and updated to reflect the latest news.)
Jessica is a former award-winning journalist. She enjoys wild places and dispensing justice, so she considers her job here to be a pretty amazing fit.
Earthjustice's Oceans Program uses the power of the law to safeguard imperiled marine life, reform fisheries management, stop the expansion of offshore oil and gas drilling, and increase the resiliency of ocean ecosystems to climate change.