Remembering Lac-Megantic: Devastated by Explosive Oil Trains
On July 6, 2013, a train carrying crude oil derailed in the town of Lac-Megantic, resulting in a fiery explosion that decimated the town and killed 47 people.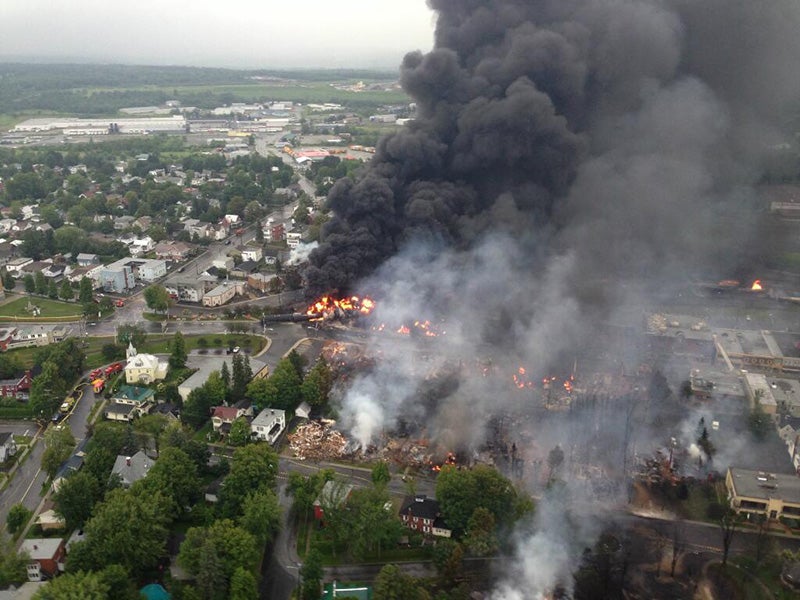 One year ago this week, on July 6, 2013, a train carrying crude oil derailed in the Canadian town of Lac-Megantic, causing a fiery explosion that decimated the town and killed 47 people. Today, a large portion of the town is still in rubble and the ground remains too polluted for reconstruction.  
Unfortunately, disastrous oil train spills, like the one that occurred in Lac-Megantic, are rapidly becoming more common. In fact, more oil spilled from trains last year than in the last four decades.
The large increase in spills comes at a time when a skyrocketing number of trains are transporting highly-volatile crude-oil from fracking and tar sands sites in North Dakota and Canada to East and West Coast export facilities. Along the way, these trains pass through the main streets of many towns, underneath large cities, and even through pristine wilderness areas like Glacier National Park.
In response to oil and gas industry's continued push to transport increasing amounts of crude, communities across the U.S. are taking action to keep these potentially explosive trains off their tracks. Three cities in California—Berkeley, Richmond, and Oakland—have decided to oppose crude-by-rail plans that involved trains running through their neighborhoods. Additionally, Earthjustice is fighting on behalf of groups in Washington, New York, and Oregon to protect communities from proposed plans that will significantly increase the amount of crude that passes over their rails. 
It's all of our jobs to make sure our communities don't succumb to the same tragedy as Lac-Megantic. We must tell our elected officials to stand up to Big Oil and say no to exploding trains.
Terrence was an intern with the press team in the San Francisco, CA, headquarters during the summer of 2014. He was born and raised in rural Florida, and previously worked with the Florida Fish & Wildlife Commission to gather data on threatened wildlife and ecosystems.
The California Regional Office fights for the rights of all to a healthy environment regardless of where in the state they live; we fight to protect the magnificent natural spaces and wildlife found in California; and we fight to transition California to a zero-emissions future where cars, trucks, buildings, and power plants run on clean energy, not fossil fuels.