Resisting Trump's Environmental Rollbacks, Locally
Heightened activism at the local level has garnered a breakthrough for environmental justice in New York City.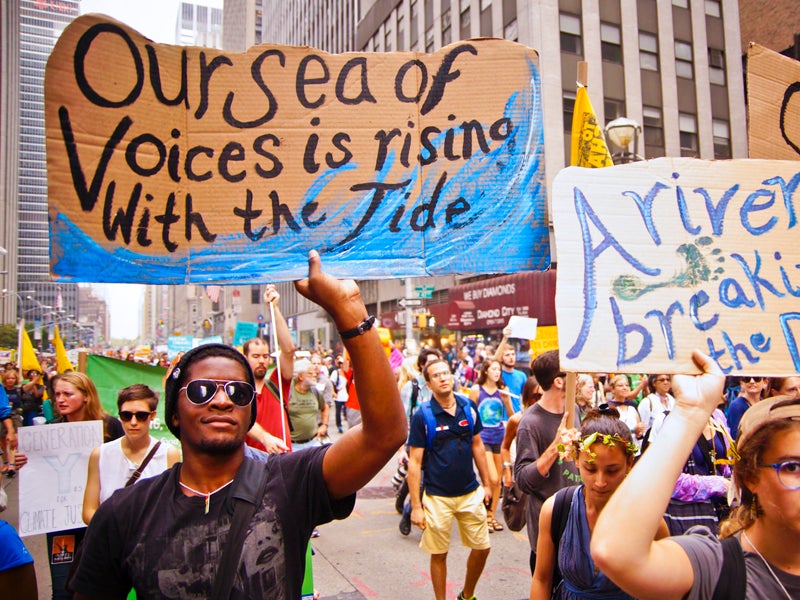 The New York City Council recently passed the most comprehensive environmental justice legislation ever achieved in any U.S. city.
The breakthrough marked a major win for the Harlem-based organization WE ACT for Environmental Justice, which recently boosted its local and state advocacy efforts. WE ACT is not alone. Many environmental justice groups are redoubling their efforts at the local level given the backsliding on the federal level under President Trump.
The new legislation gives communities the tools to fight for equitable environmental policies, said WE ACT Deputy Director Cecil Corbin-Mark. Furthermore, the city now has a legal mandate to alleviate environmental problems in communities of color and low-income neighborhoods that are disproportionately impacted by pollution – known as "environmental justice communities."
"Now there's going to be a requirement that the city conduct its own study or aggregate existing studies so that residents who live in environmental justice communities have clarity around issues impacting their own communities," Corbin-Mark said.
"The city will be required to translate problems into action."
He explained that the city will have the impetus to develop its own binding plans to remedy the environmental problems identified in communities in need. And no longer will it be acceptable for city officials to say they don't have enough information about an environmental issue, Corbin-Mark said.
"The city will be required to translate problems into action," he added.
This means that environmental justice communities like the South Bronx's Mott Haven-Port Morris may no longer be considered suitable sites for projects like the 500,000-square-foot food storage facility recently built there. The facility brings 1,000 trucks a day to an area known as "asthma alley" for its already sky-high asthma rates. The food warehouse was denied $130 million in tax breaks and subsidies because of strong local opposition, but that didn't stop the facility from being built in 2016 in this mostly Latino community.
The area is already home to a sewage treatment plant, a FedEx hub, a waste-transfer station, some of the largest wholesale food markets in the world and numerous highways. One in five children in the Bronx has asthma, and the borough has the highest pediatric asthma hospitalization rate in the New York area.
What the new laws do
The city council passed two bills, the Environmental Justice Study Bill and the Environmental Justice Policy Bill.
The policy bill requires the drafting of a plan to incorporate environmental justice concerns into decisions made by city agencies. The plan will be developed by a new environmental justice interagency working group formed by the mayor.
The study bill requires the working group to conduct a comprehensive study of the locations and boundaries of environmental justice communities. Based on that study, the group will recommend programs, resources, legislation, policy and budget initiatives to address these communities' concerns.
The two recent environmental justice bills were passed with the leadership of city council representatives Inez Barron and Costa Constantinides, and with the broad support of 40 of 51 council representatives.
Constantinides celebrated the victory in a statement: "For far too long, environmental justice communities have had more sources of pollution and fewer environmental amenities in their neighborhoods, leading to adverse health effects. This legislation will work to make our city services more equally and fairly distributed."
WE ACT began working with New York State Assemblyman Charles Barron on similar legislation years ago, when Barron was on the city council. Those efforts stalled under a previous mayor, but picked up again one year ago under Mayor Bill de Blasio.
New urgency with Trump
Corbin-Mark said that Trump's election has intensified the focus for city officials on protecting the environment at the local level.
"There's definitely a heightened awareness of the threat posed by federal elections to vulnerable communities," Corbin-Mark said, adding, "People are looking to New York City for leadership, and some of our elected officials are recognizing that and thinking of how else they can step up."
"People are looking to New York City for leadership, and some of our elected officials are recognizing that and thinking of how else they can step up."
WE ACT is working on a number of other local and regional initiatives, including a plan to ensure that state implementation of federal environmental rules has a greater focus on environmental justice and the needs of vulnerable communities.
The organization is also crafting a climate resiliency plan, which includes increasing access to solar power for multi-family dwellings and expanding energy efficiency programs for low-to-moderate income families.
"People are in a heightened state of, 'What should I be doing?'" said Corbin-Mark. "There's a heightened consciousness from a political and progressive perspective." 
Based in Washington, D.C., Keith is the National Communications Strategist for Partnerships and Intersectional Justice.
Earthjustice's Washington, D.C., office works at the federal level to prevent air and water pollution, combat climate change, and protect natural areas. We also work with communities in the Mid-Atlantic region and elsewhere to address severe local environmental health problems, including exposures to dangerous air contaminants in toxic hot spots, sewage backups and overflows, chemical disasters, and contamination of drinking water. The D.C. office has been in operation since 1978.