Scott Pruitt Doesn't Play by the Rules—and He Still Can't Win
The EPA administrator's efforts to go rogue and ignore bedrock environmental law keep failing.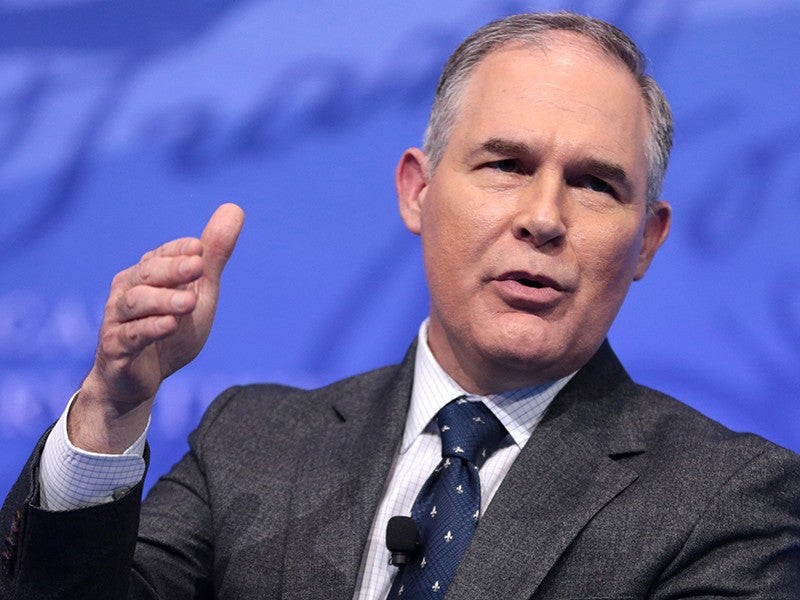 EPA Administrator Scott Pruitt is in trouble. This week, reporters are shining light on his ties to lobbyists and excessive use of taxpayer dollars for his own benefit. Meanwhile environmental groups have been seeing the fruits of their labor in recent weeks as lawsuits filed in the past year are leading to a wave of major court victories against Pruitt and the Trump administration.
In recent weeks federal courts have been issuing decision after decision rejecting Trump administration efforts to delay and roll back protections for public health and the environment.
And when Pruitt and the Trump administration have argued in court that environmental, community, labor and health groups have no legal basis to challenge their illegal actions, federal judges have generally ruled otherwise.
"This string of court rulings shows that the Trump administration is repeatedly breaking the law. It's not just me saying that — federal judges have been saying it repeatedly in recent weeks, and ruling against the Trump administration because of it. And this significant law breaking by the administration is causing real harm to public health and the environment," says Drew Caputo, Vice President of Litigation for Lands, Oceans and Wildlife at Earthjustice.
Earthjustice and groups around the country have filed more than 85 cases challenging the Trump administration's attempts to roll back environmental protections with dozens more in the works. And while many of the cases involve legal action against Pruitt's EPA, they also involve the Department of the Interior, the National Marine and Fisheries Service and other federal agencies that play a role in overseeing environmental protections.
"We're holding them accountable under the law, and the victories provide evidence of that," Caputo says. "We have many more cases working their way through the court system."
Environmental groups have won seven  major federal court victories against the Trump administration in the past six weeks. Here are some highlights:
Three threads tie these cases together. First, the Trump administration is assembling a lousy track record in court, as federal judges repeatedly rule that it's violating the law. Second, this lawbreaking matters: The Trump administration actions in these cases harmed endangered species, farmworker health, clean and healthy oceans, and clean air. And third, while the Trump administration's decisions here hurt public health and the environment, they each also helped an important industry ally of the administration, from the chemicals industry to the oil-and-gas industry to other industries.
"They're breaking the law to help their friends in the oil and gas, chemicals, manufacturing, and just about every other industry," Caputo says. "Shouldn't they more concerned about protecting clean air and clean water and healthy rivers?"
But environmental groups are not winning every case. Earthjustice didn't prevail in its case challenging Trump's 2-for-1 executive order that requires federal agencies to identify two regulations to be repealed for every new regulation created. Although a court found that we didn't have standing we're still pursuing the matter on other grounds.
Trump, Pruitt and their polluter friends are a grave danger to public health. Every minute that federal government is not working to strengthen health and environmental protections puts us all in jeopardy. When life-saving protections are slowed, lives that could be saved are put at risk.
Although Pruitt's record of success in court is poor, he has successfully slowed enforcement of corporations that violate laws limiting pollution.
None of this is a surprise. We knew who this man was when he was confirmed.
Pruitt sued the EPA 14 times as Oklahoma attorney general to weaken environmental protections after taking hundreds of thousands in campaign donations from corporate interests. He worked closely with lobbyists working on behalf of corporations, which gave him more than $200,000 in campaign donations as he prepared to run for office in Oklahoma.
Pruitt has spent huge amounts of taxpayer money on private jet flights, an 18-member security detail, and a secure phone booth for his office at the EPA—all while prioritizing meetings with corporate polluters.
It's unclear whether he'll be engulfed by the current swirling controversy. But we can say one thing for sure: Federal courts will not be pawns in his effort to eradicate bedrock environmental laws. And Earthjustice will aggressively use the law to stop Pruitt's illegal efforts to weaken health and environmental protections.
For more information, see the tracker of ongoing environmental lawsuits from Earthjustice challenging Trump and Pruitt, and our background feature on Scott Pruitt and the EPA.
Based in Washington, D.C., Keith is the National Communications Strategist for Partnerships and Intersectional Justice.