Scott Pruitt's EPA Just Shut the Door on Independent Scientists
A new policy at the EPA will leave the agency's science advisory boards full of industry consultants.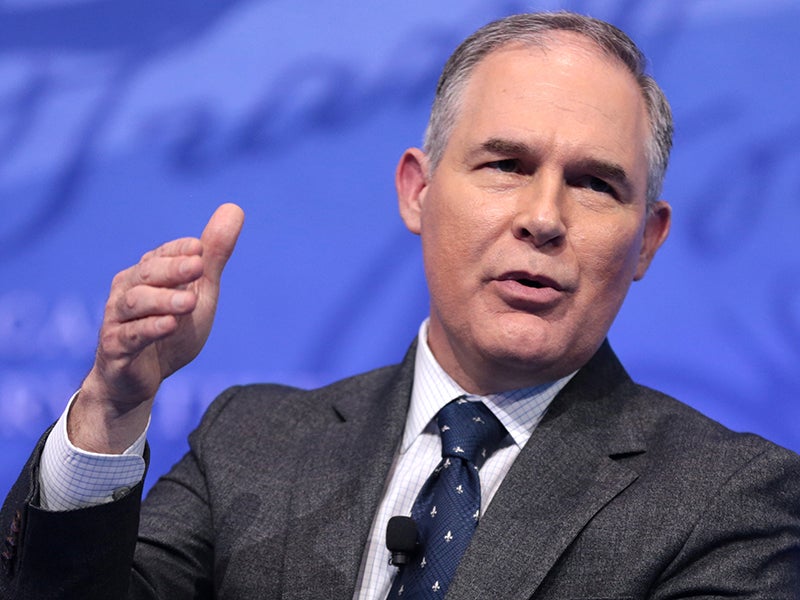 The head of the Environmental Protection Agency unleashed an attack today on scientific input to the agency by removing and restricting independent scientific advisors.
EPA Administrator Scott Pruitt decreed that scientists who receive EPA funding for their research may no longer sit on key scientific advisory boards. This policy will freeze out many academic experts who rely on public grants to conduct independent studies. Pruitt also dismissed independent scientists from several important scientific bodies and replaced them with industry insiders.
As Pruitt undermines climate science and weakens protections against toxic chemicals, he is removing experts who could check his efforts and replacing them with the mouthpieces of polluters.
These experts play a crucial role in the protection of our air, water and food. When deciding issues as vital as how much air pollution is safe to breathe, the EPA consults closely with at least one panel of independent scientists. Input from the panel may lead the agency to adopt stronger protections. And if the agency ignores the scientists' recommendations, Earthjustice and its allies can go to court to compel a fair process that takes account of the scientific evidence.
In 2006, based on strong scientific evidence that smog causes lung disease even at levels below 80 parts per billion (ppb), the EPA's Clean Air Scientific Advisory Committee unanimously recommended that the agency tighten the air quality standard downward from 84 ppb. The EPA did so, though not by as much as the committee recommended. When polluters argued in court that the EPA had overstepped, the court rejected their arguments by pointing to the committee's unanimous recommendation for a stronger standard. Notably, the committee now believes the standard should be even tighter, somewhere around 60 ppb, to protect public health with an adequate margin of safety.
Science advisory boards also play a crucial watchdog role. In 2015, the EPA released a draft report on a five-year study of fracking and drinking water. Although the executive summary claimed that EPA had found no evidence of "widespread, systemic impacts" on water supplies, the body of the report documented multiple cases in which fracking had contaminated communities' drinking water with toxic chemicals. The oil and gas industry seized on the executive summary to oppose environmental protections, including the push by Earthjustice and other groups for stronger fracking rules in Maryland.
The EPA's Science Advisory Board investigated the discrepancy between the summary and the EPA's findings. The board publicly raised "concerns regarding the clarity and adequacy of support for several major findings," and urged the agency to reconsider. The EPA revised the report. A few months later, with Republican Gov. Larry Hogan citing the need to protect the state's clean water supply, Maryland banned fracking.
EPA's science advisory boards have been in polluters' crosshairs for years. Since 2012, industry allies in Congress have repeatedly proposed legislation that would prohibit scientists from serving on the boards if they receive EPA grants. Industry understands that academic experts rely upon these grants to a much greater extent than industry consultants do.
Much of the grant money goes to support graduate students who conduct academic research while earning paltry stipends—$24,000 per year is typical. If academics must choose between receiving EPA grants and continuing to serve on science advisory boards, the choice they really face is whether to continue funding students. Unsurprisingly, many teachers are committed to their students and will choose to leave the boards rather than decline funding. Pruitt then can replace them with industry allies.
Today's announcement may also lay the groundwork for attacks on climate policy. The most reactionary voices have called on Pruitt to withdraw a scientific finding by the EPA that greenhouse gas emissions endanger public health and welfare, despite the overwhelming body of scientific evidence that supports it. Alternatively, Pruitt may try to replace the Clean Power Plan with an empty shell that creates the appearance of regulation but requires little of polluters.
Either way, advisory boards with independent scientists could thwart Pruitt by sniffing out the nonsense behind these and other efforts. It is no wonder that Pruitt wants to replace them with hacks.
Read more about how Pruitt's EPA is curtailing independent input on its efforts to undermine clean air, water and food—and how Earthjustice is fighting back.
Tyler was a staff scientist in Earthjustice's Sustainable Food & Farming program in New York. He ensured that Earthjustice's work to reduce the health, environmental, and climate harms of industrial agriculture and to promote sustainable farming reflected the best available scientific evidence.
Earthjustice's Sustainable Food and Farming program aims to make our nation's food system safer and more climate friendly.