Shell Says 'Shell No' To Arctic Ocean Drilling
Shell stops Arctic Ocean oil and gas exploration in Alaska after disappointing results.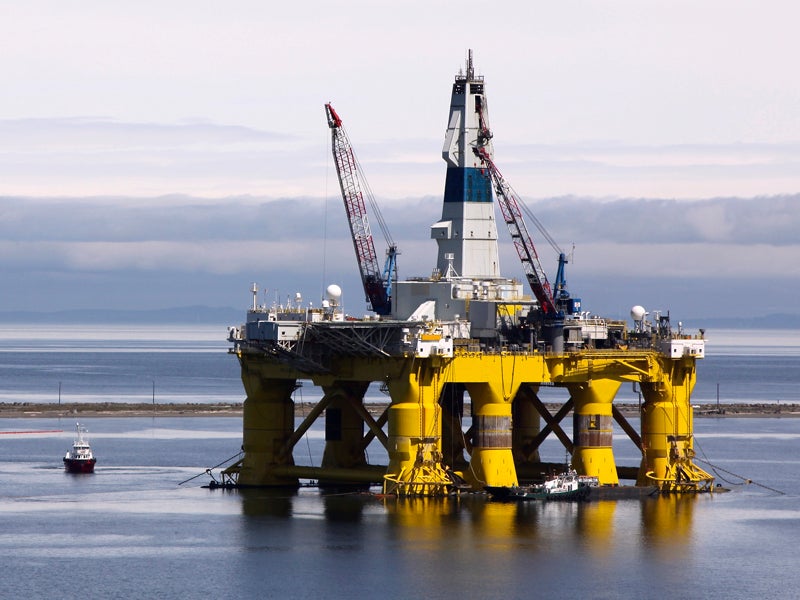 This morning, Shell announced to the world that it will end offshore drilling in Alaska's Arctic Ocean for the foreseeable future, reports CNN. 
The move is a huge win for the region already suffering from climate change at twice the rate of the rest of the world. Environmentalists and others have long argued that drilling in the Arctic Ocean is too risky for the wildlife in the region, including walruses, whales, seals, and polar bears, and would be catastrophic for our overall climate. For years, Earthjustice has been fighting along with them by filing multiple lawsuits challenging this drilling in one of the world's most iconic landscapes, home to imperiled species like polar bears, walruses and whales. For example, exploring for oil creates deafening seismic blasts, which carry through the water for hundreds of miles, and other disturbances that can cause species like walruses to move away from foraging areas and even stampede from coastal haul outs, in the process trampling and killing their young and smaller walruses. [Check out our photo essay to learn more about how Arctic drilling threatens these and other Arctic wildlife.] And the latest science now tells us the planet's climate cannot sustain drilling of most of the already discovered oil and gas reserves, much less new oil from vulnerable places like the Arctic Ocean.
Last April, the movement to stop Shell from drilling in the Arctic coalesced around a "ShellNo" campaign in Seattle, where more than 1,000 people arrived at the city's waterfront to march against Arctic drilling—and for a better future. The #ShellNo campaign soon spread to other cities across the country, Boston, Minneapolis, San Francisco and Chicago, where people young and old and from all walks of life gathered for a national day of action to say "Shell No" to Arctic drilling.
In this morning's announcement, Shell cited disappointing operational findings, costs and uncertainty as its reasons for pulling out of the Arctic. For seven years, the company has invested $7 billion in Arctic drilling.
The anti-drilling movement, bolstered by Earthjustice litigation, has focused attention on the risks of Arctic Ocean drilling and forced re-examination of drilling decisions.  For example, the Chukchi Sea's oil and gas Lease Sale 193, which leased millions of acres of the pristine Sea's outer continental shelf, has already been declared illegal twice by the courts—first in 2010 and then in 2014—thanks to Earthjustice litigation.
"Shell's departure from the Arctic Ocean removes for now a major threat to the region's wildlife, already suffering from climate change more rapid than anywhere on earth," says Drew Caputo, Earthjustice Vice President of Litigation for Lands, Wildlife and Oceans.
"Arctic Ocean oil drilling is a thing of the past. The world cannot afford to burn the vast majority of known fossil fuel reserves, let alone to search for unknown oil in Arctic Ocean, risking an irreplaceable region and wildlife in the process. President Obama now has an opportunity to build on his climate legacy and end Arctic Ocean drilling for good. It's time to invest in the future of clean renewable energy and sustainable climate for future generations." 
Seize the moment to end Arctic offshore drilling for good—sign the petition today!
Jessica is a former award-winning journalist. She enjoys wild places and dispensing justice, so she considers her job here to be a pretty amazing fit.