Some Good, Clean Green News
The state's lawmakers have taken a key step to increasing statewide access to clean energy by passing community solar legislation.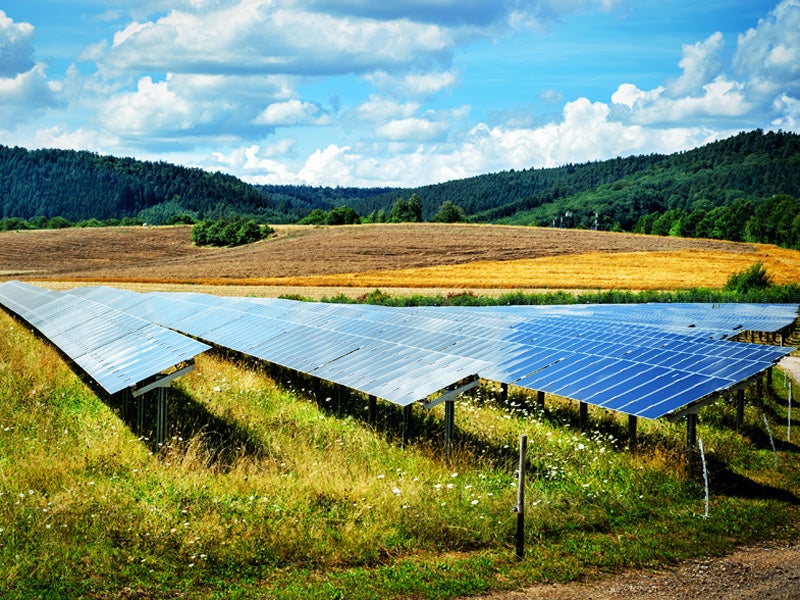 Feeling a little tired of all the gloom and doom environmental reports? Thankfully, I have a lot of good news to share (and a terrifying new study if it's just too early in your day for the warm fuzzies—just skip to the end).
First off, three cheers for Maryland for passing two bills that will help increase statewide access to clean energy. These bills, if signed by Governor Larry Hogan, will make Maryland the 11th state to allow for the creation of community solar projects. These types of projects expand access to renewable energy by allowing multiple people to invest in or subscribe to one solar energy project and offset a portion of their electric bill through a credit from the energy created.
The bills create a three-year pilot program that will allow for the construction of community solar projects and will examine the impact of community solar in the state and best practices throughout the U.S. They will also lead to recommendations to the General Assembly on the merits of a permanent program. Earthjustice worked to secure the passage of the bills, and we hope to see Governor Hogan finalize the bills into law.
Now, onward to renewable energy news around the globe!
According to a United Nations report released last month, global investment in renewable energy grew by 17 percent last year. After a two-year decline in investment and the danger posed by much lower crude oil prices, this is particularly encouraging news. I mean, it's not a government announcement forgiving everyone's student loans, but I can appreciate the little things (and keep dreaming).
In addition, global renewable energy investments reached $270 billion in 2014 and were propelled by projects like this 1.1GW solar power plant in China's Gansu Province and offshore wind projects like this one in Europe. These types of projects have added 103 GW of energy to the world's grid, making 2014 the best year ever for newly installed generating capacity. This amount of energy equals the power from all 158 nuclear reactors in the United States, and thanks to an ongoing decrease in technology costs, every dollar invested into renewable energy bought more generating capacity in 2014 than ever before.
The good news doesn't stop there.
The International Energy Agency also made an important announcement last month: Preliminary data indicates that carbon dioxide emissions from the energy sector stalled in 2014, which marks the first time in 40 years that there was a halt or reduction in emissions that was not tied to an economic slow-down. Basically, this is the first time emissions have stalled since The Godfather II won an Academy Award—it's been a while.
So, the global economy grew by 3% last year and CO2 did not: Maybe we are finally seeing economic progress detach itself from burning harmful, dirty energy.
Can we expect this good news to carry us through 2015? The U.S. Energy Information Administration thinks so, predicting that renewable energy used for electricity and heat generation will grow by 3.4 percent this year. The American Wind Energy Association is also predicting a "wind rush" across the country, attributing new technology and turbines in areas like the Great Lakes region, which will add to the clean energy grid.
I know this is a lot of environmental cheer to take in all at once. If you're feeling a little overwhelmed, I recommend checking out this story about a study, partially funded by NASA, highlighting the prospect of civilizational collapse in the near future; it will get your pulse back up in no time, and you'll forget about all of these reasons to remain optimistic!
Interested in how your state is reducing its carbon footprint? Check out our Clean Energy Map for a breakdown of each state's commitments to clean energy and how it plans to meet its Clean Power Plan goals.
As a communications strategist, Miranda covers Earthjustice's Mid-Pacific and California regional offices. She has campaigned to defend public water resources in North America and is a graduate of the Master's in Global Studies program at the University of California, Santa Barbara where her research focused on climate change.