Spanish-speaking Community Ignored in Flint Water Crisis Response
Among the hardest hit in Flint's water crisis are the Spanish-speaking, undocumented residents who live in the shadows, often isolated from public outreach and information campaigns.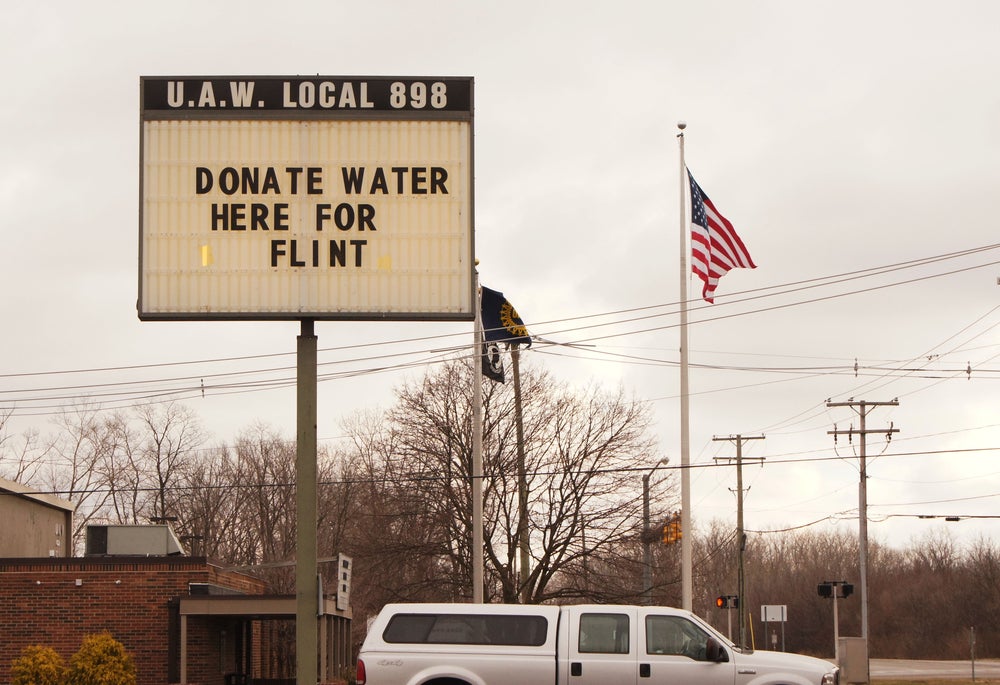 Written by San Juana "Juani" Olivares, president of the Genesee County Hispanic Latino Collaborative.
It's already been way too long.
Our lead crisis began in April 2014 when, in a misguided effort to save money, Flint began drawing water for the municipal water system from the Flint River. The lead in older water pipes began to flake off into our drinking water. Almost immediately, residents began complaining about its acrid smell and bitter taste.
Evidence of serious lead contamination was confirmed in February 2015, and then it took 11 months for Governor Rick Snyder to acknowledge the public health disaster and declare a state of emergency. President Obama followed up quickly, declaring a federal state of emergency two weeks later.
Now, the U.S. Congress finally is poised to pass a measure that would help the city fix the defective water system.
The urgency of this situation is difficult to exaggerate, and yet the response has been staggeringly slow.
Officials from local agencies to the federal government seem satisfied with providing short term solutions, like providing bottled water, as if that were enough.
But for many in Genesee County, the poisoned water continues to threaten their health.
Among the hardest-hit in the community are the Spanish-speaking undocumented residents who live in the shadows, often isolated from public outreach and information campaigns.
Long after news organizations began reporting about the dangerously high levels of lead in the water, many in the Hispanic-Latino community continued to use it, unaware of the risks to their children's health. And even after they became aware of the contamination, many families were reluctant to appear at bottled water distribution centers for fear of having to produce identification cards or of being harassed, humiliated or even deported. Furthermore, public health advisories about the availability of water filters and bottled water were not provided in Spanish.
Children in Flint and the wider Genesee County have been exposed to levels of lead that are to known to cause developmental disorders, hearing loss, seizures, and behavioral problems. For many of the children who've been drinking lead in the earliest part of their lives, their families won't be able to see the full health impacts of lead exposure for their child for several years.
All families in Flint are worried about the impact the poisoned water has had on their children, but for undocumented parents, gaining access to health care for their children creates another challenge.
They don't know where to turn for help.
The Genesee County Hispanic Latino Collaborative has mobilized volunteers to distribute informational flyers in Spanish, assist families in gaining access to safe water and work to address health problems as they appear.
But in the waning days of the 114th Congress, our leaders must find the courage to provide funding to help pay the estimated $1.5 billion cost of replacing Flint's corroded, dangerous water infrastructure. Just last week, the House passed a water resources bill that included provisions with federal aid to help pay for repairs in Flint. The Senate passed a similar bill earlier in September. As the two chambers meet to conference the bills together, members must remain vigilant in advocating for funding for Flint.
In the bigger picture, it's time for leadership on lead issues in the United States. We have known that lead is a dangerous neurotoxin for our children for decades. The Environmental Protection Agency has also acknowledged that communities of color are hit hardest by lead poisoning. Now, we need a prevention strategy to get the lead out of our water, our soil, and our air before it gets into our children and hurts their bright futures.
In the meantime, the crisis continues. Local, state and federal agencies have failed to respond aggressively to the public health emergency that has gone on for more than two years.
No amount of free bottled water can change that sickening reality.
We must equip families with the tools they need to respond in an environmental crisis like the lead contamination in Flint. If we have learned one thing, it should be that providing access to information in linguistically and culturally appropriate ways is critical to equip families with the tools they need to respond in a crisis. This is an issue of environmental justice.
Our government must make an effort to provide information in whatever way necessary to reach all of its people, rather than leaving the most vulnerable to fend for themselves.
This blog was first published by El Diario on October 12, 2016.