State by State, Clean Energy Is Sweeping the Nation
Maine is the seventh state to pass a 100% clean energy target, defying the Trump administration's attempts to prop up fossil fuels.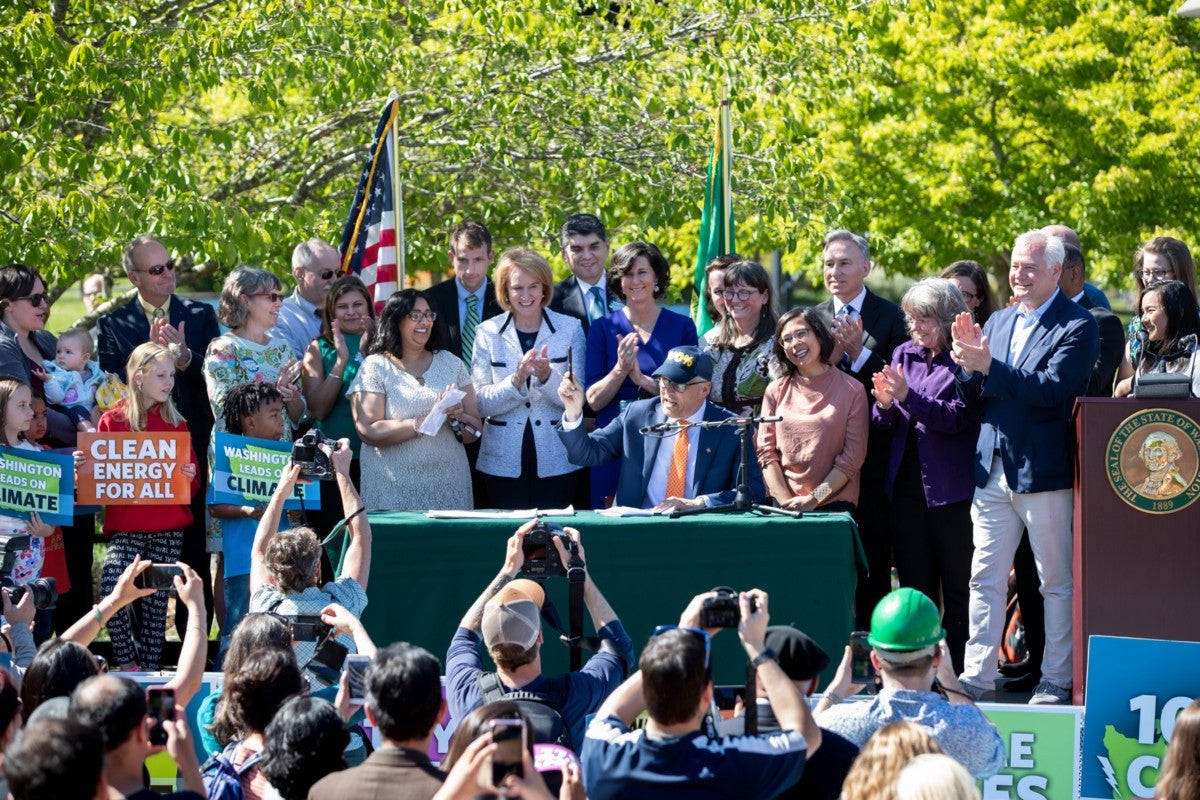 Update, 6/27/19: Maine recently became the seventh state to commit to 100% clean energy. State lawmakers passed a bill that requires Maine to generate all of its energy from renewable sources by 2050. California, Hawaii, New Mexico, New York, Nevada, and Washington have passed similar laws.
Original blog, 5/13/19: Sporting a ball cap that proclaimed "100%" in big yellow numbers, Washington Governor Jay Inslee signed a bill into law earlier this month that gives his state what many are calling the strongest clean energy standard in the nation. The law requires that 100% of Washington's electricity come from clean energy sources by 2045 — and establishes an intermediate target for phasing out coal by 2025.
Washington joins a growing group of states that are defying the Trump administration's attempts to prop up fossil fuels by enacting clean energy targets that are pushing our nation — one state at a time — to shift from dirty to clean energy and take action to prevent catastrophic climate change.
"In absence of federal leadership on climate, we're seeing states step up," says Jill Tauber, Earthjustice's Vice President of Litigation for Climate & Energy. "Many states are committing to 100% clean energy, even though the Trump administration wants move in the opposite direction."
Washington is the fifth state to pass a 100% clean energy target. California, Hawaii, New Mexico, and Nevada have each enacted similar legislation. New Jersey Gov. Phil Murphy signed an executive order directing his state to move toward 100% clean energy by 2050. Puerto Rico and Washington, D.C., also have 100% targets in place, while several more states — including New York, Massachusetts, and Illinois — have legislation in the works.
But that's not all. Progress is happening even faster at the local level, with more than 90 cities committing to 100% clean energy, according to the Sierra Club. Chicago, which passed its commitment to 100% clean energy by 2035 in April, became the largest city to make the pledge. 
"We know we're not going to see progress with this administration. That's why it's critical that states step up to show that this is feasible, that we can rise to the challenge of climate change and transition to a thriving green economy," says Amanda Goodin, a staff attorney with Earthjustice's Northwest office. "That way, when we get a federal government that is ready to take aggressive action, the fact that states have stepped up will smooth the path to bigger picture transition across the country."
Earthjustice has been pushing for 100% clean energy by working in the courts and at the regulatory level to set the stage for legislative progress.
"We are in the commissions, the courts, and statehouses across the country making the case for 100% clean energy — from beating back policies that discriminate against customers who want to go solar to securing programs that expand access to energy efficiency and solar resources," Tauber said. "It's no accident that the states where we've been active for many years are seeing a path to 100% clean energy."
While each state shares the same end goal, the path to get there will be defined by the different ways that targets are written into the laws — and the ways in which they will be implemented.
In Washington state, the law includes provisions to ensure that the transition to clean energy doesn't burden low-income communities. In addition, the law changes the way utilities in the state do business.
Until now, Washington utilities made more money the more energy infrastructure they built — which encouraged them to keep building dirty power plants. The new law opens the door to a new model where utilities' profits are determined partly by their performance on metrics such as carbon reduction and equity, as measured by the state's Utilities and Transportation Commission.
"They take into account things like the social cost of carbon," says Goodin. "It has a regulatory view that is much better aligned with what we want our utilities to do today."
Many are calling the Washington state law a model for other states to follow. However, the real test will be in how it's implemented.
"Earthjustice is committed to pushing for aggressive implementation of these new requirements," says Goodin. "That means making sure performance-based rate plans are truly equitable and incorporate health and environmental benefits, pushing for strong rules implementing the new law, and stepping up to defend new requirements when industry challenges them."
As more states pass these 100% clean energy targets, the real work begins.
"Numerous states are committing to fuel their economies with 100% clean energy," Tauber said. "This is great progress, and there's a lot more work to do. We need to make sure that these targets are met and that all communities — particularly those disproportionately harmed by fossil fuels — benefit from a transition to clean energy. We look forward to continuing this critical work with our partners."
Emilie has spent the past two decades as a journalist, speechwriter and communications strategist in Washington, D.C. At Earthjustice, she shares the stories of the people and issues at the heart of our clean energy litigation and policy work.
Earthjustice's Clean Energy Program uses the power of the law and the strength of partnership to accelerate the transition to 100% clean energy.
Established in 1987, Earthjustice's Northwest Regional Office has been at the forefront of many of the most significant legal decisions safeguarding the Pacific Northwest's imperiled species, ancient forests, and waterways.