Staying in the Paris Agreement puts America, and the planet, first
Exiting the climate deal would sacrifice U.S. leadership, clean energy jobs, and our children's future.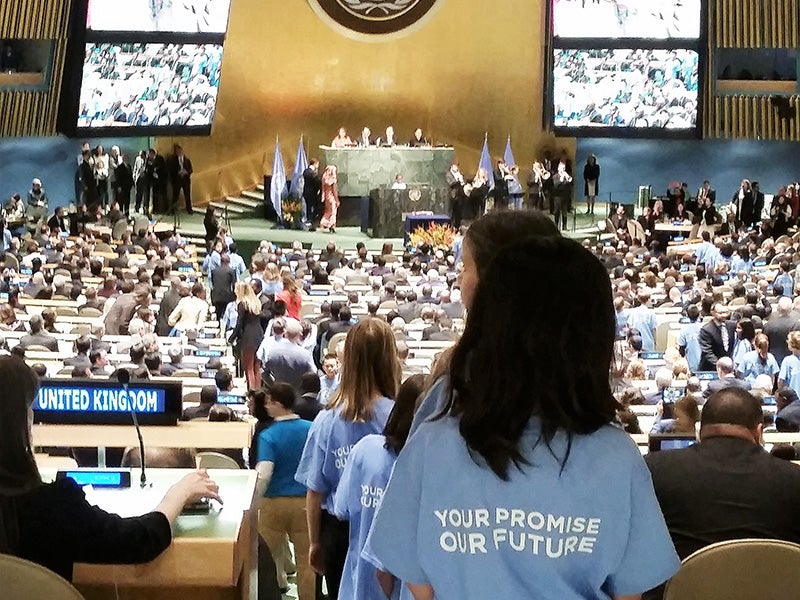 Fossil-fuel apologists are blinding President Trump to the obvious: The Paris Agreement is a good deal for America. The climate pact delivers the global cooperation that's key to avoiding climate catastrophe. The deal grows the global market for U.S. clean energy innovations and creates clean energy jobs at home. And it helps protect vulnerable communities from the droughts, floods, wildfires, sea level rise and deadly heat waves associated with climate change.
The White House has postponed a decision on Paris until after the Group of Seven summit at the end of May.
Trump's top advisers are divided on whether to exit the agreement or stay in but weaken the U.S. pledge to reduce emissions.  Strategic adviser Steve Bannon, who virulently campaigned against the agreement at Breitbart, and EPA administrator Scott Pruitt want to pull out.  Trump's daughter Ivanka, Secretary of State Rex Tillerson, National Security Advisor McMaster and a host of military leaders are advocating staying in.  So, too, are powerful voices outside the White House including ExxonMobil and General Electric, investors managing trillions, and the great majority of Americans.  
Mr. Trump's vaunted deal-making acumen has been missing in action.  The G7 leaders will get a last shot at helping Trump find the value in U.S. cooperation on the key challenge and opportunity of our time. 
Why Paris is a good deal
American leadership was critical to gaveling in the deal, which for the first time brought all nations, including China and India, on board to fight the climate crisis. Serving as legal advisor to the Pacific island nation of Palau during the negotiations, I saw how hard the U.S. drove it forward.  
The U.S. fought for and won strong transparency and accountability measures to ensure that China and India do their fair share—a key demand from previous Republican administrations. Washington also successfully pushed for every country, including the U.S., to have the ability to set its own targets. And by establishes nations' commitment to hold global temperature rise to "well below 2 degrees Celsius above pre-industrial levels" and settings a goal of cutting net greenhouse gas emissions to zero in the second half of this century, the agreement creates new market opportunities for U.S. innovations and clean energy. This is a good deal for America.
Withdrawing from the Paris Agreement or weakening our pledge would cede leadership on climate and clean energy to other countries, especially China, generate a diplomatic backlash and slow progress on other critical issues like security.  At home, it would squander the economic opportunities of leading an energy transition and further harm communities that are already experiencing the devastating impacts of climate change—all in a short-sighted sop to the fossil fuel lobby.
Clean energy means jobs, exports
Businesses taking a broader view see opportunity in addressing climate change. ExxonMobil and General Electric say they support the Paris Agreement and don't want to see the U.S. sidelined from critical decisions on the future of the international energy system—a $6 trillion global market.
Renewables represent the fastest growing energy sector and will remain so regardless of what Trump decides. That's because renewable energy costs are down dramatically. Since 2008, costs for rooftop solar are down 54 percent; for wind, 41 percent; and for utility-scale solar, a whopping 64 percent. American investments in renewable energy rose 17 percent to $44 billion from 2014 to 2015.
This investment drives job growth; the solar energy industry now employs more than 260,000 Americans and is creating jobs 17 times faster than the rest of the U.S. economy. There are more than 100,000 Americans working in wind power jobs with "wind turbine technician" being the fastest-growing job category in the U.S. Nationally, clean energy jobs outnumber fossil fuel jobs by more than 2.5 to 1.
Other countries are seizing the moment. China has announced  plans to invest $360 billion in renewable power sources like solar and wind by 2020. The European Union, China and Canada have all stated that they will work to take up the slack left by the U.S. on clean energy financing and cutting greenhouse gasses.
Earthjustice will keep fighting
Earthjustice is working in statehouses and at local public utility commissions across the country to advance clean energy policies and challenge decisions that would lock us into decades of fossil fuel dependence. In court, we are defending rules that limit climate pollution. And we are helping international partners in South Africa, Bangladesh, Australia and Kenya who are pushing a shift from fossil fuels to clean energy.  
Climate change is very real. It's caused by human activities. Scientists agree. The consequences are dire and are harming communities across the country and around the world today. It will get worse—much worse—if we don't act now. There is still hope of avoiding the most catastrophic impacts of climate change, but only if all countries act together. 
Part of the International program, Erika's work focuses on climate change, at international negotiations and with U.N. Environment Programme and regional bodies like the Arctic Council to reduce emissions of atmospheric pollutants.
The International Program partners with organizations and communities around the world to establish, strengthen, and enforce national and international legal protections for the environment and public health.