Stronger Ozone Rules Could Help Everyone Breathe a Little Easier
Earthjustice's Keith Rushing describes his first visit to the emergency room with his daughter who suffers from asthma.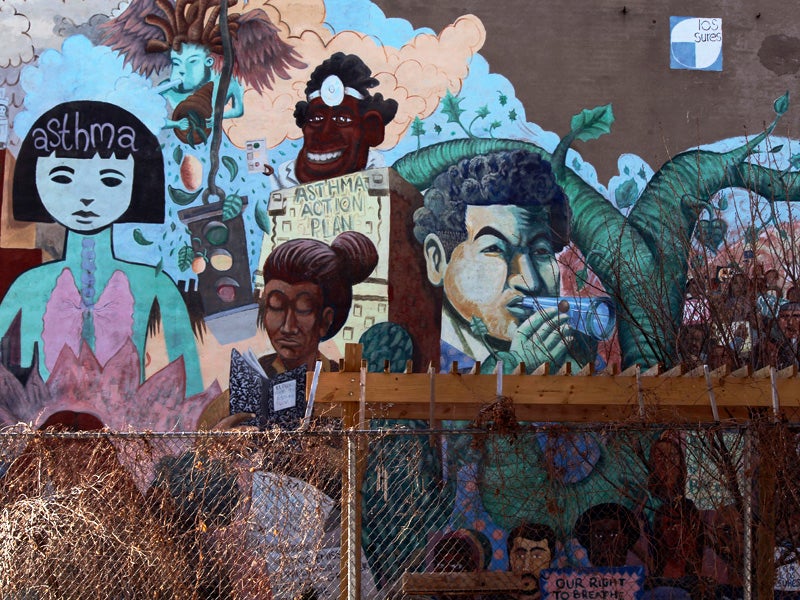 A couple of weeks ago President Obama connected climate change and the pollution that causes it to the asthma that his daughter, Malia, suffered from as a young child.
"What I can relate to is the fear a parent has, when your 4-year-old daughter comes up to you and says, 'Daddy, I'm having trouble breathing,' Obama said in an interview broadcast on ABC. "The fright you feel is terrible."
Like Obama, I have a daughter with asthma. I remember, very vividly, the first time we went to the emergency room for treatment. The month of May, Allergy and Asthma Awareness Month, is a fitting time to share this story:
Two years ago on a weekend trip to Amish country in Pennsylvania, my then 3-year-old daughter woke up having an asthma attack.
Maya had been coughing a lot the night before. We thought it was due to seasonal allergies or a cold, but by morning she couldn't drink a cup of milk because every time she went to take a drink she needed to stop and take a breath instead.
My wife and I didn't know what was going on. Maya was getting progressively worse. We knew we had to get to a hospital.
We skipped breakfast and drove as fast as possible to an emergency room about 30 minutes away. I dropped my wife and daughter off at the entrance and parked within a couple of minutes. By the time I walked into the hospital, Maya had vomited and was receiving her first nebulizer treatment, which involves dispensing asthma medicine in mist that's inhaled. Doctors and nurses had actually been standing around waiting for their first patient, so fortunately for us Maya received immediate treatment.
Maya is now 5 and has never had another asthma attack that required hospitalization. Yet, we still must monitor her breathing and keep inhalers at the ready for those times in the spring and the fall-during allergy season–when the coughing begins and her breathing capacity drops.
Maya, like Malia, is far from alone. The number of people with asthma grew by 4.3 million between 2001 and 2009. Now, one out of 10 children in the U.S. has asthma. For African Americans, the numbers are even higher: one out of six black children has asthma.
A few weeks ago, Obama correctly connected climate change to public health. Research shows that carbon pollution from power plants, factories, cars and trucks raises temperatures and worsens asthma. Ozone, also known as smog, is also a greenhouse gas that warms temperatures, drives climate change and causes asthma attacks.
A stronger ozone standard could prevent more than 8,000 premature deaths from each year and 1.8 million asthma attacks. If Obama wants to help prevent asthma and limit the impact of greenhouses gases, pushing hard for the most protective ozone standard is necessary.
In 2011, Obama got cold feet after major polluters raised hell over former EPA administrator Lisa Jackson's proposal to limit the amount of ozone allowed in the air to between 60 and 70 parts per billion. Jackson was forced to "pull the plug" on the stronger ozone standards. In response, Earthjustice sued to force the agency to do its job and update the ozone standard as required under the Clean Air Act.
This time around, I hope the Obama administration will ignore the fear mongering and ridiculous warnings of economic calamity from major polluters. To quote National Resource Defense Council John Walke: "Big Oil never met a safer health standard for smog pollution it did not oppose."
Besides, this issue is about protecting public health and people's lives, not about how expensive an updated ozone standard could be for wealthy corporations.
When Maya was in the emergency room, I would've been angry if anyone talked to me about the cost of her care. I just wanted excellent care. Any parent would feel the same way. I think Obama gets this. Hopefully he gets it enough to use every tool at his disposal to make a difference for little girls like Malia, and my daughter Maya, who know what it's like when breathing doesn't come easy.
Based in Washington, D.C., Keith is the National Communications Strategist for Partnerships and Intersectional Justice.
Earthjustice's Washington, D.C., office works at the federal level to prevent air and water pollution, combat climate change, and protect natural areas. We also work with communities in the Mid-Atlantic region and elsewhere to address severe local environmental health problems, including exposures to dangerous air contaminants in toxic hot spots, sewage backups and overflows, chemical disasters, and contamination of drinking water. The D.C. office has been in operation since 1978.