Testifying to Stop the Salish Sea Pipeline
The proposed Kinder Morgan Trans Mountain pipeline expansion threatens the way of life on the Salish Sea, and this First Nations testimony exemplifies why it should be stopped.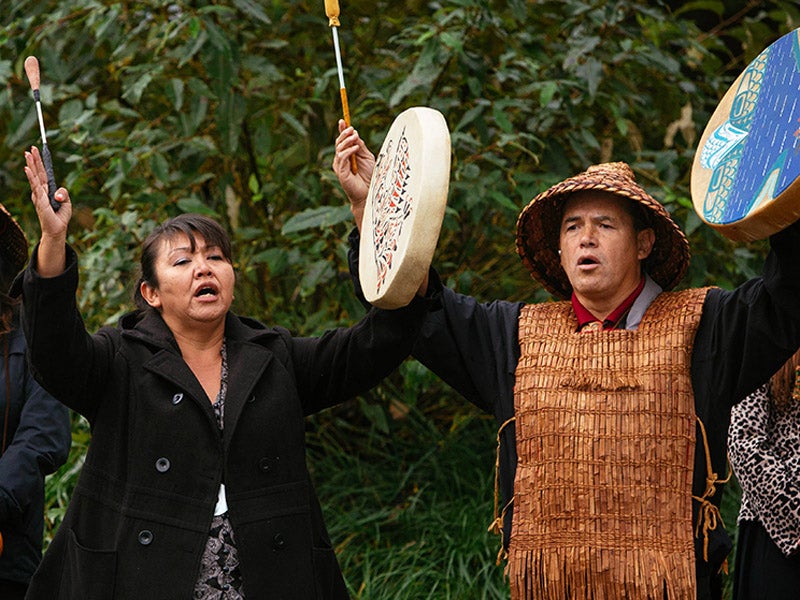 Last October, in a windowless hotel conference room in Chilliwack, British Columbia, U.S. tribal witnesses presented testimony before a panel of the Canadian National Energy Board (NEB)—three Canadian bureaucrats who will make influential decisions about permitting a new tar sands crude oil pipeline from Edmonton, Alberta to Burnaby, British Columbia. The Kinder Morgan Trans Mountain pipeline itself (unlike Keystone XL) is wholly on Canadian soil, and many Canadian First Nations, cities, towns and citizens oppose its construction.
I was there to present testimony opposing the pipeline from four U.S. tribes—the Swinomish, Tulalip, Suquamish and Lummi Nations from Washington state. Why? The massive oil tankers that will carry crude oil from the proposed pipeline's terminus must pass through U.S. waters, harming U.S. treaty-protected tribal fishing rights and risking both small and catastrophic oil spills in the shared U.S. and Canadian waters of the Salish Sea.
The National Energy Board, as part of its permitting process, scheduled several weeks to hear what it calls "aboriginal oral testimony." The taking of this testimony acknowledges tribal oral traditions and cultures. Although a U.S. tribal member testified before an NEB panel in the 1970s, this was the first time that U.S. tribes, participating as full intervenors, presented their own testimonies.
On the first morning, tribal members and supporters from both sides of the border gathered on the banks of the Fraser River to hold a spiritual water ceremony to prepare for later testimony. There were songs, drums and prayer; words of greeting; and thanks to the Stó:lō people, First Nations peoples inhabiting the Fraser River region, for their hospitality. Scenes from the day include a stone held in the palm of a hand, the pouring of waters that each tribe brought onto the riverbank, and a Seahawks emblem painted on a drum. Some wore traditional cedar hats, some fringed shawls; many also wore rain jackets.
The gray lifted, fog hanging in the air, and we carried the calm and power of that ceremony back to the hotel. Our witnesses and tribal supporters from both sides of the border sang and drummed as they proceeded into the room, asking blessings for the witnesses and participants. To begin, the tribes held a blanketing ceremony, fastening wool blankets and kerchiefs on several people in the room, including the chairman of the National Energy Board panel, and naming them witnesses for the proceedings. Their job, as blanketed witnesses, was to listen, remember and then recount the proceedings to others, to keep alive the stories of these days.
And then the tribes testified. Their words speak for themselves:
Mr. Glen Gobin, Tulalip tribe councilman and fisherman:
We, as Indian people, Coast Salish People, we believe that we are the voice for Mother Nature. Mother Nature cannot tell us what's going wrong. She can give us indications, but she can't speak the same way that we do. We have to be that voice. We have to recognize that. … That threat to the Coast Salish Sea and who we are again is unacceptable. We cannot afford to take that risk. With all that is happening within the Coast Salish Sea, all the pollution effects, the combined impacts we cannot add any more.
Suquamish high-school senior Ms. Shaylene Jefferson's testimony encapsulated the event:
My generation is facing the future consequences of this project. It offers nothing but the possibility of a devastating oil spill that could lead to the end of our culture, our reserved Treaty rights that my ancestors fought so hard for. Suquamish culture is not only a thing of the past, it's the present day, and it's my future. It's my children's future.
Suquamish Chairman Leonard Forsman:
We're very concerned about the increased traffic and its impact on our harvesters and their ability to harvest fish or crab or other species on the water. And we're also very concerned about the catastrophic impacts that an oil spill could have on the ecosystem of the Salish Sea.
Swinomish chairman Brian Cladoosby:
We're very, very strong advocates in protecting the salmon in the water, and we have a treaty right. It's a sacred obligation. We inherited that obligation to be stewards of that river to protect that. … To be able to move from a pollution-based economy is, I know, not easy. You just don't turn that around overnight. But you know, we have been given the responsibility as stewards of this environment.
The testimony was intelligent and passionate; the National Energy Board panelists listened with courtesy. What they will do with the testimony is unclear. The Canadian National Energy Board process continues, its initial decision schedule delayed until at least spring 2016, and opposition to the pipeline within Canada continues to grow. On behalf of the U.S. tribes, we will present written expert evidence in a few months and final written argument sometime after that. Earthjustice took photos and video during these ceremonies and proceedings. The photo-essay of this testimony is available, and I urge you to view it.
Kristen works in the Northwest regional office in Seattle, WA. As an outdoor enthusiast, she brings passion to protecting our national forests and grasslands from destructive practices like road building, logging and development.
Opened in 1978, our Alaska regional office works to safeguard public lands, waters, and wildlife from destructive oil and gas drilling, mining, and logging, and to protect the region's marine and coastal ecosystems.