Thank You, President Obama
Though we didn't always see eye to eye, Earthjustice is forever grateful to the Obama administration for its actions on climate change, farmworker rights and environmental justice.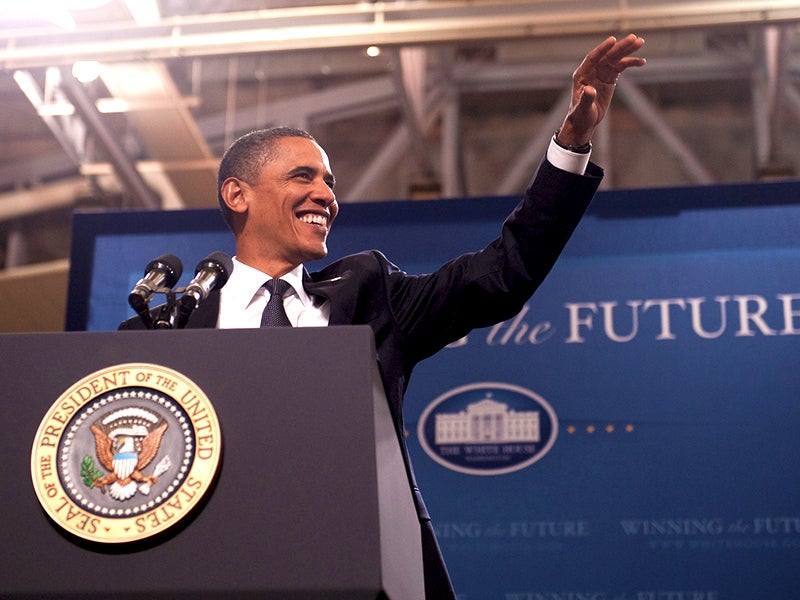 The eight years of Barack Obama's presidency are now over. Donald Trump's inauguration is upon us. This momentous transition, with global implications at an historic scale, deeply affects Earthjustice and every other organization dedicated to protecting our rights, our health and our planet. We are called to fulfill our essential role as never before. We are prepared to meet the challenges that lie ahead, as I've described, and we will keep you up to date on the battles to come.
Right now, however, I want to focus on the Obama presidency. Over the past eight years, Earthjustice and the Obama administration pursued shared environmental goals through a contentious but supportive partnership. We sued federal agencies literally hundreds of times, always pressing for stronger safeguards from air and water pollution, protection of wildlife and intact wild lands, and ambitious action on climate change. From our 2009 challenge to the Obama administration's approval of Shell Oil's drilling plans in the Arctic Ocean to the 2016 challenge to approvals for the Dakota Access pipeline adjacent to the lands of the Standing Rock Sioux, we have pressed hard and successfully for environmental and health protections that the administration would not otherwise have implemented.
Yet despite the inherently adversarial nature of these challenges and the many times we did not see eye to eye, we worked closely and constantly with the administration. And the Obama administration delivered on our shared goals in unprecedented ways. We are profoundly grateful to President Obama and his team for dramatic action to reverse the trajectory of climate change in the United States and globally, despite unrelenting hostility from Congress and the fossil fuel industry. We will never forget the leadership of EPA administrators Lisa Jackson and Gina McCarthy in addressing climate change, reducing exposure to toxic pollution and dramatically deepening the agency's engagement with communities of all kinds across the country. Finally, the lives our children and grandchildren and of people from around the world will be enriched by the magnificent places that the administration has protected for all time.
Here are some standout personal memories I will carry with me from President Obama's tenure:
In early 2009, two weeks into the new Obama administration, I got a phone call at home on a Sunday morning from a White House staffer, furious that a particularly successful Earthjustice action alert on mountaintop removal mining had clogged the inboxes of EPA Administrator Jackson and the Chair of the Council on Environmental Quality with tens of thousands of messages, rendering them unable to work for hours. That was a truly auspicious start to our working relationship with the administration.
Also in 2009, Earthjustice brought coal ash clean-up advocates from the Navajo tribe and environmental justice advocates from Oakland, California, to meet with Administrator Jackson during her first visit to San Francisco, making clear to her right from the start that our partnerships extend far beyond "mainstream" green groups.
In October 2015, I celebrated the hard-fought adoption of new agricultural worker protections, which will dramatically reduce harmful pesticide exposures, at a massive California tomato farm with EPA Administrator McCarthy and United Farmworkers President Arturo Rodriguez.
Also in 2015, I rejoiced with colleagues, administration officials and the president at the signing ceremony for the Clean Power Plan, the administration's signature climate achievement.
Most of all, I will always carry my deep respect for the integrity and values at the heart of President Obama's service to our nation. He leaves a magnificent environmental legacy. He has inspired people around the world, particularly young people, to dedicate their lives to justice and democracy.
For myself and on behalf of Earthjustice, thank you President Obama.
Trip Van Noppen served as Earthjustice's president from 2008 until he retired in 2018. A North Carolina native, Trip said of his experience: "Serving as the steward of Earthjustice for the last decade has been the greatest honor of my life."