The American People's Ability to Access Justice Through the Courts is Under Attack
Earthjustice released a new report today detailing this all-out push to close the courtroom doors.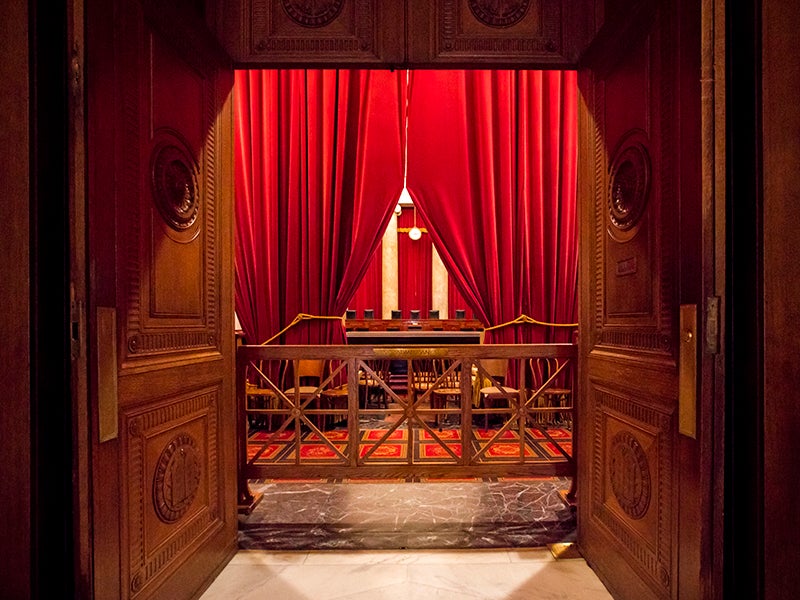 The courts have proven to be a powerful check against President Trump, dealing his administration numerous high-profile losses since he took office. Thanks in part to Earthjustice's work, Trump is now painfully aware that even the president is accountable to the rule of law.
But judges can play their constitutional role only if the people have the right to bring their grievances to court. Recognizing this, forces aligned with wealthy corporate interests have begun an all-out push to close the courtroom doors.
Today, Earthjustice released a new report exposing actions by the Trump administration and Congress that threaten people's ability to have their day in court.
Since Trump took office, members of Congress have introduced more than 50 proposals that would restrict people's access to the courts, allowing government and corporate action to go unchecked.
These actions make public interest litigation too risky or too expensive to pursue, interfere with judges' discretion, undermine the government's ability to reach timely and meaningful case settlements, and include "no judicial review" clauses that make it more difficult to challenge government actions in court,
The report—which includes invaluable contributions from the American Civil Liberties Union, Public Citizen, and The Leadership Conference on Civil and Human Rights—shows how individuals, marginalized communities, and others would be impacted by these attacks.
The threats are coming not just from Congress. Trump appointees in the executive agencies are making similar moves. For example, EPA Administrator Scott Pruitt directed his staff to no longer settle lawsuits with groups like Earthjustice, unless agency staffers first navigate a variety of hurdles including consulting with industry. Pruitt issued this directive based on the assertion that industry groups currently don't have a seat at the table when it comes to shaping our government's regulatory decisions.  Nothing could be further from the truth.
As a former official at both the EPA and the Department of Justice, I can tell you that these industries not only have a seat at the table at every step of the regulatory process—in some cases you might say that they bought the wood, built the table, and drafted the seating chart as well. And former lawyers for EPA agree. Fifty-seven attorneys sent an open letter to Pruitt last fall calling his settlement directive "patently biased" in favor of polluters.
The lobbying power of polluters means they already have far greater access to regulatory agencies than any ordinary person or public interest advocate. And with appointees like Pruitt, a longtime defender of dirty energy interests, Trump has ensured that polluters have virtually unlimited access to every facet of the regulatory process. If Congress and the administration successfully close the courtroom doors, corporations will be able to cook the books in their own favor with impunity, and you and I will be powerless to stop them.
That's why Earthjustice is tracking the numerous attacks being proposed—and challenging them wherever we can.
Together, the public interest community must oppose these attempts to block access to the courts, and we must do so based on a common value that is enshrined in the Constitution: Every person in America deserves access to justice.
A leading environmental attorney and legal scholar, Patrice began his career as an attorney in the U.S. Environmental Protection Agency's Office of General Counsel, and later served as a counsel to the agency's Environmental Appeals Board. As a Howard University School of Law professor, Patrice taught, wrote, and spoke on various subjects related to environmental law and environmental justice.
Established in 1989, Earthjustice's Policy & Legislation team works with champions in Congress to craft legislation that supports and extends our legal gains.
Earthjustice's Washington, D.C., office works at the federal level to prevent air and water pollution, combat climate change, and protect natural areas. We also work with communities in the Mid-Atlantic region and elsewhere to address severe local environmental health problems, including exposures to dangerous air contaminants in toxic hot spots, sewage backups and overflows, chemical disasters, and contamination of drinking water. The D.C. office has been in operation since 1978.