Former EPA Lawyers Slam Pruitt on His 'Patently Biased' Handout to Polluters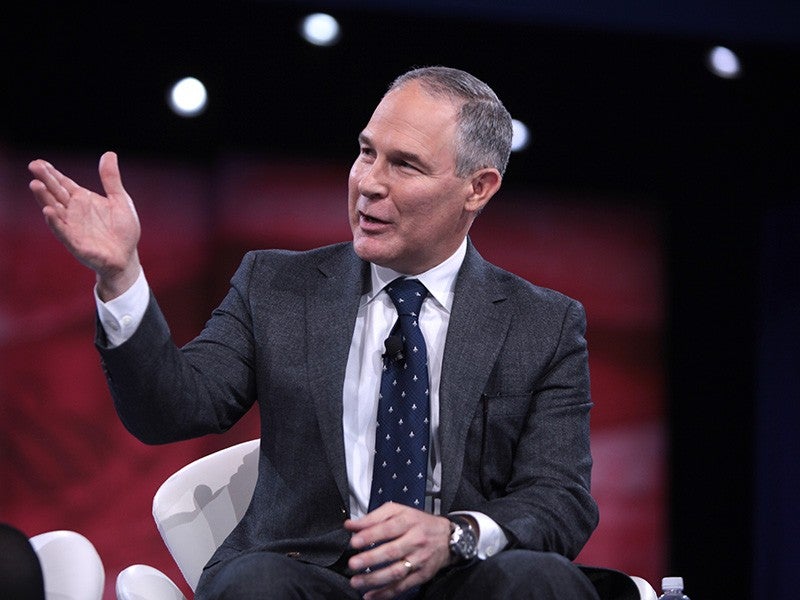 GAGE SKIDMORE / CC BY-SA 2.0
In a rare display of no confidence, 57 former attorneys to the Environmental Protection Agency have signed an open letter accusing Administrator Scott Pruitt of "sowing confusion," "misrepresentation," and providing favorable treatment to polluters.
The letter drafted last month by the former EPA lawyers—many of them career staff who had worked at the agency for decades, and all of them nonpolitical appointees—tore apart Pruitt's claims about why he had dramatically restricted EPA's authority to reach settlements with individuals and environmental groups who take the agency to court when it fails to comply with the law. Until Pruitt's Oct. 16 decree, when the EPA failed to live up to its legal obligations, people and communities could take the agency to court—with help from legal groups like Earthjustice— and where EPA's actions were clearly unlawful, the agency could take responsibility for its failure, and agree to make things right. No more.
Pruitt argued that the decree was meant to end so-called "sue and settle" practices and "collusion" between environmental groups and the federal government.
Pulling no punches, the attorneys said Pruitt's pronouncements make "unfounded and unsupported accusations about EPA's longstanding and non-partisan approach to defending the agency's actions in lawsuits that Congress empowered members of the public to bring when the agency allegedly fails to follow the law."
They accused the administrator of doing a "disservice by attempting to give regulated parties a special and powerful seat at the table with no corresponding role for other members of the public." They also pointed out that Pruitt ignored a recent Government Accountability Office (GAO) report that found there was no basis for his claims against environmental groups.
The full letter picks apart every excuse and error of judgment Pruitt made in his decision to end settlements, which has the real-world effect of delaying enforcement of life-saving pollution protections such as designating cities for protection from smog pollution, regulating emissions from coal-fired power plants, and suspending limits on toxic wastewater pollution.
Despite Pruitt's disregard for the law—indeed, because of it—Earthjustice will continue doing what it does best: Using the courts to protect people's health and the environment, and to fight for a sustainable energy future. Pruitt can rest assure that all of his efforts to weaken our nation's environmental and pubic health protections, and to keep people from exercising their rights to seek justice in a court of law, will be met with vigorous resistance—by Earthjustice and others who value the health, vitality and wellbeing of all communities.
Below are some of the key takeaways from the attorneys' letter.