The Lessons We Didn't Learn from the Largest Gas Leak in U.S. History
Three years after the Aliso Canyon leak, agencies and underground gas storage operators are still failing to regulate and share information about the toxic pollutants in stored gas.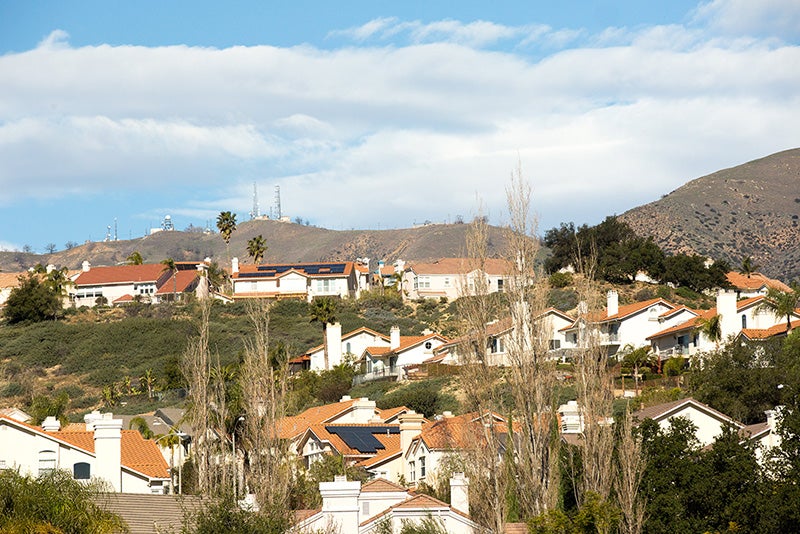 Almost 15,000 residents of Los Angeles' Porter Ranch neighborhood evacuated their homes in the fall of 2015, many of them suffering from headaches, breathing problems, and nosebleeds. The culprit: a massive leak of carcinogenic chemicals at SoCalGas's nearby Aliso Canyon underground gas storage facility. From October 2015 until February 2016, the facility expelled more than 100,000 metric tons of methane into the atmosphere.
Three years later, community residents continue to suffer severe health effects. In a lawsuit filed on October 15, 2018, Los Angeles firefighters who responded to the leak stated that they also continue to experience "nosebleeds, migraine headaches, dizziness, skin rashes, sleeping difficulties, and breathing difficulties. Some now battle cancer."
And yet, agencies and underground gas storage operators continue to show a shocking lack of initiative to regulate and share information about the toxic pollutants in stored gas. No regulatory agency has tried to force operators to reveal the gas' chemical composition. Without this information, scientists cannot determine the leak's risks to human health.
"The public health department consistently delivered messages to the community that are misleading," one Porter Ranch resident told the Los Angeles Daily News this week. "They showed no justice and had unexplained delays and inactions."
This problem isn't limited to Aliso Canyon. California has 12 underground gas storage facilities: four in southern California, seven in northern California, and one in central California with a total capacity to store just under 400 billion cubic feet of gas. For a sense of scale, that's a lot. One billion cubic feet is enough to fuel about five million U.S. homes for a day.
What we don't know about the toxic chemicals in gas wells
Many folks don't know that California's underground gas storage facilities are in depleted gas or oil fields. These were not originally designed for high-pressure gas storage. (The Aliso Canyon underground gas storage facility, for example, is in a depleted oil field originally drilled by the Getty family in the 1950s.)
Chemical contaminants left over from oil operations combine with injected gas during underground storage. These contaminants are emitted into our air during gas leaks. We simply do not have enough information about just how terrible that chemical cocktail is for us. And that's by design — there's no regulation requiring companies like SoCalGas to disclose the composition of toxic chemicals in their gas wells.
Public health and energy scientists from the California Council on Science and Technology recently presented their findings on the human health hazards of underground gas storage at a workshop in Los Angeles. At the workshop, the scientists emphasized that a lack of access to data on the composition of gas at Aliso Canyon and other underground gas storage facilities significantly limited the scope and detail of their assessment.
The clearly frustrated scientists concluded, "the responses [from underground gas storage operators to data requests] make clear that information on the levels of toxic air contaminants (other than sulfur compounds) will likely not be available without a mandate from the responsible regulatory agency or agencies."
A health study with no teeth
Now, as part of the settlement agreement between SoCalGas and state agencies, SoCalGas has agreed to pay $25 million for the Los Angeles County Department of Public Health to study the long-term impacts of exposure to emissions from gas leaks. That health study, however, will again have to rely on the voluntary cooperation of SoCalGas.
We believe that's an inherently flawed approach. In comments to the California Air Resources Board on the limitations of the Aliso Canyon settlement agreement, Earthjustice noted the inherent self-interest of underground gas storage operators, including SoCalGas, to withhold key information about toxic pollutants in gas.
Without an independent study based on complete information, the health impacts from the toxic pollutants in stored gas will never be fully understood and addressed. It'll be another good idea with no follow-through. The families in Porter Ranch and the wider San Fernando Valley will not get the answers they deserve about their nosebleeds, their headaches, or their breathing difficulties.
The health effects of the Aliso Canyon gas leak are just the latest indication of how little we know about stored gas and the lack of regulatory oversight to match the dangers of underground gas storage facilities. The toothless health study laid out in the Aliso Canyon settlement is a grave discredit to the community residents and emergency first-responders who suffered, and continue to suffer, significant health impacts from the Aliso Canyon gas leak.
In all, Aliso Canyon must serve as a constant reminder for California: it's time to get off natural gas. Natural gas infrastructure leaks. There's no way around that. At every turn from our energy grid to our vehicles and our buildings, we can kick gas to the curb and choose cleaner, safer options instead.
Based in Los Angeles, Byron is a supervising senior attorney in the Community Partnerships Program.
The California Regional Office fights for the rights of all to a healthy environment regardless of where in the state they live; we fight to protect the magnificent natural spaces and wildlife found in California; and we fight to transition California to a zero-emissions future where cars, trucks, buildings, and power plants run on clean energy, not fossil fuels.