The Massive Fish Kill Florida Could Have Prevented
Dead fish cover the beautiful Indian River Lagoon and the Banana River following a fish kill caused by a brown algae outbreak that was sparked by fertilizer, sewage and manure pollution.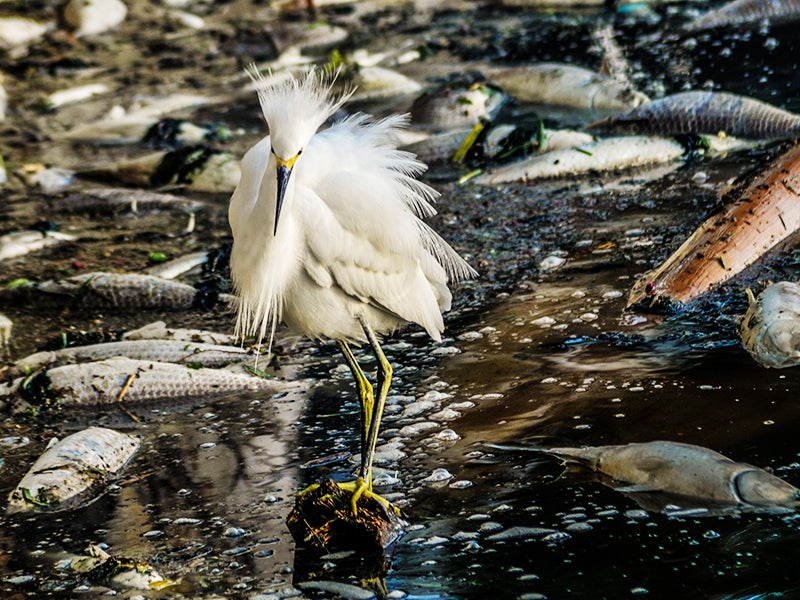 The environmental news this Florida tourist season continues to get more horrific.
We reported earlier this month about the polluted water spewing onto Florida's east and west coasts from Lake Okeechobee, turning blue waters brown and disgusting.
Now, dead fish of all varieties are floating belly-up in the waters of the Indian River Lagoon and the Banana River on Florida's upper southeast coast. The culprit is a brown algae outbreak sparked by fertilizer, manure, and sewage pollution.
The algae explosion robs the water of oxygen, and everything in the water dies. We at the Earthjustice Florida office have spent years trying to get meaningful regulations to restrict this type of pollution, and we've had to battle the nation's largest polluters—and their politician friends—every step of the way.
Now, this failure to regulate pollution has come home to roost in the form of this massive fish kill, stretching for miles on waterways between the Space Coast towns of Titusville and Palm Bay. Tourists arriving in sunny Florida to embark on cruise ships out of Port Canaveral have been met by a nauseating stench and a disgusting sight. Local officials have hurriedly installed dumpsters at boat ramps and waterfront parks so that residents can scoop up the fish and dispose of them.
Long-time fishing columnist Ed Killer, who writes for Treasure Coast-Palm Coast newspapers, put it best:
We couldn't agree more. Our hearts go out to the anglers, the paddle boarders, the boaters and the families along the Indian River Lagoon and the Banana River. We're doing all we can to get meaningful regulations to stop tragedies like this from continuing to ruin our beautiful Florida. This type of pollution and devastation is preventable, but we need to insist that our leaders stand up and prevent it. 
David Guest worked at Earthjustice from 1990 to 2016, as the managing attorney of the Florida regional office. His countless legal battles were, in one way or another, all about water. His motivation to protect Florida's water came from years of running boats in the state's rivers and lakes, which convinced him that waterways are many people's spiritual connection to nature.
The Florida regional office wields the power of the law to protect our waterways and biodiversity, promote a just and reliable transition to clean energy, and defend communities disproportionately burdened by pollution.