The Stories You Shared: Americans Give EPA An Earful On Pebble Mine
Save the quiet for the wilderness. In the public arena, we roar. During the recent comment period on protections for Bristol Bay, Earthjustice supporters spoke out in force against Pebble Mine. Here's what they had to say.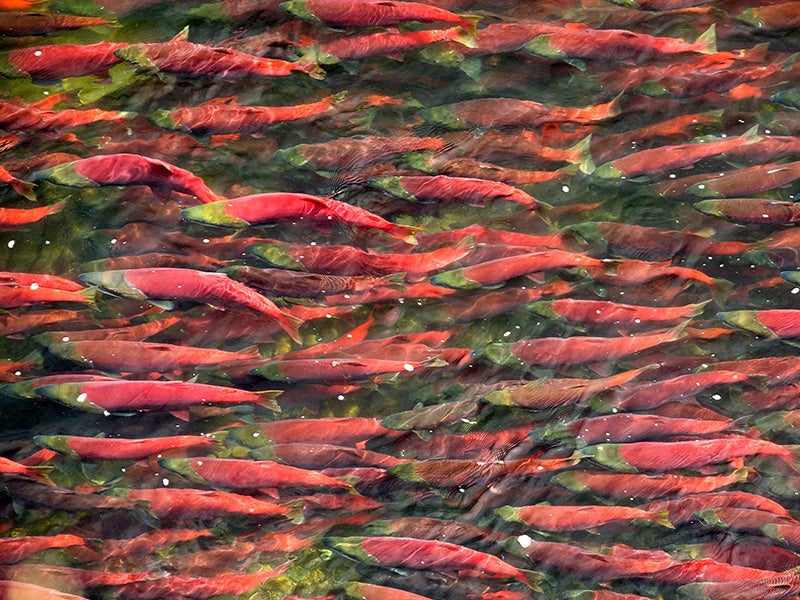 While public officials are hearing from our attorneys in court, they're also hearing from you during public comment periods. Here's a look back at a recent campaign where Earthjustice supporters gave voice to the public's perspective.
The Action Alert: Bristol Bay & Pebble Mine
An hour after meeting with the corporation seeking to build Pebble Mine in Alaska's Bristol Bay watershed, Scott Pruitt, head of the U.S. Environmental Protection Agency, set in motion plans to withdraw proposed protections for the bay. Pruitt's decision ignored years of peer-reviewed, scientific study and overwhelming community opposition to the open-pit copper and gold mine. Bristol Bay is home to some of the world's last great salmon runs—and could be destroyed by Pebble Mine.
The Pruitt-led EPA asked to hear from the public on their proposal to withdraw protections in an official comment period that concluded on October 17, 2017.
Earthjustice supporters resoundingly spoke up—74,057 from all 50 states and the District of Columbia, surpassing even participation in 2014, when the EPA initially proposed the protections for Bristol Bay. Every two minutes of the 90-day comment period, on average, an Earthjustice supporter was taking a moment out of their day to lend their voice to Bristol Bay. Thank you to all who took action. You joined more than 800,000 in total who submitted their comments to the EPA.
Attorneys in Earthjustice's Alaska office, Erin Whalen and Tom Waldo, also submitted a detailed comment on behalf of our clients, Earthworks and the Center for Biological Diversity. Earthjustice is committed to representing those who oppose unlawful and ill-advised mining in the vast expanse of Alaska and British Columbia.
You can read all of the comments submitted by the public at Regulations.gov.
What happens next?
The EPA will decide whether to withdraw the proposed protections for Bristol Bay. If the protections are withdrawn, there will be a public process associated with the mine's permit and its associated review under the National Environmental Policy Act. The corporation behind Pebble Mine may file mine permit applications as early as December. Earthjustice will keep you updated on each important step of the fight for Bristol Bay and when your voice will be next needed.
More actions need your voice:
If you did not have the chance to participate in this comment period, here are some current action alerts that need you:
Your comment matters. Public comments can encourage politicians to make the right decisions, especially at the state and local level. Elected officials pay attention when they see that we are also paying attention. Laws such as National Environmental Policy Act and the Administrative Procedure Act require government agencies to allow the public to comment before adopting or changing regulations. Politicians may try to gut or revoke environmental protections, but they can't credibly claim that no one cares after millions of Americans call or write in to say otherwise.
Zarah connects Earthjustice's online community of supporters with opportunities to take action and speak out through public comment periods, contacting their elected officials on important legislation, and more.
Opened in 1978, our Alaska regional office works to safeguard public lands, waters, and wildlife from destructive oil and gas drilling, mining, and logging, and to protect the region's marine and coastal ecosystems.