The Time Is Right For Electric School Buses
Electric buses save kids' lungs and save school districts money.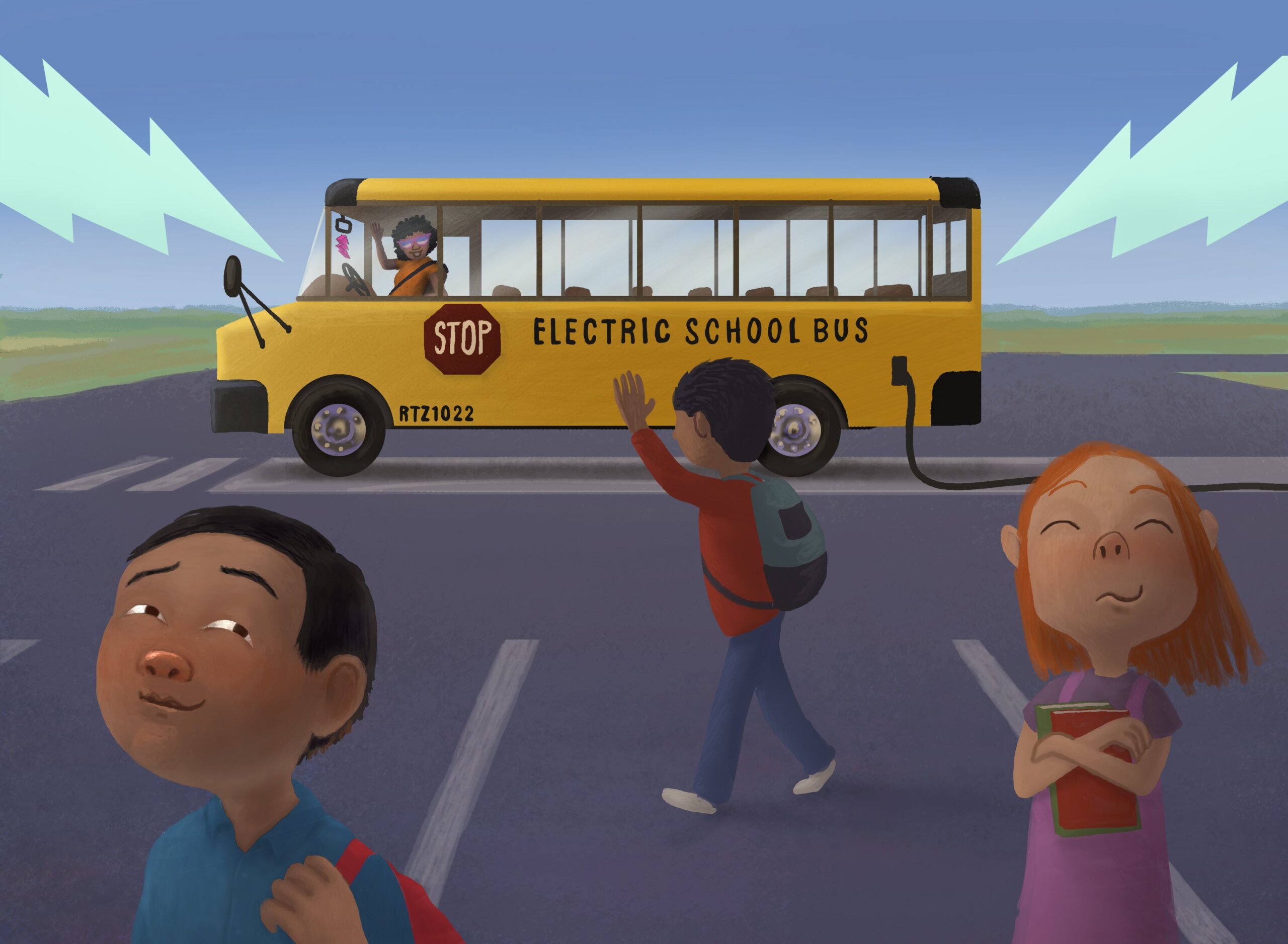 School districts around the U.S. are starting to convert their fleets from dirty diesel buses to pollution-free electric ones, sparking a transformation in how the country's 25 million schoolkids get to school every day.
Electric school buses not only get kids to school with no exhaust and no pollution, they save school districts money, create jobs, protect the climate, and help communities with a backup energy supply. It truly doesn't get much better than this.
Federal climate bills passed last year made billions available for electric school buses, putting school districts in a prime position to move ahead on electric school buses. It's time to hit the accelerator on clean rides for kids.
Electric buses save kids' lungs
Electric buses are better for the climate
Climate polluters: It goes without saying that combustion engine buses — whether they run on diesel, propane, or methane gas — pump out climate pollution that cooks our planet's climate.
An immediate way to reduce greenhouse gas emissions: Nationwide, transportation accounts for nearly 30% of total greenhouse gas emissions, making it the largest contributor of U.S. emissions. This is pollution we can start cutting now.
A better deal for school districts
Saving school districts lots of money: Electric vehicles are cheaper to maintain than internal combustion engines, with far fewer moving parts. A few years ago, Chicago estimated that each of its electric transit buses saves $25,000 per year in fuel costs. When California's Antelope Valley Transit District converted its public transit bus fleet from diesel buses to electric, it quickly tallied well over a million dollars in fuel savings.
Rechargeable benefits: When they're not carrying kids to and from school or field trips, buses sit idle and can recharge when renewable energy production is high and electricity is cheapest on our grid.
Financial stability: In 2022, the cost of diesel went through the same cost spikes as gasoline, complicating the finances of school districts nationwide. Electric buses eliminate this uncertainty and save serious money.
The federal government is providing funding: The Environmental Protection Agency (EPA) recently a href="https://usc-word-edit.officeapps.live.com/press/2022/massive-investment-in-electric-school-buses-in-all-50-states">doubled the first year of funding for the Clean School Bus Program to nearly <$1 billion for school districts in all 50 states. In total, EPA is making a $5 billion investment over 5 years to replace polluting school buses with clean vehicles, thanks to recent climate laws.
Clean buses have local and national economic benefits
Providing high-quality jobs: Union bus manufacturers like Thomas Built, BYD, and IC Bus (Navistar) are building these buses in facilities where wages, benefits, and worker voices help ensure that electrification creates strong communities and jobs that you can raise a family on.
Raising standards: In Southern California, local unions like the International Brotherhood of Electrical Workers have raised standards to safely and professionally install charging infrastructure for electric school buses.
Electric school buses are more resilient
The moment to go electric is now
Sparking a trend: Back in 2018, New York City started a wave of progress when it committed to operating 100% electric school buses by 2035. Now electric school buses are replacing dirty diesel buses all over the country, from the Bay Area and Modesto in California to Montgomery County, Maryland and Durango, Colorado.
The first fully electric fleet? The Los Angeles Unified School District — the second largest in the nation after New York — passed a clean energy resolution in 2019 committing itself to 100% clean transportation by 2040, but is a step or two behind New York in electrifying its bus fleet for the over 42,000 children riding its buses to and from school each day. Angelenos, including the Los Angeles County Electric Truck & Bus Coalition, are encouraging LAUSD to build a fully electric school bus fleet by 2035, which would make it one of the first school districts in the nation to do so.
We have the tools: The technology is here now to replace dirty diesel school buses with something that truly is almost magic — clean, efficient, better for our kids' health and able to save money for school districts and local communities. Join us in calling on the EPA to prioritize Clean School Bus Program money for school districts where kids are breathing the dirtiest air, and to devote all of the program's clean school bus funds to zero emissions buses.
Earthjustice's Clean Energy Program uses the power of the law and the strength of partnership to accelerate the transition to 100% clean energy.