This Is What Asthma Feels Like for Marylanders
Maryland Gov. Larry Hogan illegally blocked a safeguard to reduce ozone pollution, leaving Marylanders to cope with respiratory illnesses like asthma.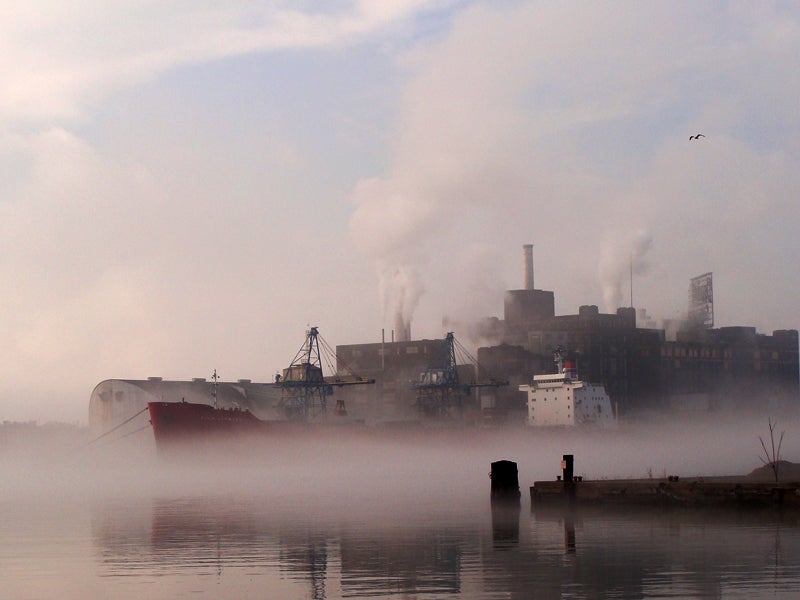 Imagine for a moment you are forced to breathe through a straw, only from one nostril. Now, imagine that straw shrinks to the size of a coffee stirrer, making it even more difficult—nearly impossible—to inhale enough oxygen. This is what asthma feels like for Doris Toles, a Baltimore resident who had her first asthma attack when she was just two years old.
Doris is not alone. Children, the elderly and those suffering from respiratory illnesses are especially vulnerable to asthma attacks. One of the main triggers is ozone pollution. Also known as smog, ozone is considered one of the most harmful air pollutants and has been linked to low birth weight in newborns, cardiovascular episodes, increased visits to emergency rooms and even death.
Because minorities and low-income households suffer from higher rates of asthma, they are often disproportionately affected by ozone pollution.
On his first day in office, Maryland Gov. Larry Hogan illegally blocked a safeguard to reduce ozone pollution. This standard was supported by public health advocates, Maryland's Air Quality Control Advisory Council, the Maryland State Medical Society, environmental groups and one of two major coal plant owners in the state.
Yet, the Hogan administration has still not offered a reasonable explanation for why it blocked such a critical health protection.
While the Hogan administration drags its heels, Marylanders across the state struggle to survive during bad ozone days. Take Christine Keels for example, she used to travel the world representing the United Methodist Church, but now it is a daily struggle just to get to work, which requires her to map hospitals along her commute from Baltimore to Washington, D.C., because she's terrified of getting an uncontrollable nose bleed or being unable to breathe because of her asthma.
Children and black Marylanders like Christine face some troubling facts when it comes to ozone pollution and asthma:
F. The grade given to Prince George's County, Baltimore, Baltimore County and Anne Arundel County from the American Lung Association for the number of High Ozone Days; Montgomery County got a "D".
Twice the national average. An alarming 20 percent of Baltimore children under 18 have asthma, more than double the national average.
Twice the rate of non-Hispanic whites. Non-Hispanic blacks have the highest asthma hospitalization rates out of any group in Maryland — more than double the rate of non-Hispanic whites.
More than twice as likely. Black Marylanders are nearly 2.5 times more likely to die from asthma than white Marylanders.
The safeguard blocked by Gov. Hogan would protect Marylanders like Doris and Christine by reducing nitrogen oxide pollution from coal-fired power plants that leads to harmful ozone levels. After more than a year-long stakeholder process, the Maryland Department of the Environment (MDE) adopted the rule on Jan. 16, 2015. The safeguard was submitted that same day for publication in the Maryland Register.
But Gov. Hogan illegally blocked its publication to thwart its implementation.
Gov. Hogan essentially tossed out the result of the entire stakeholder process and MDE's expertise when he refused to allow the safeguard to be published. Although his administration has promised to start a new process to consider long-term NOx reductions, such a process would simply duplicate MDE's extensive process from last year. It could also lead to a less protective result.
Chesapeake Physicians for Social Responsibility and Sierra Club's Maryland Chapter, represented by Earthjustice, recently sued the Hogan administration. If successful, our lawsuit would require this safeguard to be published and prevent the administration from further blocking this critical health protection.
Without this lawsuit, there is absolutely no guarantee or binding document that these protections will ever be established. The only promise Marylanders suffering from poor air quality have is the Hogan administration's word.
People like Doris and Christine that know firsthand what #AsthmaFeelsLike deserve better.
This blog was originally posted by The Huffington Post on July 21, 2015.
From 2014–2017, Phillip headed the media team. He was based in Washington, D.C.
Established in 1989, Earthjustice's Policy & Legislation team works with champions in Congress to craft legislation that supports and extends our legal gains.