As the National Parks Service turns 100 this summer, Earthjustice continues to defend public lands so future generations can always find refuge in these magnificent places.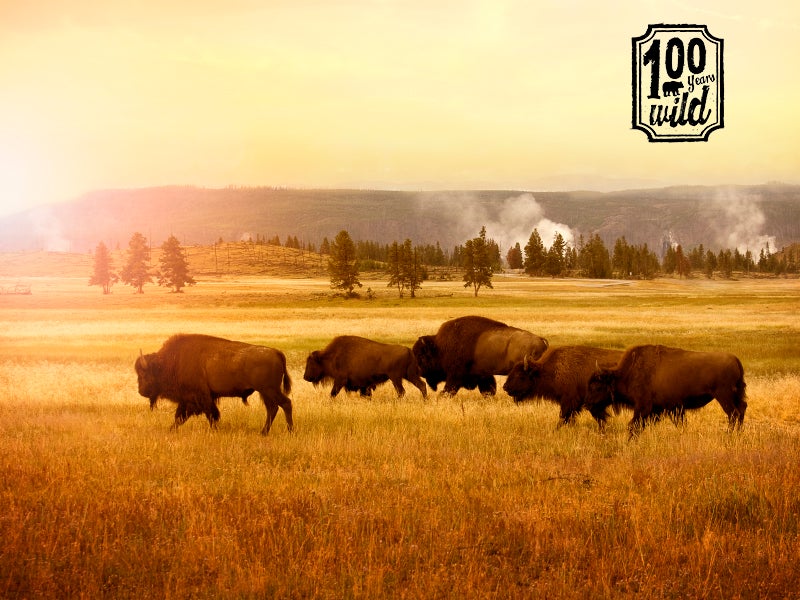 "This Land is Your Land" is one of our country's most beloved folk songs, painting a picture of America as vast and brimming with natural beauty. Children learn it in elementary school and sometimes sing it after the morning Pledge of Allegiance. Woody Guthrie's song recalls the wonder he felt during strolls through redwood forests, golden valleys and the sparkling sands of diamond deserts. He ends each verse with the warm and inclusive refrain, "This land was made for you and me."
But one little known fact about Guthrie's iconic song is that the earliest known recording from 1944 includes the following verse:
This verse was stripped from the song and largely forgotten until 1997, when an archivist at the Smithsonian heard a master version as it was being transferred to a digital recording for preservation in the National Archives.
This summer, as we celebrate the 100th anniversary of the founding of the National Parks Service, we must not take our public lands for granted. There are those who would turn these magnificent places over to private interests to exploit the land for its resources or develop and wall off areas for the benefit of a few. We should take note of the nearly forgotten verse from Guthrie's song and heed its warning.
Earlier this year, we witnessed a growing threat to America's public lands when armed extremists took over the headquarters of an Oregon wildlife refuge, demanding that the federal government turn over the refuge and other public lands in the West to private individuals and corporations. Leaders in Washington, D.C., largely dismissed the militants involved in the standoff at the Malheur National Wildlife Refuge as law-breaking fringe elements. But at the same time, some in Congress were quietly working up legislation that would indeed sell America's birthright to the highest bidder. Earthjustice is actively advocating against such legislation.
The standoff at an otherwise tranquil oasis along migratory birds' Pacific flyway was not the first time private interests have demonstrated their desire to exploit public lands for personal gain. The fight to protect these areas has been raging since before the National Park Service was created a century ago. Since our founding 45 years ago, Earthjustice has been defending America's wildlands from a variety of threats.
In the mid-1990s, we stopped Canadian mining giant Noranda from opening a massive gold mine next to Yellowstone National Park that would have dumped toxic sludge into nearby wetlands and rivers, including the Yellowstone River, which flows into the park. In more recent years, we successfully fended off the opening of uranium mines near the Grand Canyon, and we continue to block plans for a mega-development near the entrance to the canyon.
We continue to advocate for high government standards to regulate haze pollution from coal-fired power plants that sickens people and clouds the air around the national parks. We also defend many species of wildlife, including wolves, grizzlies and salmon, which depend on the parks and their surrounding lands and waterways for protection.
These wild places are also refuges for people. They are used by millions every year for hiking, camping, hunting, fishing and simply providing solace and inspiration in a warming, developing, changing world.
Over the next ten weeks leading up to August 25, 2016—the 100th anniversary of Woodrow Wilson's signing of the act that created the National Park Service—we will explore the irreplaceable parts of our country's landscape and spotlight the ongoing threats they face. You'll meet the wildlife "celebrities" that inhabit the parks and have rekindled an appreciation for the animal kingdom among millions of park visitors.  And you may discover new parks never before on your radar.
We'll also shine a light on looming environmental challenges facing our parks, from threats ranging from climate change to resource extraction. And we'll reflect on the deep sacrifices of the lands' native inhabitants, intertwined with the history of the national parks system's creation, and address questions about whether parks are truly accessible to all Americans regardless of race or background.
We hope you'll get outside this summer to enjoy these magnificent places and help us defend them. Because this land was made for you and me.
As the National Park Service turns 100 this summer, the 100 Years Wild series celebrates the value of public lands as refuges to wildlife and people, while also shining a light on the threats to these irreplaceable landscapes in a changing and warming world.
Drew Caputo was Vice President of Litigation for Lands, Wildlife and Oceans at Earthjustice.