Alabama Residents Win Sewage Settlement Under Civil Rights Law
This is a landmark success in applying federal civil rights laws to environmental racism.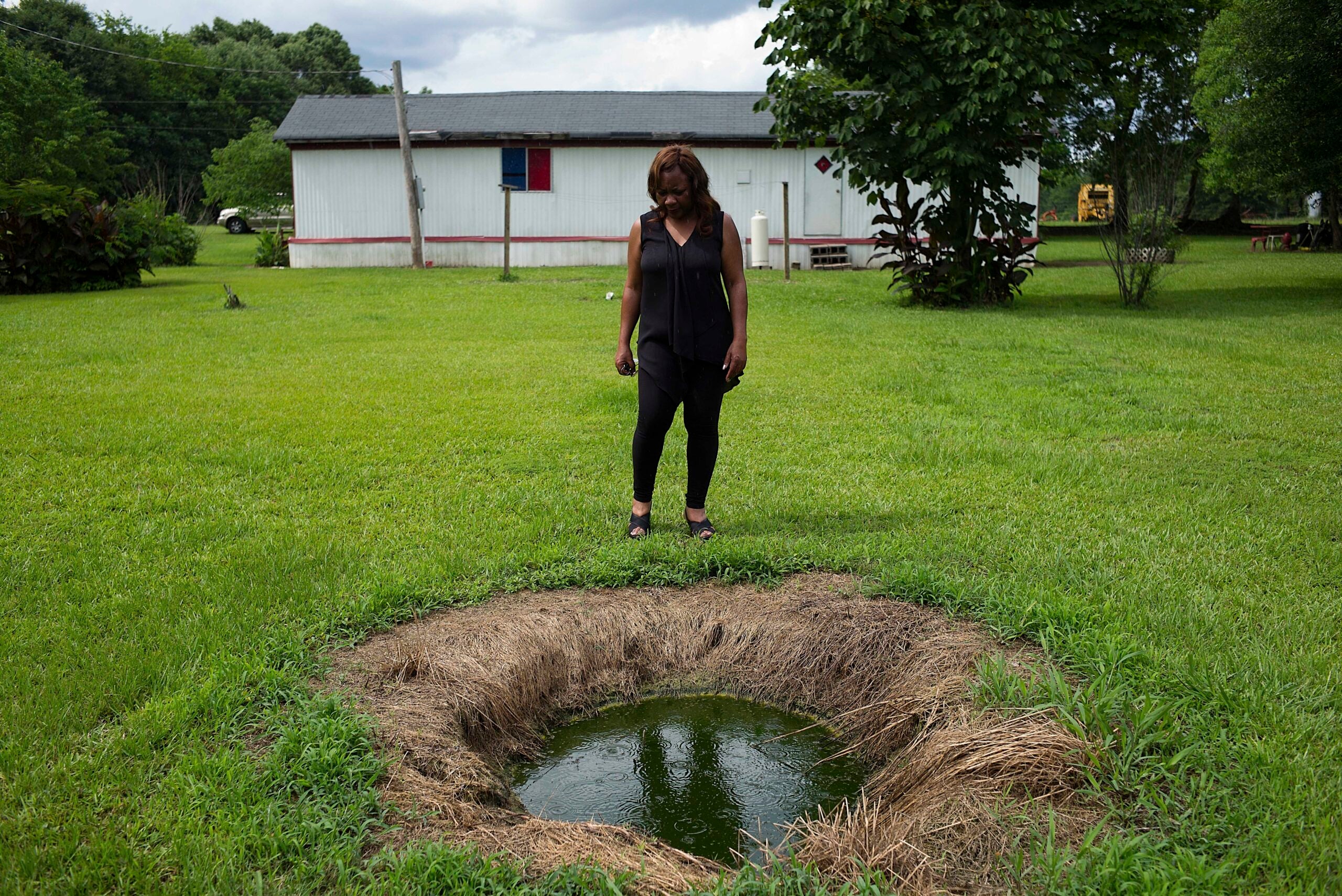 When Catherine Flowers arrived at the home of a pregnant woman in Lowndes County, Alabama, Flowers immediately noticed the pool of raw sewage festering behind the house and swarming with mosquitoes.
Under state law, the woman was facing arrest for having an inadequate septic system. Flowers, the founder and director of the Alabama Center for Rural Enterprise (ACRE), which is now the Center for Rural Enterprise and Environmental Justice, was there to counsel her. Shortly after the visit, rashes began blooming on Flowers' torso, arms, and legs. Blood tests provided no diagnosis.
"That was when I asked if it was possible that I had something American doctors were not trained to look for," Flowers said during a 2019 congressional hearing.
Flowers had good reason to ask, because something unusual was happening in rural Alabama. Hookworm, a parasitic disease long thought eradicated in the United States, re-emerged in Lowndes County and other areas where basic sanitation remains unaffordable for homeowners. Yet instead of helping its own constituents, the Alabama Department of Public Health aggressively penalized Black homeowners in Lowndes for the crime of being unable to afford a functional septic system.
Now, after a years-long legal battle  and national media coverage, the people of Lowndes County are getting justice. The Department of Justice and the Department of Health and Human Services are requiring the state of Alabama to suspend its punitive sanitation enforcement, which has previously resulted in arrest warrants for Black residents. The state must also conduct an assessment of wastewater management systems in Lowndes.
The agreement is important to the wider fight against environmental racism. This marks the first-ever settlement of an environmental justice case under federal civil rights laws by the DOJ. The action is also a rare step for federal government agencies more broadly; the EPA has notoriously dragged its feet on legal complaints made under Title VI of the Civil Rights Act of 1964.
In response to the settlement, Flowers said, "I'm grateful that the DOJ investigated our Title VI complaint involving sanitation injustice and will hold the state accountable. This agreement should improve the lives of residents of Lowndes County whose health has been so compromised by the neglect and abuse the health agencies caused."
A 2017 report found that over 30% of tested Lowndes County residents were positive for hookworm. Yet when presented with the study's findings, the Alabama health department published a notice on its official website claiming that no hookworm was present in Lowndes County.
Represented by Earthjustice, ACRE filed a federal civil rights complaint against the Alabama Department of Public Health and the Lowndes County Health Department for violating the public's civil rights and spreading misinformation about the public health risks of raw sewage.
Flowers and other community action representatives spoke to Congress in 2019 to shed light on a national sanitation crisis. A report from ACRE and Columbia University, which compiled data from other studies to analyze the human rights impact of lack of basic sanitation, cited that between 1.4 and 1.7 million Americans do not have a toilet, tub, shower, or running water. One in five American homes are not connected to municipal sewer lines.
Many of these homes are located in rural communities, which tend to have insufficient infrastructure and limited access to jobs. Due to historical discrimination and marginalization, these issues disproportionately burden low-income African American, Indigenous, and Latino populations — as do state and local laws that make it the homeowner's responsibility to take care of sewage when the government won't.
In Lowndes County, the cost of installing or upgrading a septic system far exceeds the capacity of median incomes, especially within the African American community. A septic system capable of withstanding the Black Belt's dense, clay-like soil costs up to $30,000, yet the median income of African American families in Lowndes was $33, 634, according to the 2020 census.
Residents who can't afford the upgrade are forced to either live with failing septic systems or improvise, using simple PVC pipes that end above ground some yards away. During heavy rains, failing septic systems cause raw sewage to flow back into people's yards and homes, gurgling up into bathtubs and sinks.
Compounding the crisis is Alabama state law, which makes it a criminal misdemeanor to use an unpermitted waste disposal system. The state has a record of aggressively prosecuting African American residents for wastewater violations, effectively punishing marginalized groups for lacking access to basic sanitation. Though arrests have decreased in recent years, the threat remains.
"The law is still on the books, so people are afraid to talk about it publicly," Flowers said in a 2020 interview with Earthjustice. "At the same time, any child living next to raw sewage on the ground is at risk. What do you do for poor families who don't have the resources but want access to sewage treatment that works?"
Residents who live near raw sewage are at risk of severe health impacts, yet few options are available for treatment or education. Exposure to raw sewage is linked to reproductive and developmental harm, acute infections, and diarrhea. In the long term, people exposed to the parasites and bacteria that live in sewage are more likely to develop dementia, diabetes, and cancer.
The DOJ's and HHS's settlement with the Alabama health department includes suspending the enforcement of sanitation laws that can result in criminal penalties, jail time, or property liens for lacking the ability to afford septic systems; launching a public health awareness campaign; and conducting a comprehensive assessment of appropriate septic and wastewater management systems, prioritizing properties based on risk exposure to raw sewage.
Originally published on February 6, 2020. This article was updated with news of the settlement.
Alison Cagle is a writer at Earthjustice. She is based in San Francisco. Alison tells the stories of the earth: the systems that govern it, the ripple effects of those systems, and the people who are fighting to change them — to protect our planet and all its inhabitants.
Earthjustice's Washington, D.C., office works at the federal level to prevent air and water pollution, combat climate change, and protect natural areas. We also work with communities in the Mid-Atlantic region and elsewhere to address severe local environmental health problems, including exposures to dangerous air contaminants in toxic hot spots, sewage backups and overflows, chemical disasters, and contamination of drinking water. The D.C. office has been in operation since 1978.