Major Victory for Alaska's Majestic Trees and for the Climate
Protecting trees, particularly old-growth trees in Alaska's Tongass National Forest, is a win for local communities and for the climate.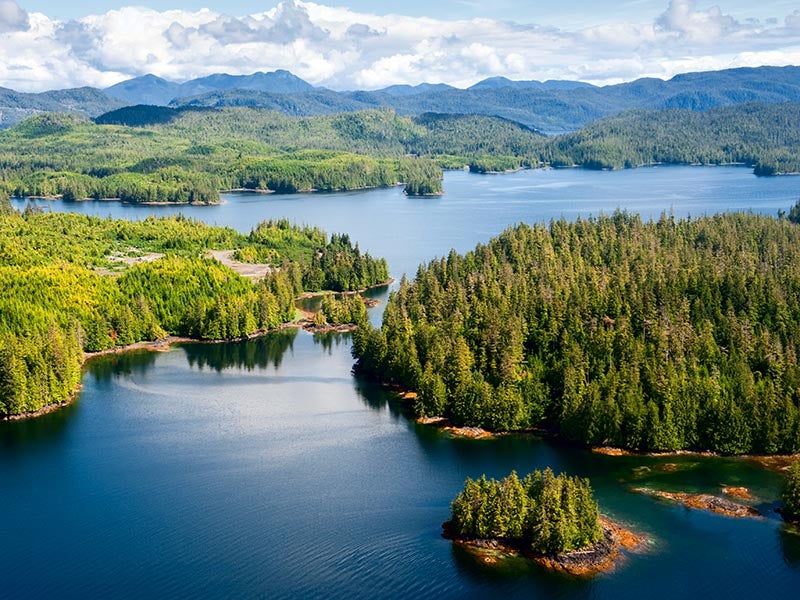 On Prince of Wales Island in southeast Alaska, majestic mega-trees that are key to combatting climate change have been protected from chainsaws after a federal judge rejected a sweeping logging plan that would have spanned a project area of 1.8 million acres in the Tongass National Forest.
Containing nearly one-third of the world's old-growth temperate rainforest, the Tongass is home to large stands of trees that have lived on this planet for centuries. Some of these giants are even older than the United States itself.
The old-growth forest of the Tongass provides key habitat for the area's diverse array of wildlife, including blacktail deer; wolves; brown bears; and goshawks, a stocky raptor with a barrel chest. The Tongass also provides local residents, subsistence hunters, tourists, and many others the opportunity to recreate among irreplaceable old-growth forests.
But the Tongass trees — and trees in general — play an even bigger role in our world by keeping the climate in check. As many of us learned in school, trees "breathe in" carbon dioxide and "breathe out" oxygen. So it's no surprise that these majestic organisms are heralded for their massive potential to combat the climate crisis.
Last summer, researchers came to a mind-blowing conclusion that planting a trillion trees across the world could remove two-thirds of all human-caused carbon emissions. Large, older trees in particular are great at sequestering carbon. According to leading conservation scientist Dominick DellaSala, the Tongass alone stores billions of tons of carbon, keeping the heat-trapping element out of the atmosphere.
Yet in 2019, the U.S. Forest Service authorized the huge timber sale on Prince of Wales Island, home to 12 communities who depend on the island's natural resources for hunting, fishing, recreation, and other activities. Earthjustice, on behalf of eight conservation organizations, immediately sued the agency to stop the massive timber sale from going forward.
The timber sale was the largest the agency had authorized in any national forest in 30 years. Throughout the approval process, residents and forest users were kept in the dark as to where exactly logging would occur. This process ran counter to the National Environmental Policy Act (NEPA), a federal environmental law that sets standards for public engagement and gives people like Prince of Wales subsistence hunters an opportunity to offer meaningful input when it comes to government decisions that will affect them.
"The National Environmental Policy Act is very important to people such as myself, whose lives are completely dependent on our natural resources," explains Don Hernandez, a resident who chairs the Southeast Regional Subsistence Advisory Council. "The way in which the [logging] project was conducted is an example of the Forest Service weakening the NEPA process."
On March 11, a federal judge ruled in our favor, finding that the U.S. Forest Service had violated NEPA, and other environmental laws, when it approved the enormous Prince of Wales timber sale. It's not yet clear whether the Forest Service will have to abandon the project entirely, because the judge has not decided on a legal remedy.
"This ruling is a win for old-growth forests, deer, wolves, and people on Prince of Wales Island," says Earthjustice attorney Tom Waldo. "Subsistence hunters and other residents can breathe a sigh of relief, knowing that a massive industrial logging operation isn't imminent in the forested areas they know and rely upon."
What's more, he added, the ruling will affect other Forest Service timber project approvals that used the same formula of presenting a broad project plan without sharing site-specific information. A court victory that upholds NEPA is key because it may protect other old-growth trees across the Tongass National Forest. In addition to several planned timber sales, 9 million acres of the vast temperate rainforest are threatened by a Trump administration effort to roll back the Roadless Rule – a popular safeguard against logging and roadbuilding. At the same time, the Trump administration has also launched attacks on NEPA, the nation's first environmental law.
Given the carbon sequestration superpowers of old-growth rainforests, the last thing we should do is cut or burn them down. For now, trees that have stood strong for centuries will continue to stand, mighty and intact, because of Earthjustice's win.
This blog was originally published on September 27, 2019. It has been updated to reflect the March 2020 court ruling.
Jessica is a former award-winning journalist. She enjoys wild places and dispensing justice, so she considers her job here to be a pretty amazing fit.
Opened in 1978, our Alaska regional office works to safeguard public lands, waters, and wildlife from destructive oil and gas drilling, mining, and logging, and to protect the region's marine and coastal ecosystems.