Trump's latest nominees will hand out treats to polluters, play tricks on the rest of us
A new round of Trump nominees should spook anyone who cares about public health and safety.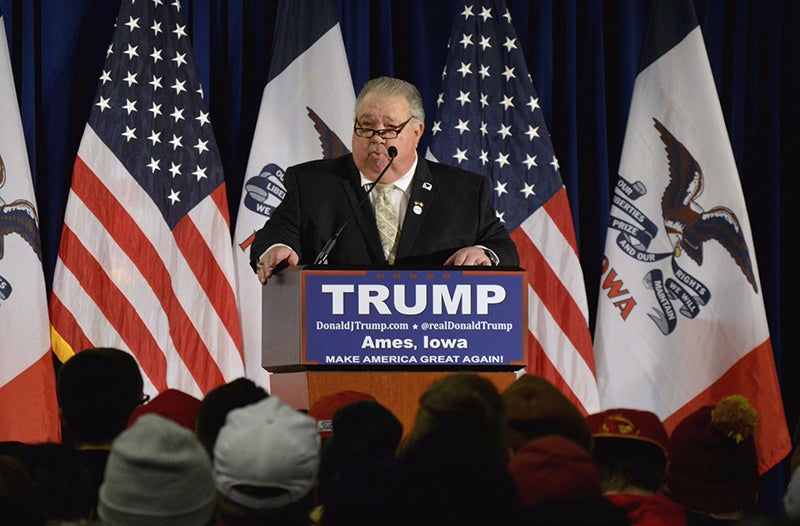 Update, 11/02/17: Sam Clovis withdrew his nomination today to serve as the top scientist at the U.S. Department of Agriculture. "Nominating a non-scientist to serve as USDA's top scientist was a preposterous notion from day one and a brazen display of cronyism," said Martin Hayden, Earthjustice's vice president of policy and legislation. "The withdrawal of his nomination should come as a major relief to everyone who cares about the health and safety of our communities and our environment." Earthjustice supporters submitted more than 15,000 comments opposing his nomination.
Original post, 10/27/17: Halloween isn't the only scary thing happening this month.
In the nation's capital, Republican lawmakers are trying to ram through a slate of genuinely frightening nominees for key environmental posts at the highest levels of the Trump administration. Chances are you've already heard of Trump's higher-profile cabinet chiefs, including Environmental Protection Agency Administrator Scott Pruitt and Interior Secretary Ryan Zinke, who are both working in favor of industry and polluters at the expense of public health and public lands.
If Congress approves the latest nominations, Pruitt and Zinke will be joined by a host of industry minions dressed up as public servants. The policies these nominees would implement would haunt the environment for years to come. Please join Earthjustice in urging your senator to reject these nominees in favor of people who respect the offices they would lead.  Over at the EPA, President Trump has nominated a murderer's row of bad actors to serve in top posts under Pruitt:
Michael Dourson, nominated to head the EPA's chemical safety division that implements the Toxics Substances Control Act, would be tasked with, among other things, addressing the risks of pesticides to farm workers. He has spent his career as a scientist for hire by big chemical companies who manufacture these compounds and profit mightily from them.
A prominent coal lobbyist, Andrew Wheeler, is slated to take the deputy administrator role, the EPA's No. 2 slot.  Wheeler, most recently of Faegre Baker Daniels Consulting, staffed Sen. James M. Inhofe (R-Okla.) when he chaired the Senate Environment Committee. Inhofe is an infamous climate change denier, once arguing for his position on the Senate floor with a snowball—in February. 
Bill Wehrum, nominated to oversee issues involving air safety, spent his years in the George W. Bush administration handing out treats to industry and crafting dirty air rules that were later found to be illegal.

Outside of the EPA, Sam Clovis, a former talk-show host and Trump campaign loyalist, has been tapped to serve as chief scientist for the U. S. Department of Agriculture. If confirmed, this climate science denier could wave his wand and funnel crucial research dollars away from innovations that assist farmers confronting the real risks of climate change into promoting junk science that benefits agricultural mega-corporations like Dow Chemical and Monsanto.
And at the White House itself, Kathleen Hartnett-White was recently nominated to head the Council on Environmental Quality, where she would serve as the top advisor to the president on the environment. Upon her departure from her role as chairman and commissioner of the Texas Commission on Environmental Quality, the Dallas Morning News declared "her exit is welcome news" because she was "an apologist for polluters, consistently siding with business interests instead of protecting public health."  Currently she works as a senior fellow at the Texas Public Policy Foundation, funded by the Koch Brothers, among others.  For an administration intent on burying progress on climate and clean air, she will be the undertaker.
While Republican senators attempt to dress these nominees up in innocuous-looking costumes, the truth is clear as day: If confirmed, this group of ghoulish nominees will try to tear apart safeguards  that protect everything from the air we breathe to the water we drink to the products we buy. They are playing tricks at the expense of our public health and the environment while handing out a treats to corporate polluters.
Marty represents Earthjustice on Capitol Hill where he has played a key role since 1995 in blocking attempts to eliminate environmental protections for all National Forests and promoting more protection for pristine forest lands, such as Alaska's Tongass Rainforest and all roadless forests.
Established in 1989, Earthjustice's Policy & Legislation team works with champions in Congress to craft legislation that supports and extends our legal gains.