Two Black Communities in Albany Fight for Answers Amid Official Apathy
The state is risking their health for dirty energy. Now, two of Albany's designated environmental justice communities are fighting for cleaner air.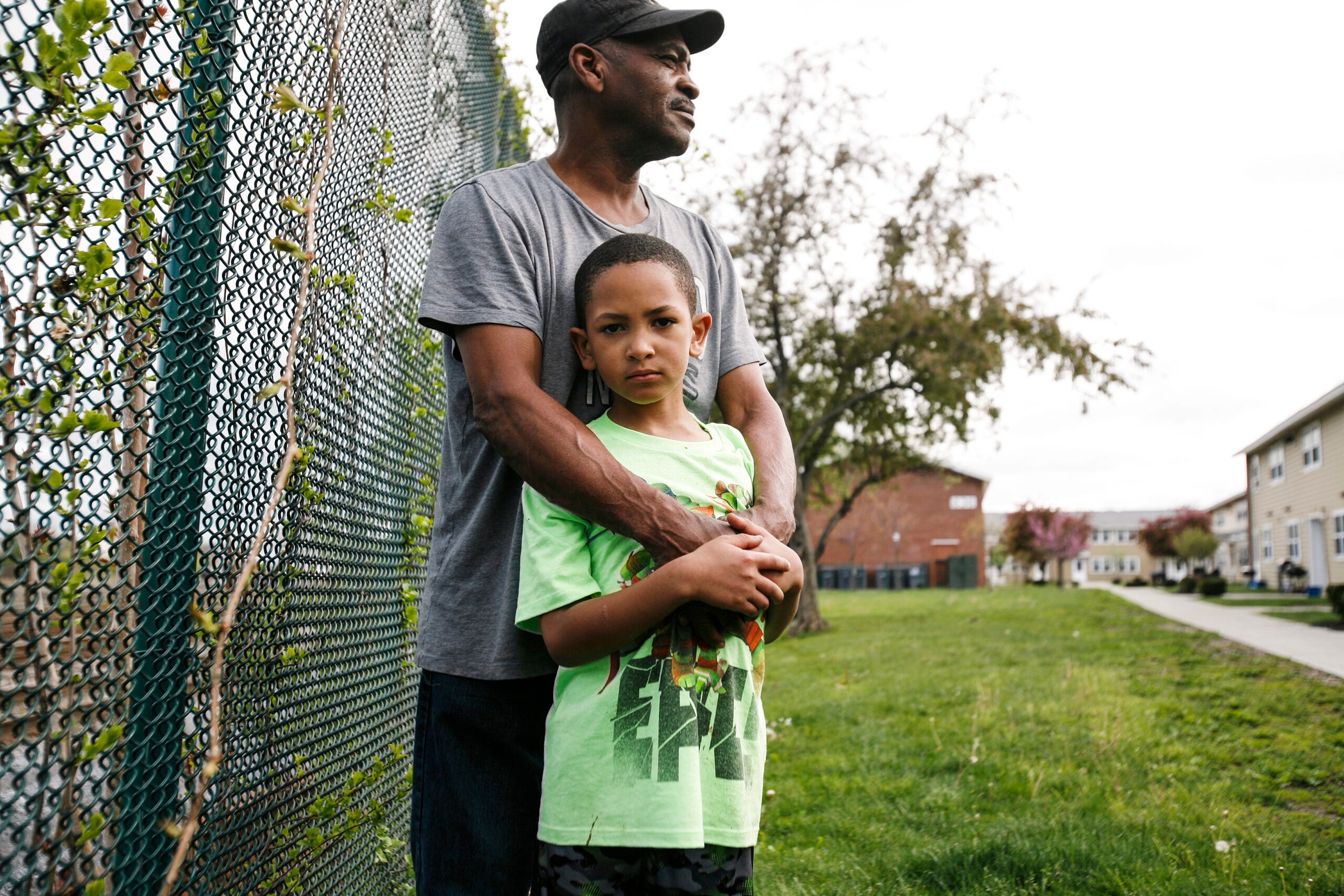 Ta-Nehisi Coates, the renowned writer on race in America, uses the term "plunder" to describe the exploitation of black labor and black bodies for the benefit of others.
Plunder, marginalization and systemic racism are what came to mind recently for me when I learned about two black communities in Albany, N.Y., the state's capital, that are being subjected to life-depriving pollution for the benefit of others. Both communities are state-designated environmental justice areas, meaning they've been identified as being overburdened with a disproportionate share of unhealthy pollution. The designation is in part intended to allow greater community input in the permitting and environmental review process.
In Albany's predominantly black South End, residents of the Ezra Prentice Homes have been fighting the expansion of Global Companies' crude oil terminal just yards away from their public housing complex for years.
Global Companies brings in petroleum products like ethanol on trains and then transfers the products to ships and barges in the Hudson River from where the substances are carried to refineries on the East Coast.
The oil terminal is a major source of air pollution, including benzene, a known human carcinogen.
In 2013, the company applied to expand its operations to handle and heat heavily polluting tar sands oil from Canada. Earthjustice filed suit in June 2014 against the tar sands oil project on the grounds that there had not been a sufficient review of potential environmental impacts. In May 2015, the state's Department of Environmental Conservation (DEC) agreed that the tar sands oil application was incomplete and announced its intention to revoke its previous finding that the project would have no significant environmental impacts.
Apart from Global's operations, the South End community is already besieged with other sources of pollution, including approximately 1,000 diesel trucks that each day drive through the neighborhood spewing dangerous particulates that have been linked to a variety of serious respiratory ailments.
The community suffers from air pollution, excessive noise and noxious odors that harm residents' quality of life. Asthma and emphysema rates are high.
Bebe White, president of the Ezra Prentice Tenants Association, which is being represented by Earthjustice, says Global Companies has made it difficult to live in his neighborhood.
"Sometimes it sounds like an explosion, like a bomb going off," White says. "The engines are running all the time, right next to my window. They let them sit out there all night."
White says his 8-year-old son Brayton is bolted awake while sleeping sometimes, so he puts him to bed as early as 7:30 p.m., to give him more time to sleep through any interruptions.
Many residents won't go outside and barbecue in the summer anymore because of the sour smell that comes from storage tanks and barge-loading operations, White adds. And the odors force White to wear a mask sometimes when he's outside working as a school crossing guard for children who live at Ezra Prentice.
Chris Amato, the Earthjustice attorney who filed the suit challenging Global's proposed expansion, says the company, the DEC and the governor's office have shown little interest in solving the problems community residents face.
Albany's South End has been designated as an environmental justice area because it is a low-income community of color that bears a disproportionate impact from various forms of pollution.
Amato says that while that designation implies that the community should receive more attention for the environmental burdens it faces, the state and Governor Andrew Cuomo have repeatedly ignored impacts on the community until dragged into court.
When tenants first started to address the problems with the Port of Albany and Global companies more than three years ago, many would turn out to meetings with the DEC. But, now, many have grown tired and lost hope because they don't believe state officials are honest about the health risks the community faces, nor do state officials seem interested in taking any action.
"People are tired of coming to meetings and getting the same old answers," White said. "People feel like they [the DEC] are trying to protect the company."
City Council member Dorcey Applyrs has been working with the community on this issue for years and seen very little progress. "For the residential community, it's an industrial nightmare," Applyrs said. She referred to the situation as a "toxic soup" because residents are sandwiched between excessive truck traffic on one side of the housing complex and oil trains on the other.
Applyrs has been pushing the state's Department of Health to conduct a comprehensive health study to understand how people might be affected by the pollution. "No one has made sure that residents are getting anything to ensure their health is protected," she said.
"When residents ask how their heath is affected by the emissions, DEC officials only want to talk about environmental implications," said Applyrs. "They'll say they can't talk about health but people want to know what risks they face in plain language. We have to push them to say exposure to this [pollutant] increases the risk of cancer or asthma."
The community has repeatedly asked DEC and the governor's office to require Global to paint its oil storage tanks white—a standard industry practice—so they absorb less heat and emit fewer pollutants, which are linked to allergy and asthma. But the tanks have remained painted a dark, heat-absorbing blue for years.
Bebe White's brother, Willie White, who is also working to reduce pollution in the South End attributes the problem to environmental racism. "It's been going on so long and widely ignored because it's a minority, underserved, underprivileged community."
White is executive director of A Village, a grassroots community organization that works in the South End. "My main concern is that it's an industrial area, not an area fit for humans," he said.
Community members have also asked state transportation agencies and the governor's office to re-route the thousands of heavy-duty diesel trucks that roar through the community each day to an industrial road a few hundred yards to the east. But the state's only response has been to say that they are "studying" the problem.
Meanwhile, in North Albany—near the Capitol—the state plans to extend the life of an aging state-owned fossil fuel-generated power plant in another environmental justice community. The proposal calls for installing two natural gas-fired generators to create heat and air conditioning for a complex of government office buildings. The so-called "microgrid" project is expected to provide 90 percent of the state buildings' energy needs.
The benefits of this proposed project would go to the state office buildings, but this mostly black community in North Albany would be forced to breathe the toxic emissions from the gas burning process.
Despite promises from the involved state agencies that the proposed project would go through an "open and transparent" process with community engagement, the agencies for months refused to provide basic background information and documents about the project to the community.
Although the state claims that the proposed project will improve air quality in the North End, the agencies have failed to produce any data to back up their claim.
"Rather than looking at ways to move this pollution source out of the community, the Cuomo administration is instead proposing to condemn the North End to decades more of breathing in pollution from this fossil fuel dinosaur," Amato says."They're saying either you support it or we'll force you to breathe the fumes from the current generator. They're using it as a bargaining chip to blackmail the community into supporting the project."
Calls from the community for powering the state office buildings with renewable energy haven't been taken seriously, Amato said.
Although the Cuomo administration and DEC Commissioner Basil Seggos have claimed a commitment to environmental justice, their actions do not match their words. By ignoring the needs of severely impacted environmental justice communities in Albany's North and South Ends, the Cuomo administration is in fact perpetuating the environmental racism that it claims to abhor.
But despite the problems with Cuomo and the DEC, Earthjustice is continuing to work with members of the community to learn about the actual levels of pollution that are likely and to push the state to address environmental concerns from the current gas plant.
Based in Washington, D.C., Keith is the National Communications Strategist for Partnerships and Intersectional Justice.
Established in 2008, Earthjustice's Northeast Office, located in New York City, is at the forefront of issues at the intersection of energy, environmental health, and social justice.