Victory: Court Upholds EPA Authority to Protect Appalachia
Unanimous panel of judges rule for EPA in coal industry lawsuit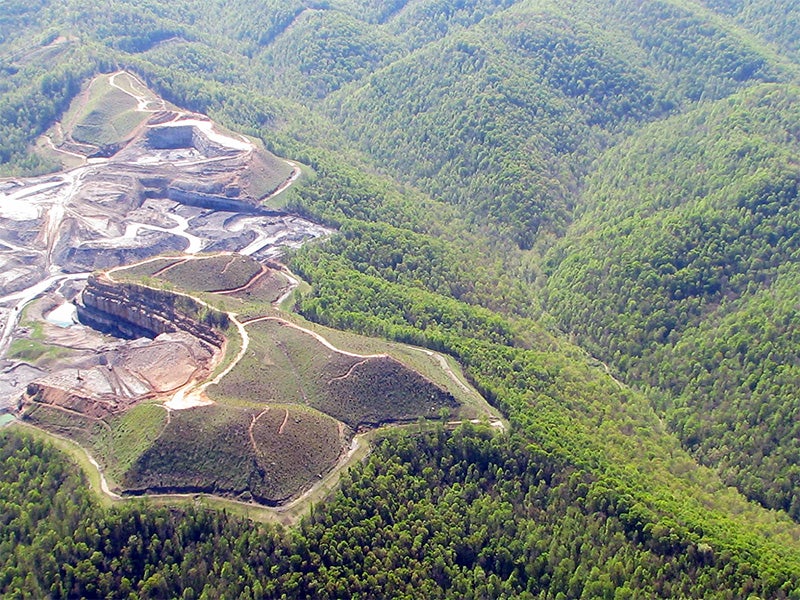 Yesterday, citizens in Appalachia celebrated a huge victory in their fight to protect their families and communities from harmful mountaintop removal mining. In a sharp 15-page ruling, a panel of three Republican-appointed judges in the U.S. Court of Appeals for the D.C. Circuit unanimously upheld the Environment Protection Agency's veto of the permit for the Spruce No. 1 mine, the largest proposed mountaintop removal mine in West Virginia. Earthjustice, along with Appalachian Mountain Advocates, represented a handful of community and citizen groups in this case.
This court decision comes after 15 years of court challenges by community groups whose members were in fallout zone of the proposed mine. It's a precedent-setting decision and historic: The Spruce Mine permit is the first mountaintop removal mining permit ever challenged in courts.
Our partners, Joe Lovett of Appalachian Mountain Advocates, Jim Hecker of Public Justice, and Cindy Rank of West Virginia Highlands Conservancy, brought the initial legal challenge to the Spruce permit 15 years ago. Rank said yesterday:
Thanks to EPA for standing strong in the midst of seemingly overwhelming pressure to give up or cave to the wishes of industry. And gratitude to all the lawyers and citizens who have given so tirelessly of their time and energies these past many years to protect Pigeonroost Hollow and the fundamental goals of the Clean Water Act.
The Spruce Mine, proposed by the Mingo Logan coal company, would have changed life as they know it for surrounding communities. It would have razed 2,000 acres of land above them, creating years of ground-shaking explosions and a steady onset of thick clouds of chemical-laden dust.
The mine would have buried more than six miles of pristine mountain streams under 110 million cubic yards of coal mine waste, obliterating community waters and releasing harmful pollutants into waters critical to those who live downstream. And this was an area already stressed by destructive mountaintop removal mining when EPA vetoed the Spruce mine in 2011. The agency cited the impacts that citizens there were already suffering. Wrote the EPA:
These six miles of streams are among the last remaining high-quality streams within a watershed that has been fundamentally altered by prior and ongoing surface coal mining activities.
The EPA based this decision on years of scientific studies, analysis and testing; hundreds of pages of data; public hearings and citizen testimonies; and 50,000 public comments, the overwhelming majority of which were supportive of the EPA's veto.
Another key factor in the EPA's decision was environmental justice: the concept that it's not OK to force the worst of our society's pollution on low-income and minority communities. As Kentucky mountaintop Teri Blanton put it:
Environmental justice means that just because you're poor doesn't mean you have to get the brunt of pollution.
Environmental justice wasn't just a worthy consideration in EPA's veto; its consideration is a requirement for all of our nation's agencies and offices, as dictated by a presidential executive order in 1994. In its Spruce decision, the EPA wrote that "Spruce No. 1 Mine is located in a census block group where the average per capita income is $15,411. This is more than $6,000 less than the national average of $21,587 and more than $1,000 less than the West Virginia state average of $16,477 … EPA's environmental justice analysis indicates that there may be a disproportionately high and adverse impact on the low-income population affected by the mining activity."
Yesterday's court decision unequivocally affirmed the EPA's authority under the Clean Water Act (section 404(c)) to veto a mining permit whenever it sees that the Clean Water Act is not being met by the permit (emphasis added):
Section 404 imposes no temporal limit on the Administrator's authority to withdraw the Corps's specification but instead expressly empowers him to prohibit, restrict or withdraw the specification "whenever" he makes a determination that the statutory "unacceptable adverse effect" will result. 33 U.S.C. § 1344(c).
This victory is a tremendous boost to the effort to stop mountaintop removal, and a great reward for the people who have courageously and tirelessly defended their communities for decades from mountaintop removal mining's toll. But the work is not done. Mountaintop removal continues to threaten communities across Appalachia, and the work will not be done until this extreme mining practice is stopped. Please take action to help stop it today.
Liz Judge worked at Earthjustice from 2010–2016. During that time, she worked on mountaintop removal mining, national forests, and clean water issues, and led the media and advocacy communications teams.
Established in 1989, Earthjustice's Policy & Legislation team works with champions in Congress to craft legislation that supports and extends our legal gains.
Earthjustice's Washington, D.C., office works at the federal level to prevent air and water pollution, combat climate change, and protect natural areas. We also work with communities in the Mid-Atlantic region and elsewhere to address severe local environmental health problems, including exposures to dangerous air contaminants in toxic hot spots, sewage backups and overflows, chemical disasters, and contamination of drinking water. The D.C. office has been in operation since 1978.